Have you ever watched an episode of House Hunters? Well, I have. More times than not, a couple goes through a property and they start saying things like, "we would need all new floors, the bathrooms need to be gutted and everything in the kitchen needs to go." Nate and I were just as guilty as these folks when we looked at our house. We actually said those things! These "simple cosmetic swaps" mean major work which also means major money.
So Nate and I have been discussing which projects are realistic for us as we plan on doing most of these ourselves. We also flip flop back and forth as to which improvements would make the most impact for resale value and which ones we have to get done for our own sanity (like our beautiful pink exterior before we painted last weekend). Ideally, we are hoping that most of our updating will fall into both categories. But, I think we have come up with a list. Not a to-do list because I don't even like to read my own to-do lists but more of a list of goals we want to accomplish during our time here. Here we go!
New floors – this is going to be the biggest and most expensive project that we tackle here. Currently, our house has brownish, beige, gray carpet in the bedrooms and living room while the entry, kitchen, dining room and hallway has cream colored tile. Tile seems to be very popular here in Texas and I can understand why. It is a very durable, hard surface that also stays very cool to the foot which is a bonus with the warm climate. For us, tile doesn't seem to be a very livable surface with little kids and clumsy adults. Everything that is dropped on tile, undoubtedly breaks. Toys, dishes, phones, iPads and dog dishes don't stand a chance if they are dropped on tile. Also, I have to close my eyes and hold my breath if I see a dripping wet kiddo hop out of the bath and run down the hallway. Yes, we have had quite a few slips and head bumps. But I have big dreams of wood floors and wood floors that span everywhere in the house. Kitchen, dining room, living room, bedrooms…basically everywhere except the two bathrooms. Since Nate and I both have zero experience installing floors of any kind, we will hire this job out and leave it to the pros. So let the saving begin! And while we squirrel away our pennies to get these floors done, I'll be daydreaming about oak…hickory…engineered wood…bamboo. Wouldn't something like this just be a game changer? I think so…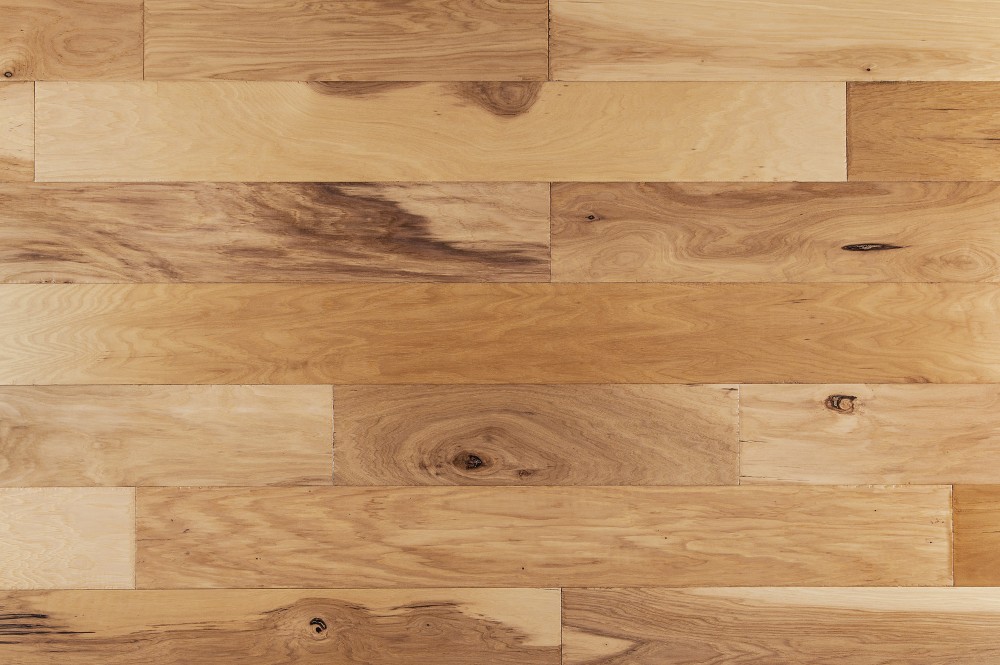 Painting the Exterior – we are mostly done with this baby! Some touching up and trim work still needs to be done but I think we can call this one done.
Landscaping front and back yards – the house is kind of a blank slate as far as landscaping goes. The flower beds around the house need to be filled with…something. I'm just not sure what yet. One of our neighbors has this whole landscaping thing figured out. I am hoping our flower beds can be as beautiful as this house.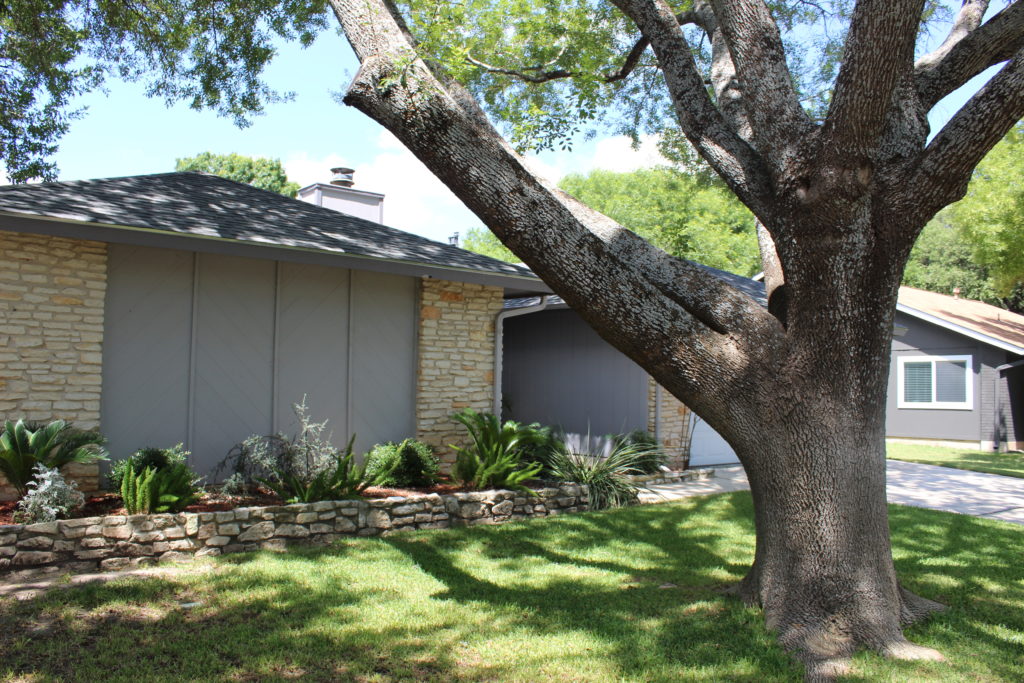 Adding a patio to the backyard – I would like to put some kind of material down in the screened porch on the floors and extend this flooring out onto some kind of a patio so there is a place to spend time in the backyard outside of the screened porch.
Scraping the popcorn ceilings and texturing/painting – the scraping part is done. The texturing and painting of the ceiling still has to be done. This job actually might kill me…the jury is still out. I'll keep updating as I go.
Painting trim and doors inside house – the trim is currently stained an almost black color. I want to lighten this place up and paint everything white.
Whitewash the fireplace brick – in my quest to lighten and brighten, the fireplace needs a dose of white paint too. I'm going to try my hand at whitewashing.
New appliances for the kitchen – our current appliances are old and white but are functioning fine, for now.
New counter tops for the bathrooms – the plan is to keep the current vanities with some updating with paint and hardware. But, counters are a must.
Paint the front door – I can't decide if it needs to be replaced or if paint will be enough. I'm debating between these two colors right now. Thoughts?
So these are our goals as of right now. I'm sure we will change our minds about some of these but for right now, this is what we are planning. There's definitely no shortage of things to do but I love a good challenge and these projects are definitely going to challenge us.