This post is sponsored by airbnb
Hi guys! With 2021 already in full swing, I'm thinking ahead and am eager at the thought of planning some fun for the family this year. My kids have returned  to school now, and we are looking forward to spring break and even a summer vacation as well! While I started thinking about our trip this year, I remembered a vacation that I took with my parents and my siblings when we were kids. My parents rented a log-style home that sat on the shores of a lake, here in Oregon. It was by-far, my favorite family trip that we took growing up. We spent the week swimming, kayaking, and having fires during the evenings. My parents even let my sister and I sleep out on the deck in our sleeping bags. We were in heaven!
I rounded up a few spots for you guys, keeping that special vacation from when I was a kid, in mind. I think they would make for lots of fun family adventures and most offer boating, swimming, hiking or just being outside. Ok, let's get to it!
1. Polson, Montana – Log Cabin overlooking Flathead Lake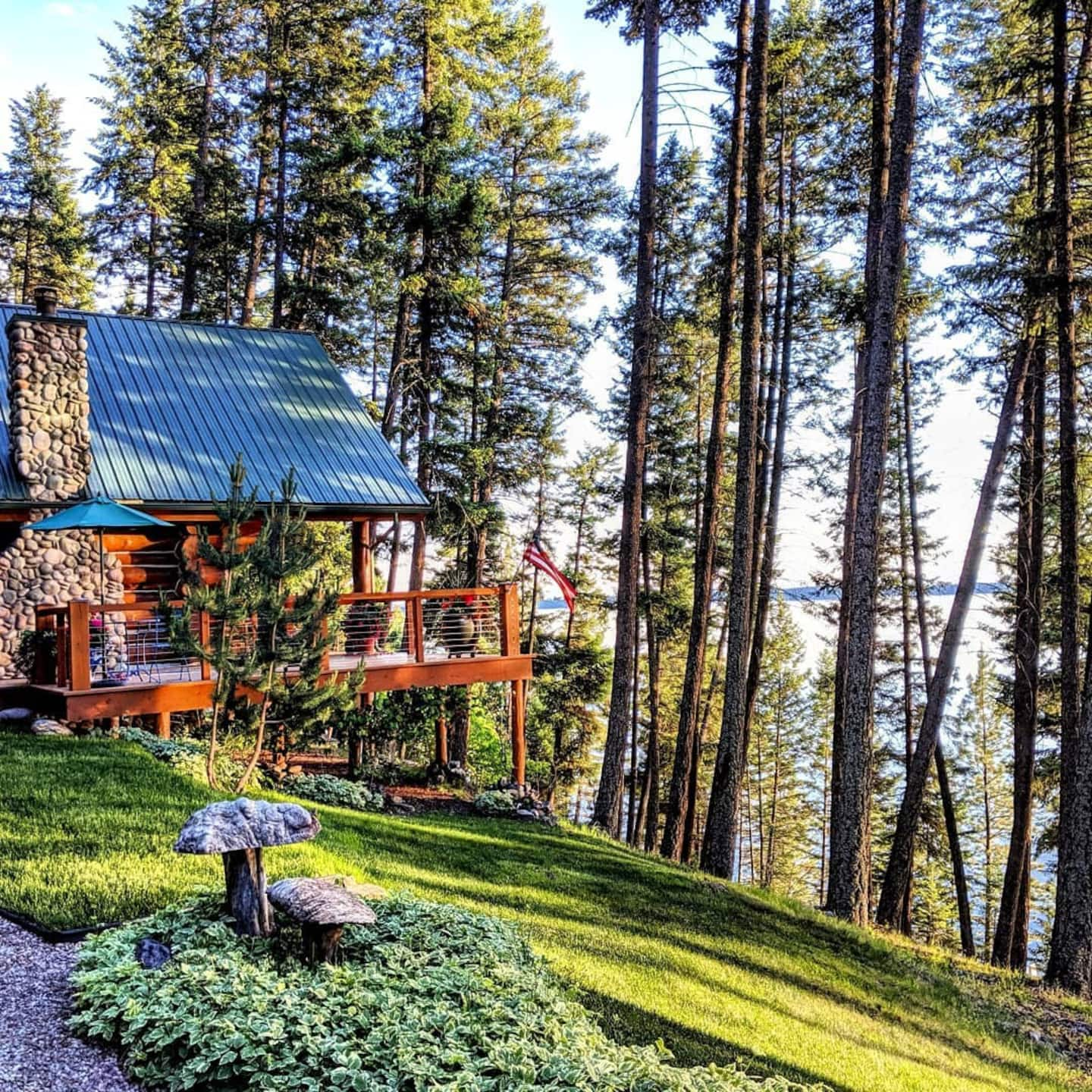 via airbnb
What's not to love about this charming log home overlooking Flathead Lake in Montana? The deck has the most amazing lake views and is set up for outdoor dining and comes equipped with a fireplace! Lake access for swimming, fishing, and kayaking is just a short walk away. There is also the most adorable guest house on the property that's optional to rent in addition to the main house, if you find yourself needing a little more space. Maybe a multi-family trip? There's no cable, wifi, or landline on this property so you could really disconnect and relax! PS…how much fun would it be to have the kids camp out on the deck like my sister and I did on our lakeside vacation when we were kids?
2. Polson, Montana – Top of the World Cabin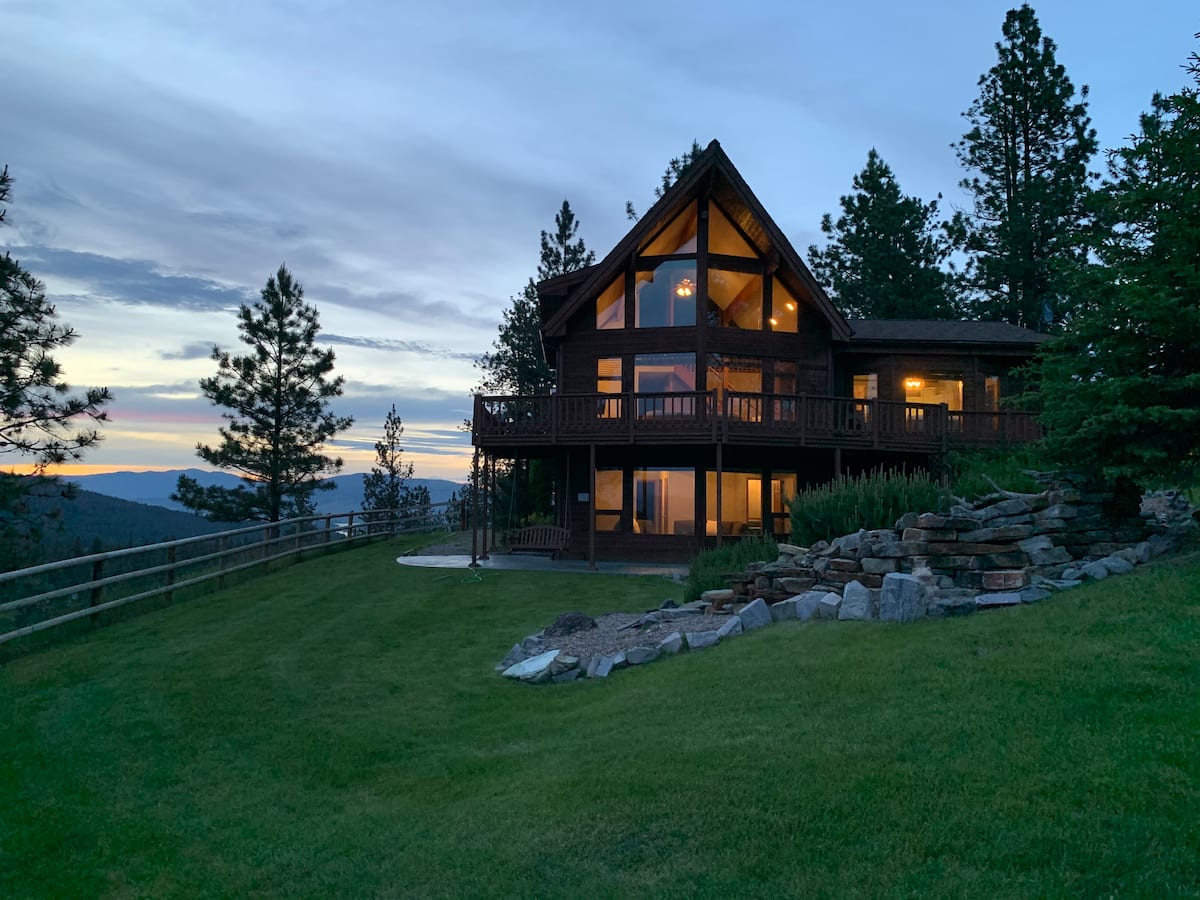 via airbnb
This home is all about the views…and does not disappoint! It has a third level of windows and I'd bet that on a clear day that you can see for miles! Perfect for quality family time in this peaceful and tranquil setting. I can picture myself spending many hours swinging in the porch swing with a good book! Glacier National Park is only an hour away from this gorgeous home and skiing is also an hour away as well! Really the best of both worlds and could be great for a winter or summer destination!
3. Sandpoint, Idaho – Private Lakefront Gem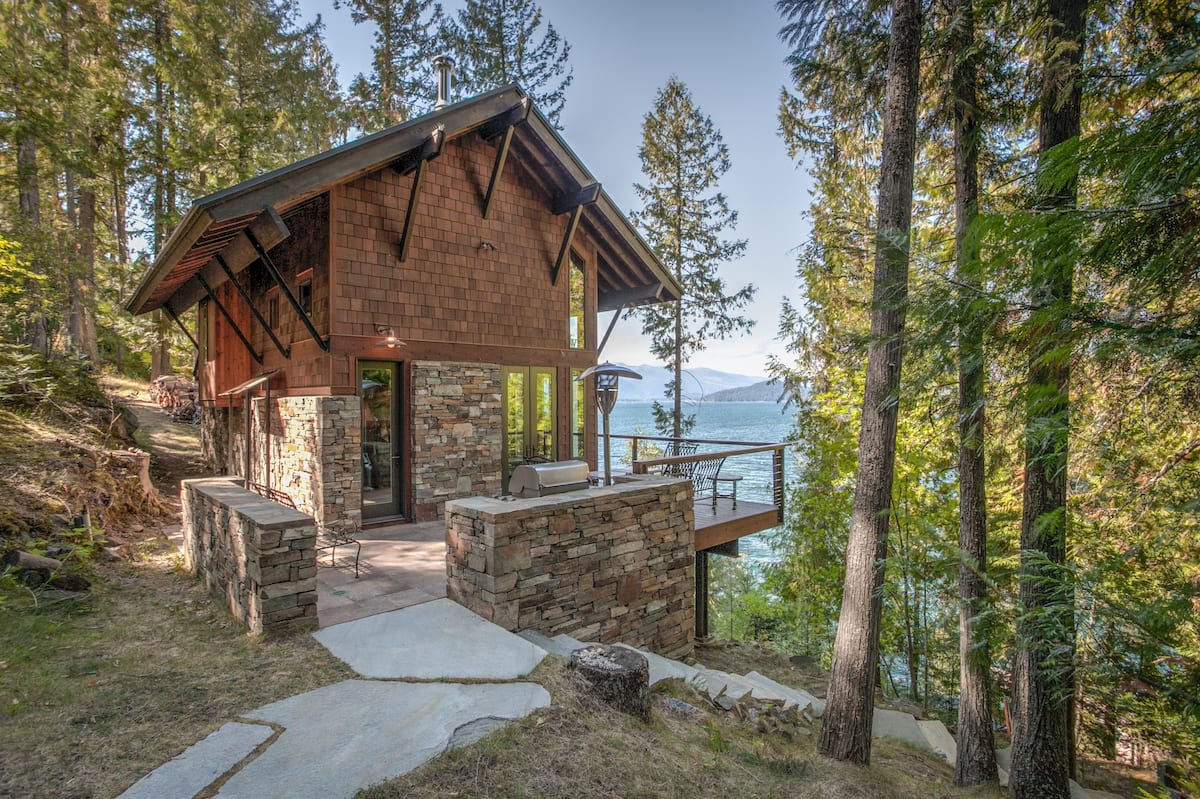 via airbnb
As someone who appreciates great design, I can't stop staring at all of the thoughtful details that went into the design of this home. This beautiful home almost feels like a tree house with woods all around to explore. It would comfortably accommodate a family of four with a view of the lake out every window! We have camped on this lake in Idaho a few times and it's breathtaking. The water is warm enough to swim and there's lots of boat and kayak rentals available around town. Also, Sandpoint is adorable with lots of attractions, restaurants, and coffee shops.
4. Lakeside, Montana – Flathead Lake Retreat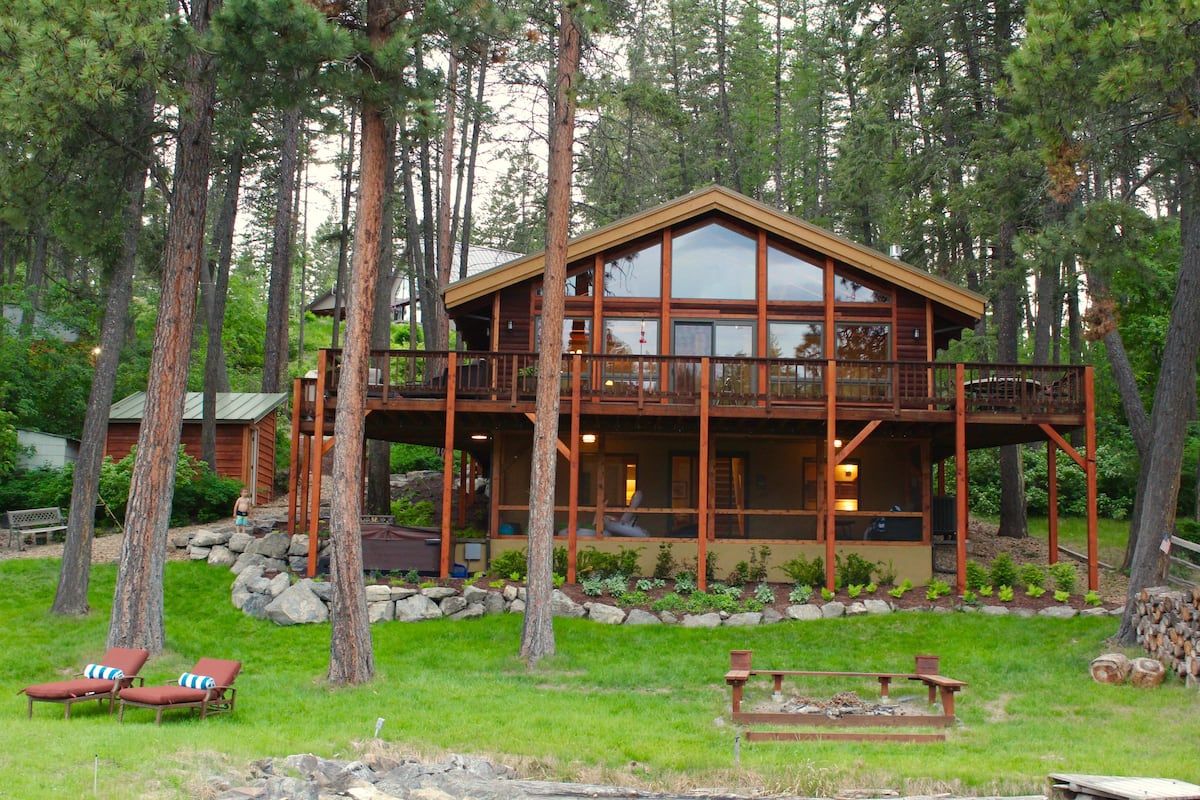 via airbnb
This is the ultimate family-friendly vacation spot equipped with a hot tub, a lakeside firepit, and your own private pebble beach. The kids could swim while you watch from the lawn. This home looks similar to the one we vacationed at when I was a kid, with the big windows, two levels of decks and it has me feeling very nostalgic. The interior is beautiful with an open floor plan, cozy bedrooms and a loft space with bunk beds for the kids. I don't think I would ever want to leave this lovely home!
5. Bigfork, Montana – Waterfront Cabin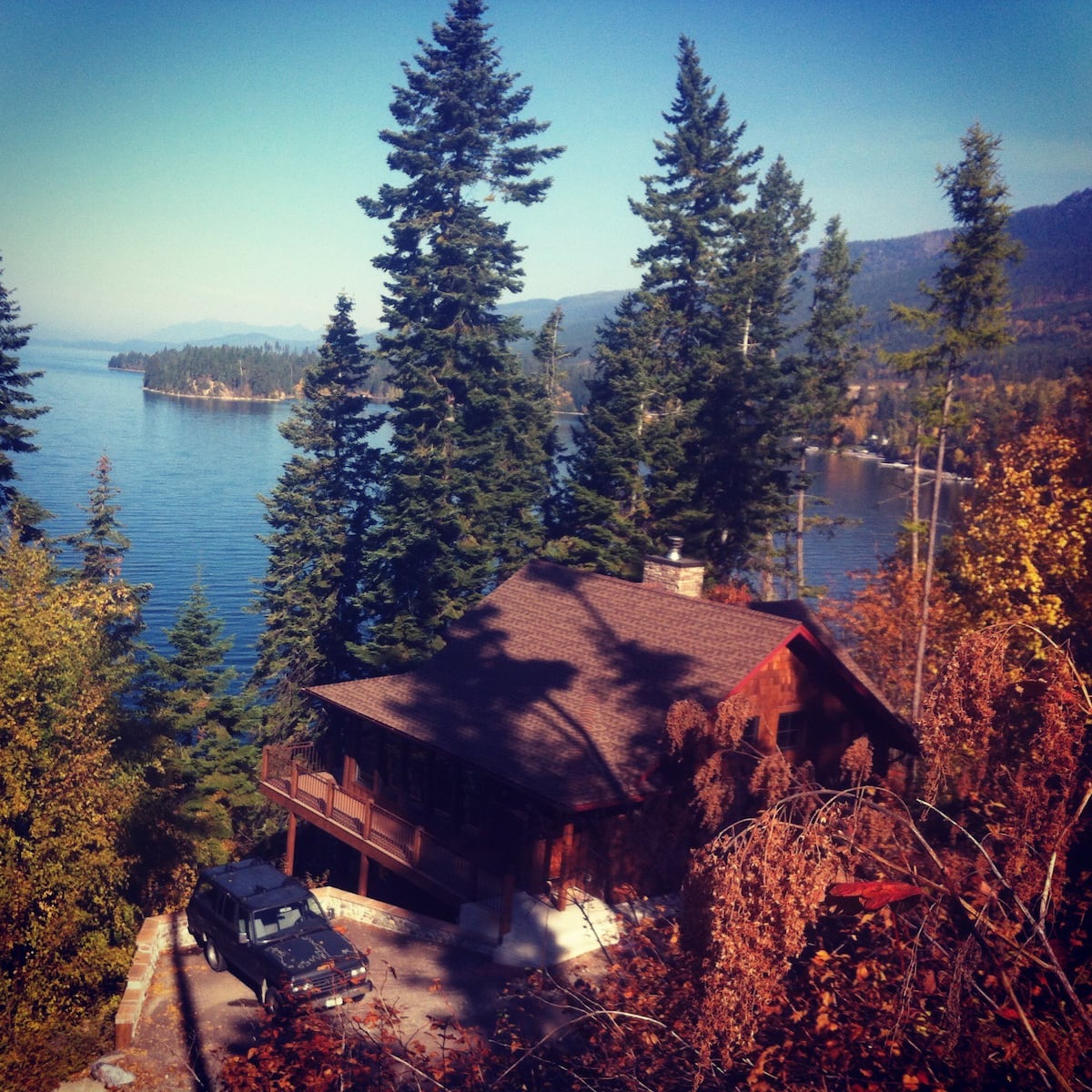 via airbnb
This home gave me all the warm fuzzies and feels like it was designed around family living. With lots of deck space, a cozy fireplace in the living room and a bunk room just for the kids, this home would work well for a multi-family vacations too. The views cannot be matched and the water almost looks turquoise in color! This home also has nearly perfect reviews and I noticed lots of comments that the garage was stocked with water toys and kayaks. Such a great bonus!
So there you have it! Would you want to book any of these magical homes? Did they remind any of you of any vacations that you took as a child? I wanna know! Leave me a comment below and tell me everything!