Today is an exciting day around our house! Our kitchenette in the guest house is finally complete and I am so dang excited about how it came out that I could shout it from the roof tops! I think we should just get right into it, because I just can't wait to show you guys! Sorry in advance for the amount of !!!!! that you will see in this post…please forgive me in advance.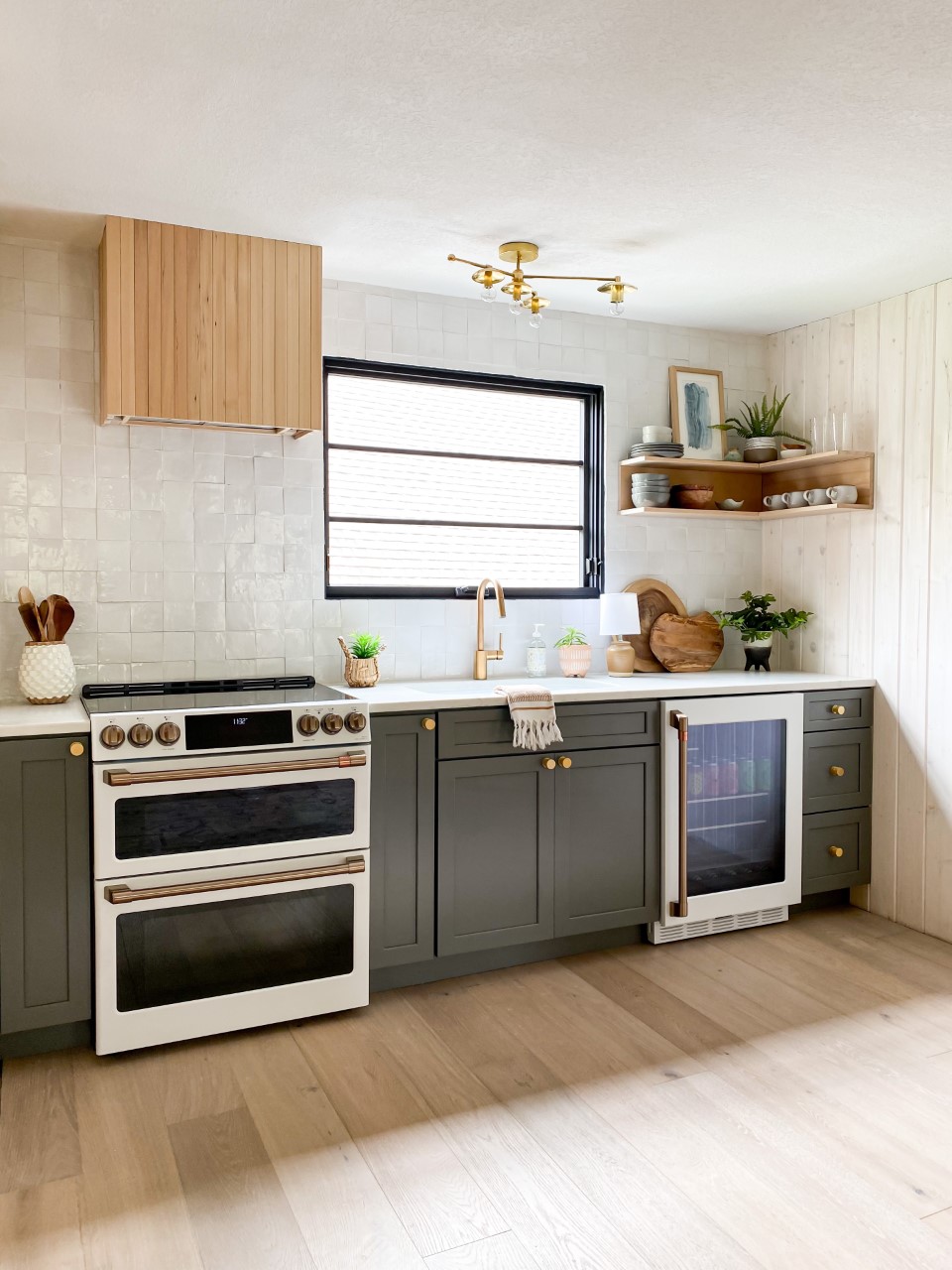 Ahhhhhh are you screaming yet??? Cause I am! My goal was to create a fun and collected space that didn't feel too serious. I also wanted it to feel like it was related to the main house. Think cousins, but not twins, ya know? We had so much fun putting this little kitchen baby together, and I couldn't be happier with this new look! Check out how this same space looked a few months ago…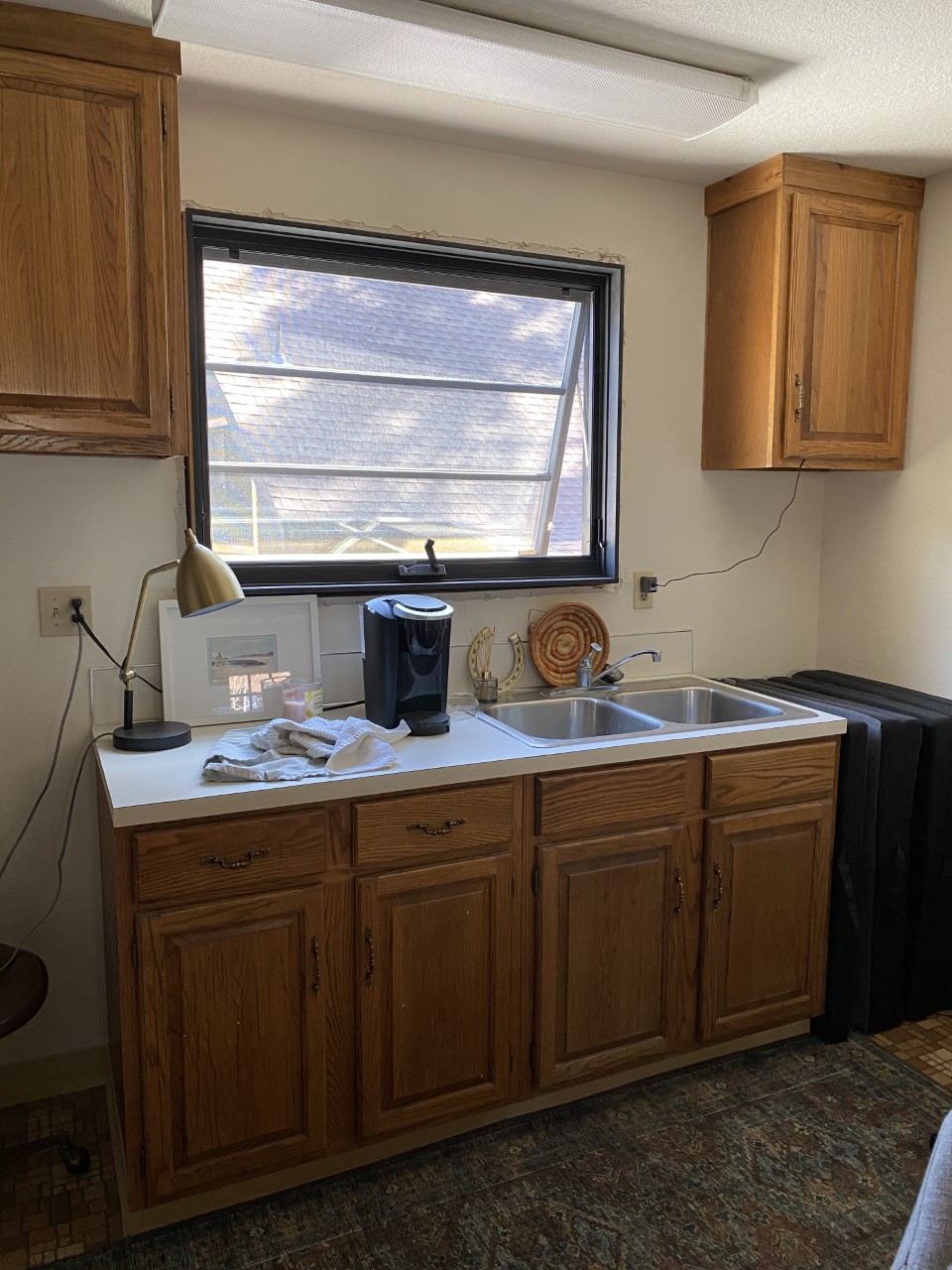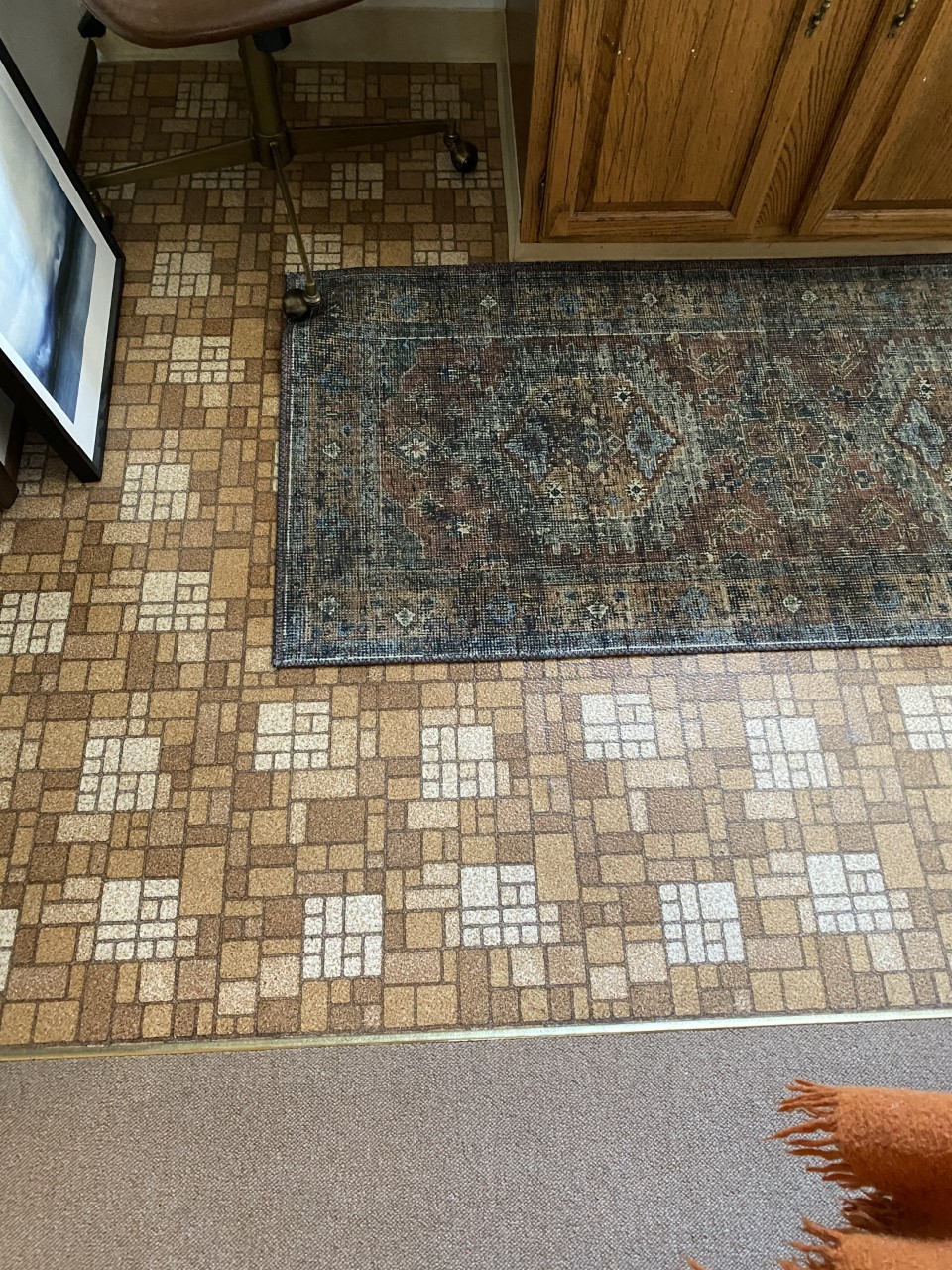 The cabinetry was problematic, and like everything else in this old place, was in very poor working order. Saggy cabinet doors and drawers that were completely stuck in place! The biggest problem with the cabinetry before, aside from its ugliness, was that it wasn't a well thought out use of space. Nothing about this sad space made sense. So, we decided early on that we would gut the entire thing, and start over fresh!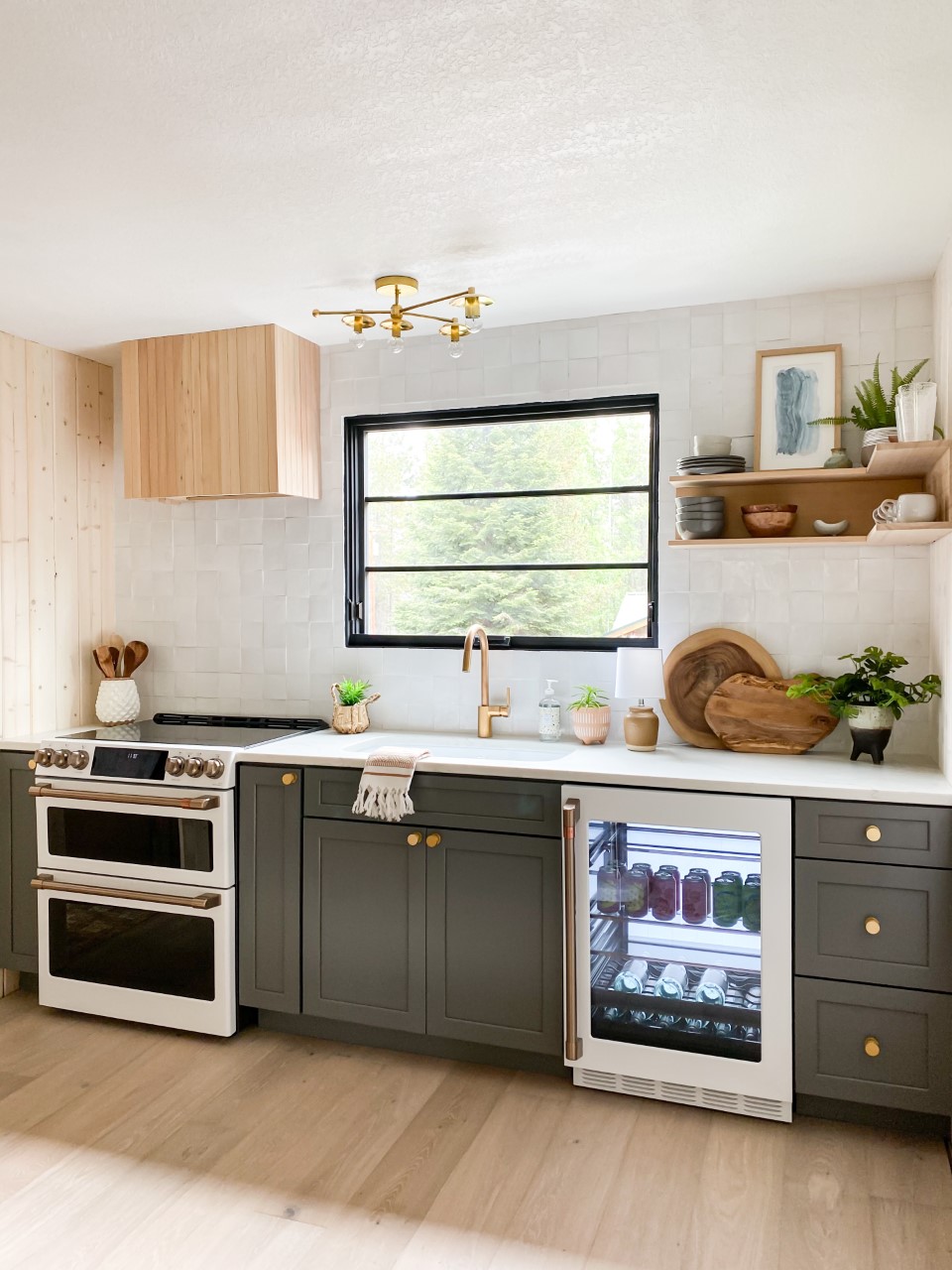 The started from the bottom and replaced a linoleum and carpet situation from the 80's with the most beautiful engineered wood from Provenza Floors. These are from their Affinity Collection in the Couture Color option. I could write an entire post on how deep my love runs for these wood floors, so I think I will do just that! I will be back next week to give a play-by-play on everything about these beauties; like how the install process went for us and how they are holding up. Guys, seriously, these floors MAKE THE SPACE. But, more on that later!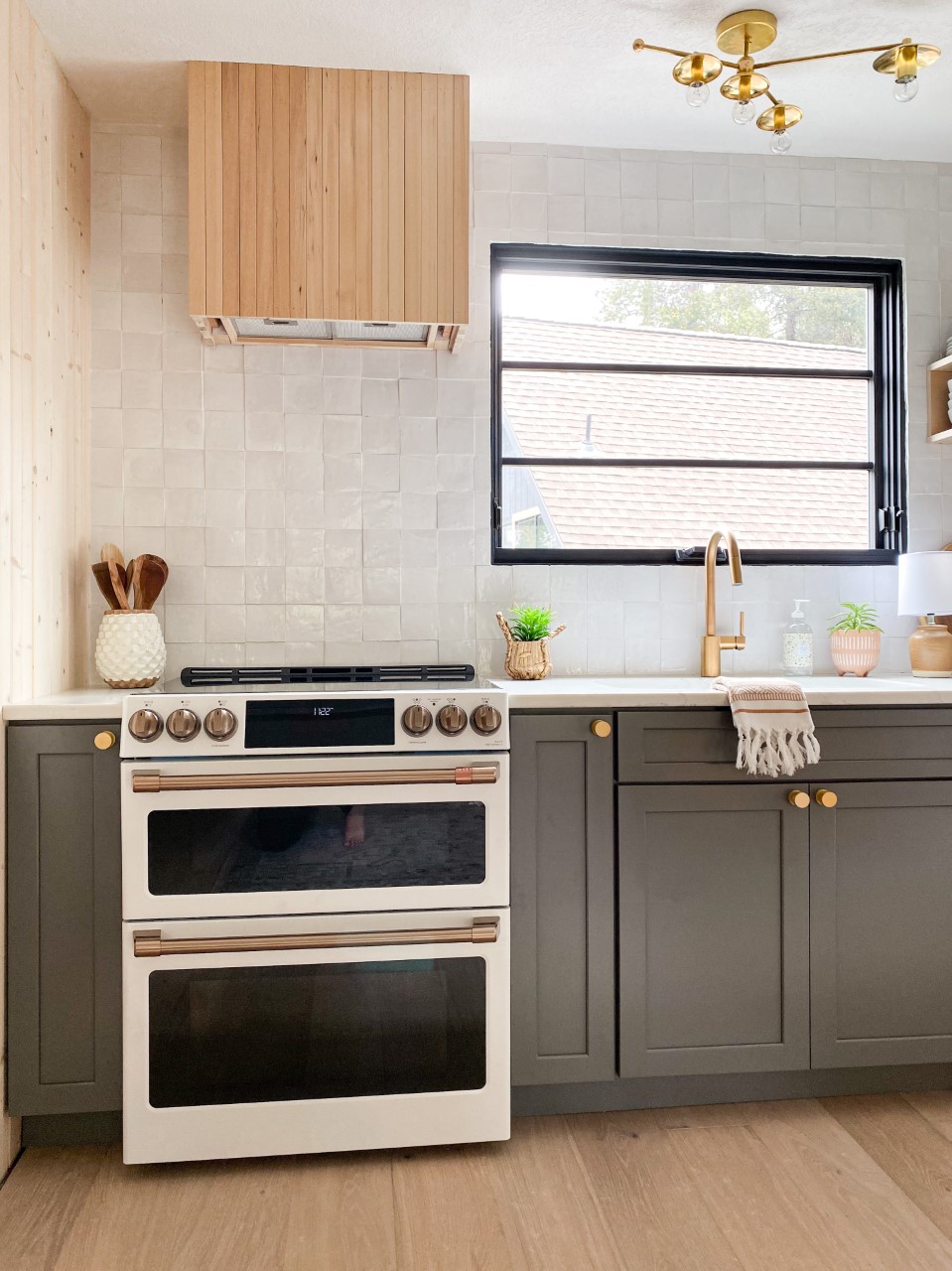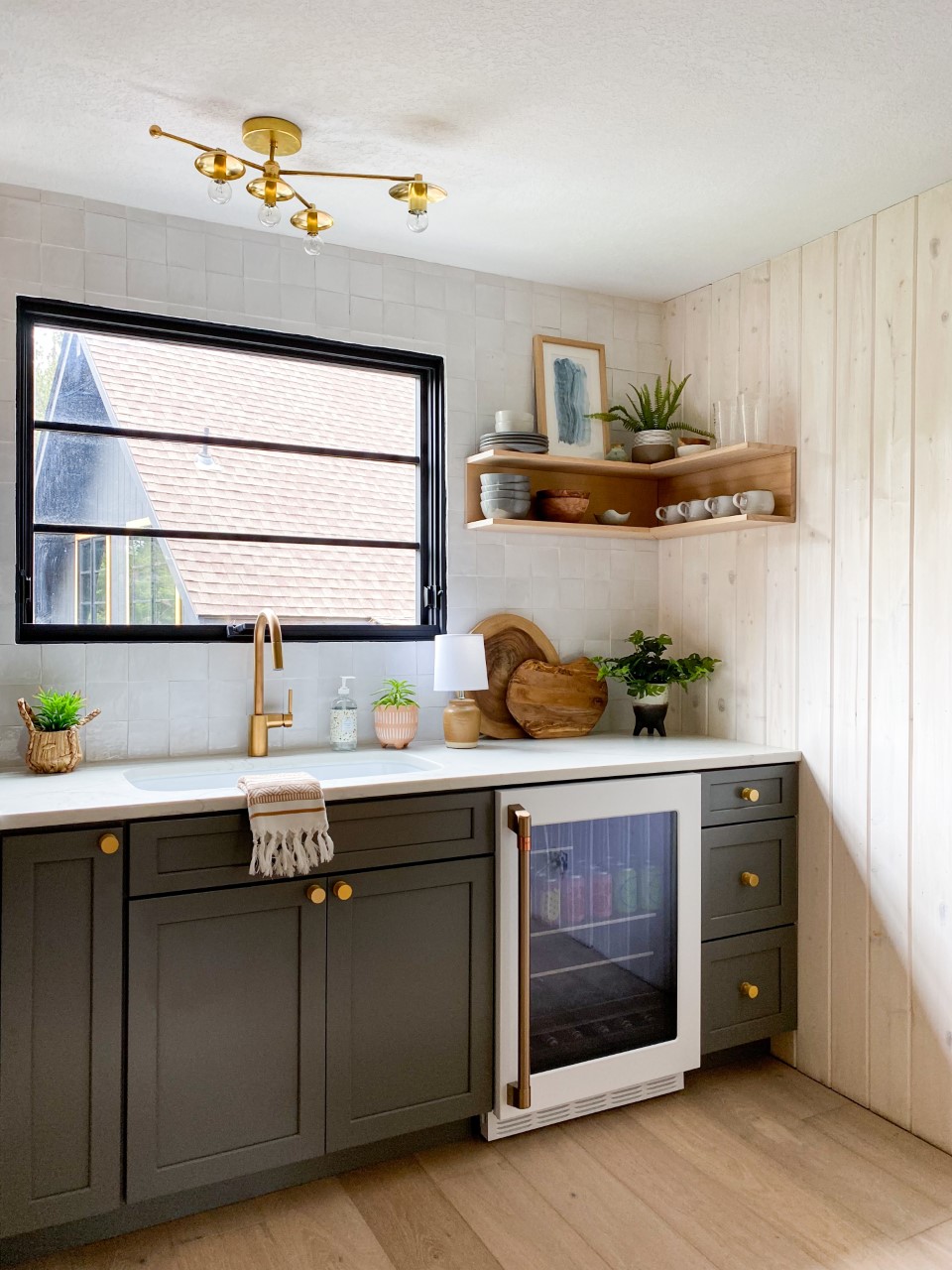 The appliances are from Cafe and they are AMAZING. Our kitchen in the main house has appliances from Cafe, so I can attest to their quality. Cafe is really on the forefront of mixing beauty with functionality IMHO. They look great and function even better…it's a win win. We went with this range for its double oven option. I'm thinking about all of the desserts that could go in the top tier while dinner is in the lower tier. Ummmm…..yes yes yes. Instead of going with a full-sized refrigerator, which would remain mostly empty, most of the time, we opted for this beverage center which offers up a surprising amount of  storage but with all spots for storing wine/water bottles. It's been really fun to stock the beverage center with drinks for our guests. When my Mom and Dad come over to stay, I fill it up with sparkling waters for my Mom and some bottles of Pinot for my Dad.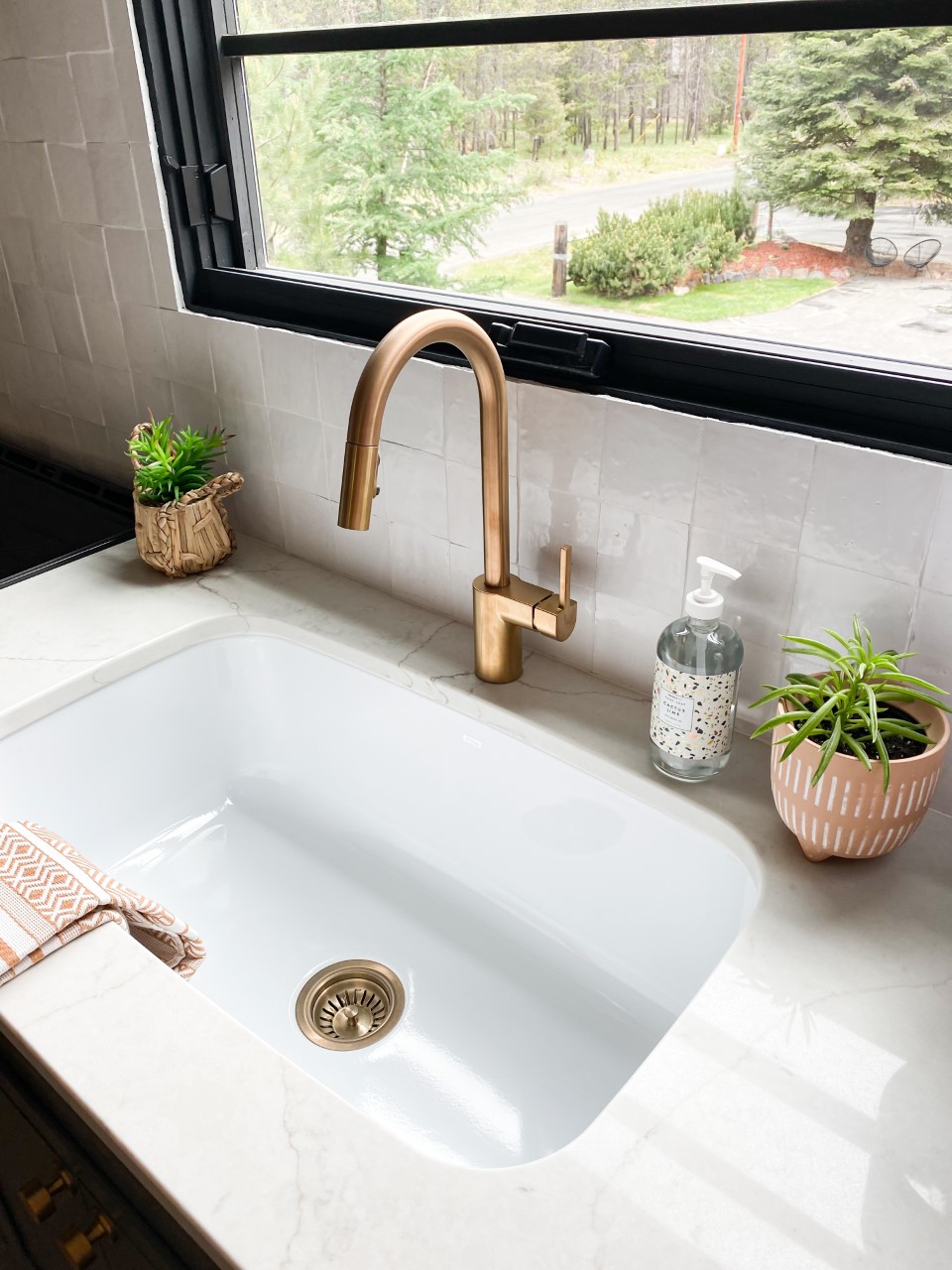 For the countertops, we enlisted the help of our friends at Nelson Tile & Stone, who also did our countertops in the main house. We decided on their Calcatta Quartz, in the Valentin color. It's soft and subtle, with veining in both gray and gold tones. It's STUNNING! And just as an FYI, they keep this particular stone in stock! We love everyone at Nelson Tile & Stone, and Jennifer, was instrumental in the design process of the space. She helped me decide on the stone itself,  then found the perfect faucet, (it was exactly what I was picturing) and even a drain to match!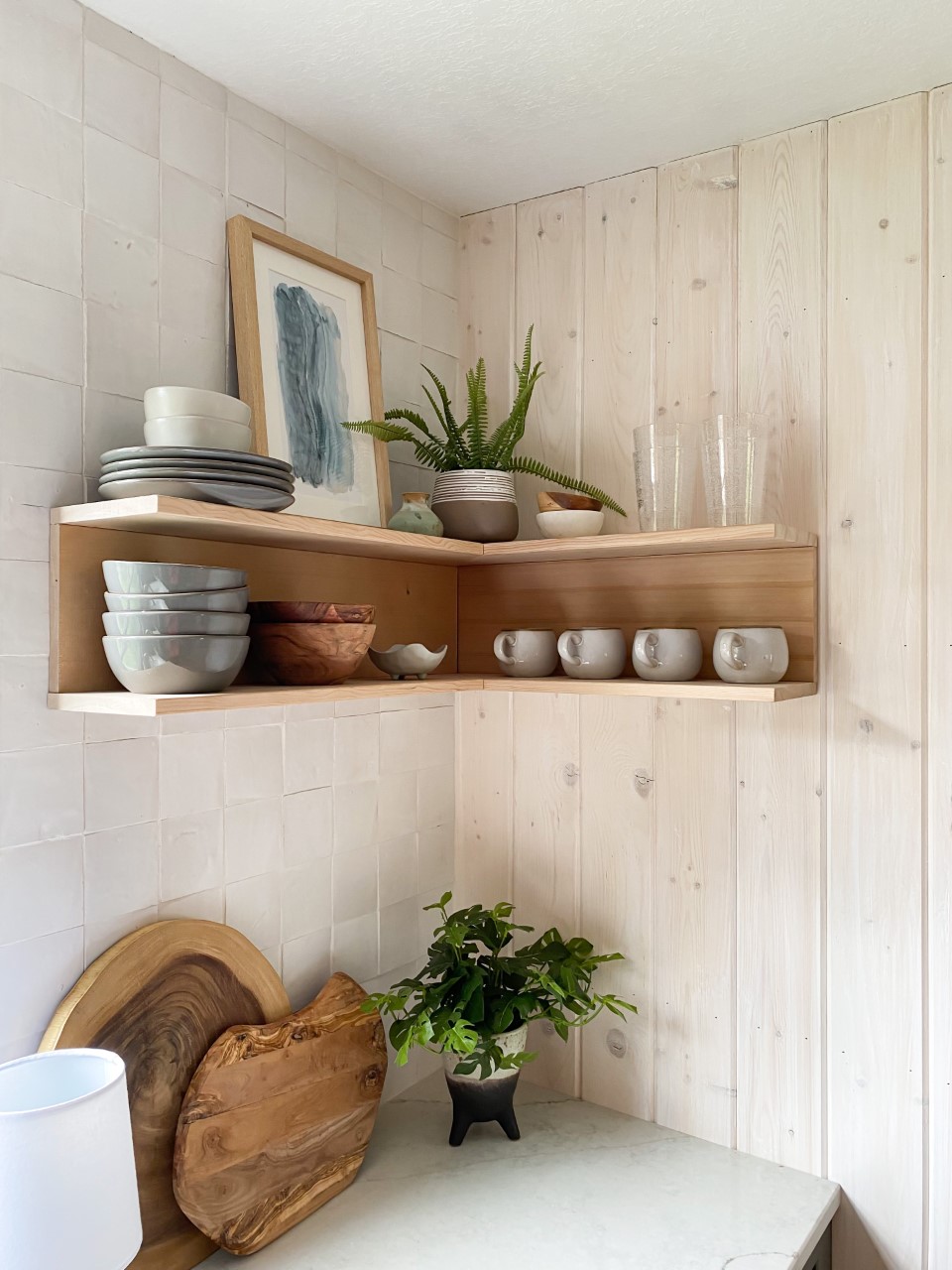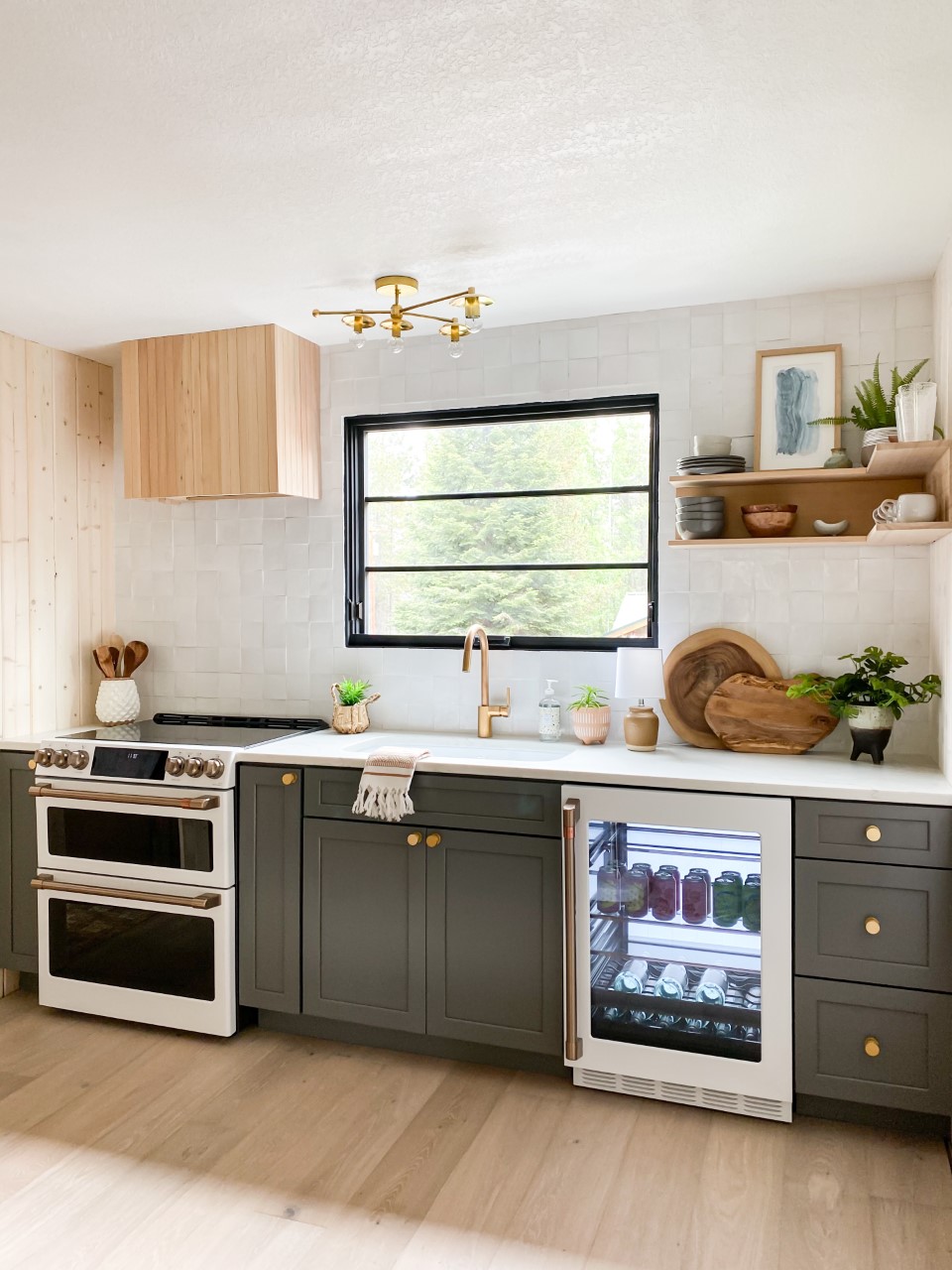 The tile is from Ann Sacks and I smile every time I see it. Seriously, it's that good! This is their Idris by Ait Manos in the 4×4 size. I went with the White Carrare color, but Ann Sacks carries this tile in six other colors. I have been drooling over the powder pink color for our next bathroom remodel and think I even have Nate talked into the idea of a pink shower! The cool thing about these tiles is that they are all hand-made and offer up an earthy, organic vibe to any space, which works in just about any style of home. Each piece is a little different from the next and I just love that!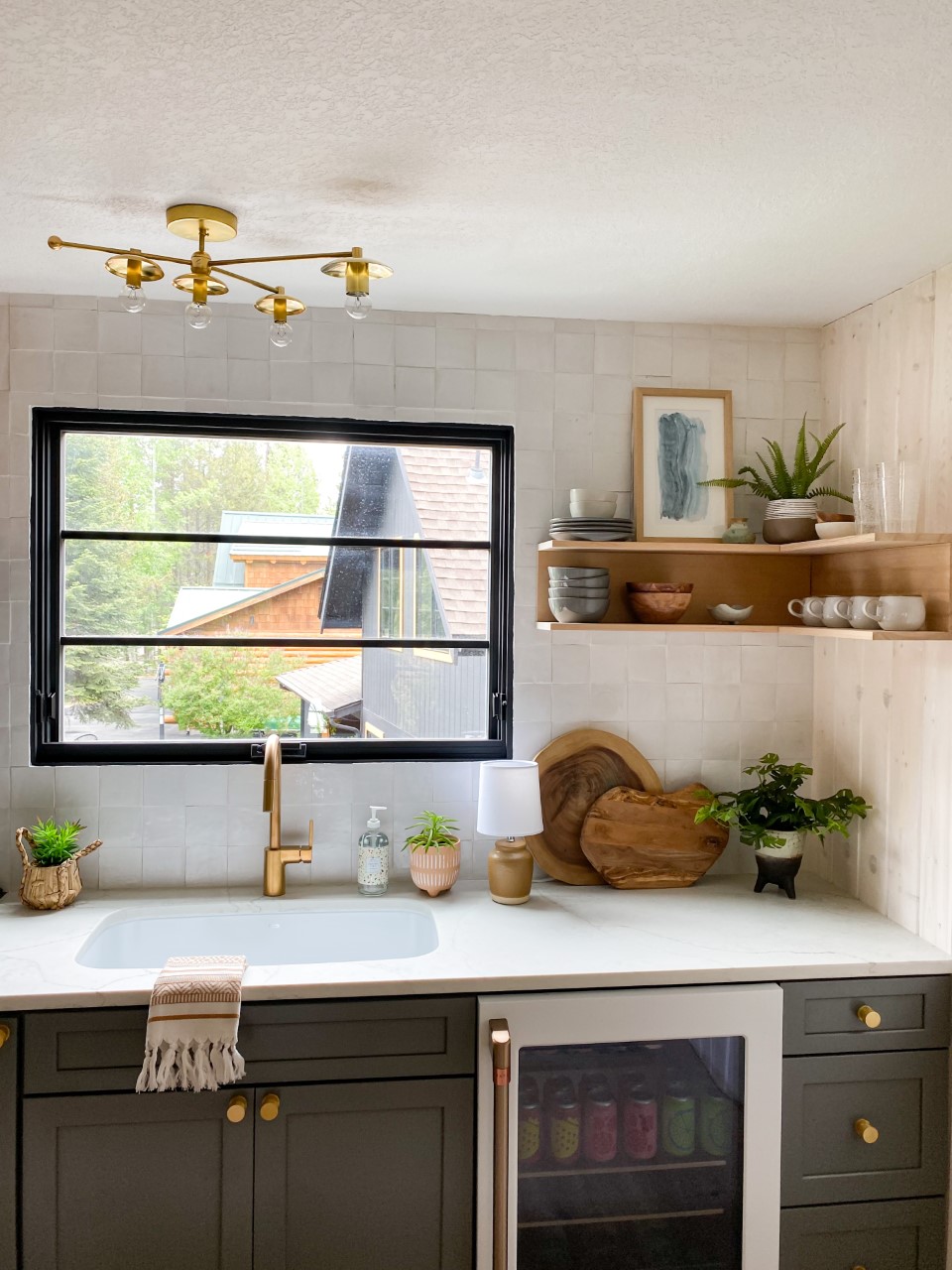 This showpiece of a light is from Sazerac Stitches. This is their Cancer Flushmount and can be used as a flushmount fixture or a sconce! Cool, right? This hand-made brass work of art is designed to look like the cancer astrological constellation. The combos of socket and disc sizes, as well as arms with brass balls mimic the look of the small and large stars in the constellation. This piece in particular, saved the day for me and solved the issue of the lighting placement not being centered above the window/sink. The assymetrical design creates the illusion that the light is centered in the space. And the brass complements the cabinet hardware and faucet just perfectly! Sazerac Stitches has a variety of styles, and their designs are unique and offer something unexpected, if you are wanting to add some serious pizzazz to your home. I have another cutie from Sazerac Stitches that's going up soon when work on the rest of this space! I can't wait to show you that one!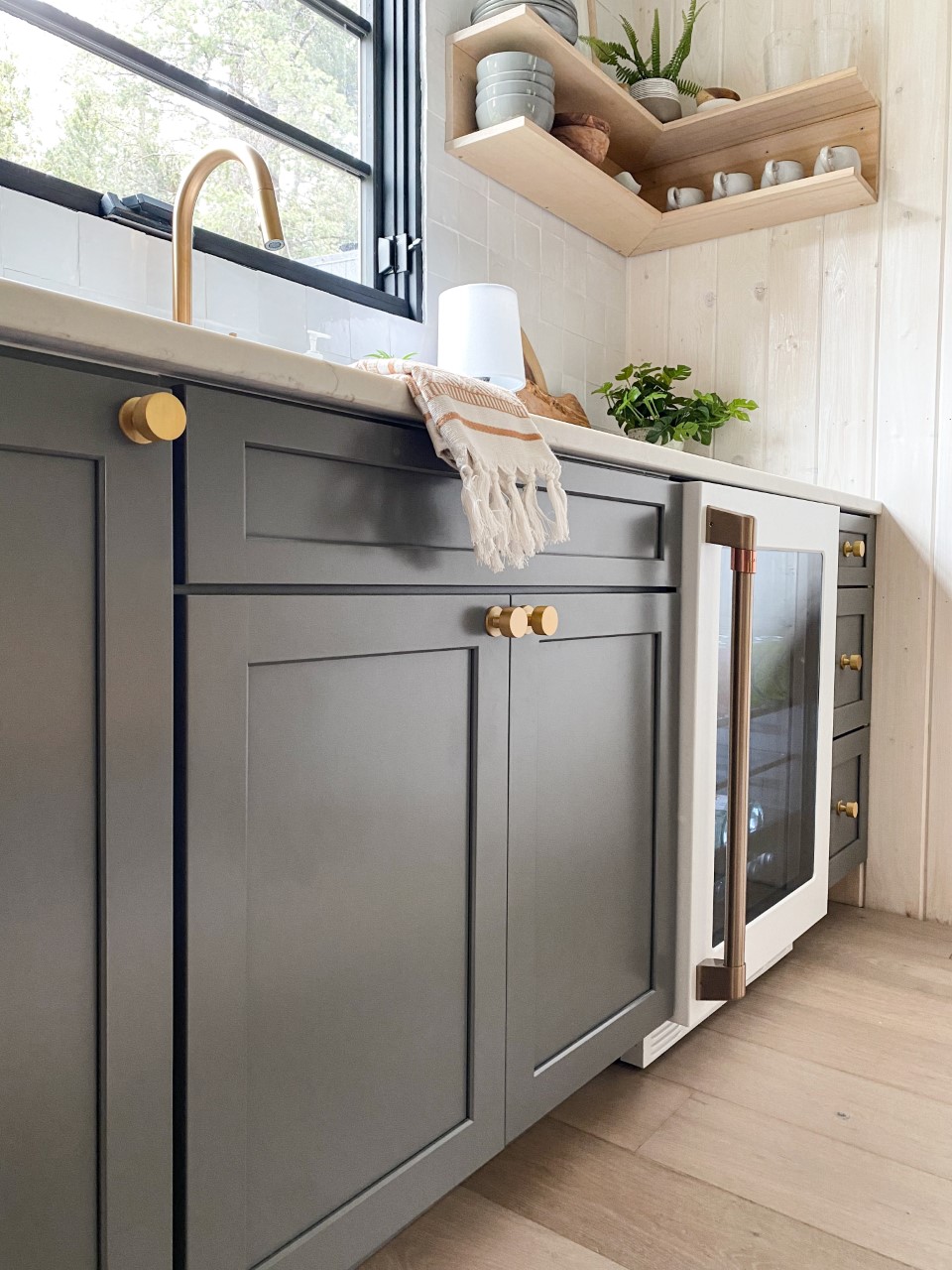 The cabinet hardware is also brass and I am digging the simplicity of it! With just a few cabinets in our small space, I wanted the cabinet hardware to not steal the show from the other elements in the space. I think these little round beauties, do just that! They are also surprisingly substantial, and are quite heavy!
Ok guys! I think that's about it…did I miss anything? So what do ya think? As always, a big thank you goes out to all of you for cheering us on throughout this project! Your questions, comments, and support really mean the world to me and make big projects like this one, so much more fun! Leave me a comment below and tell me what you think of the new space! I'd love to hear your thoughts!