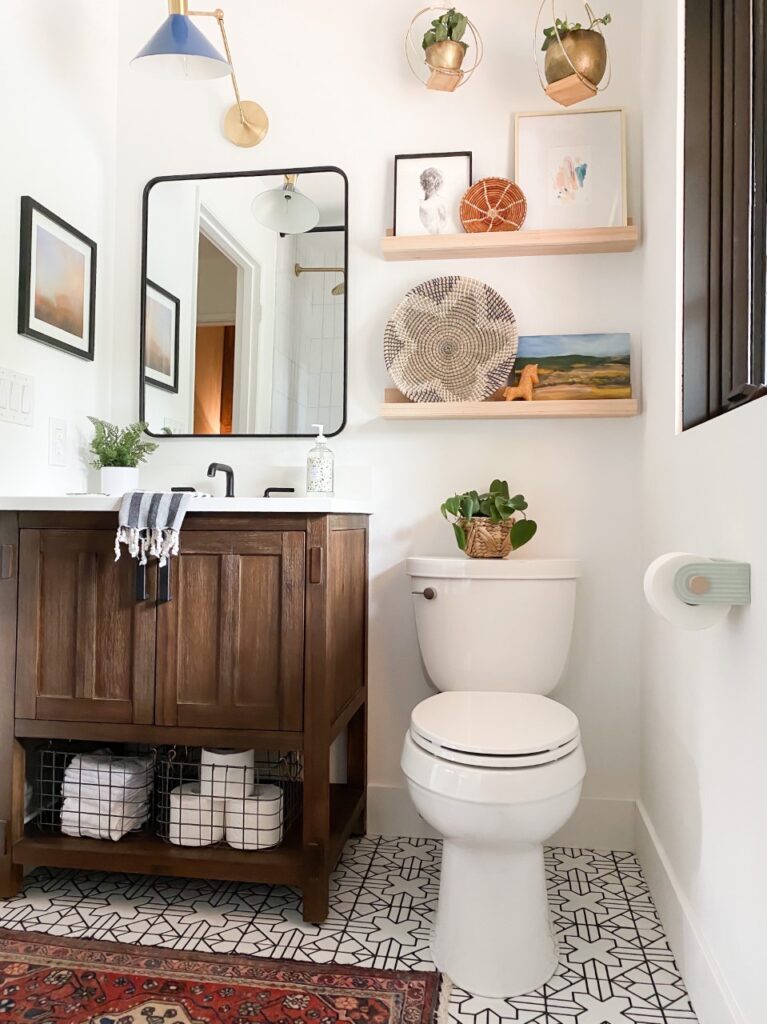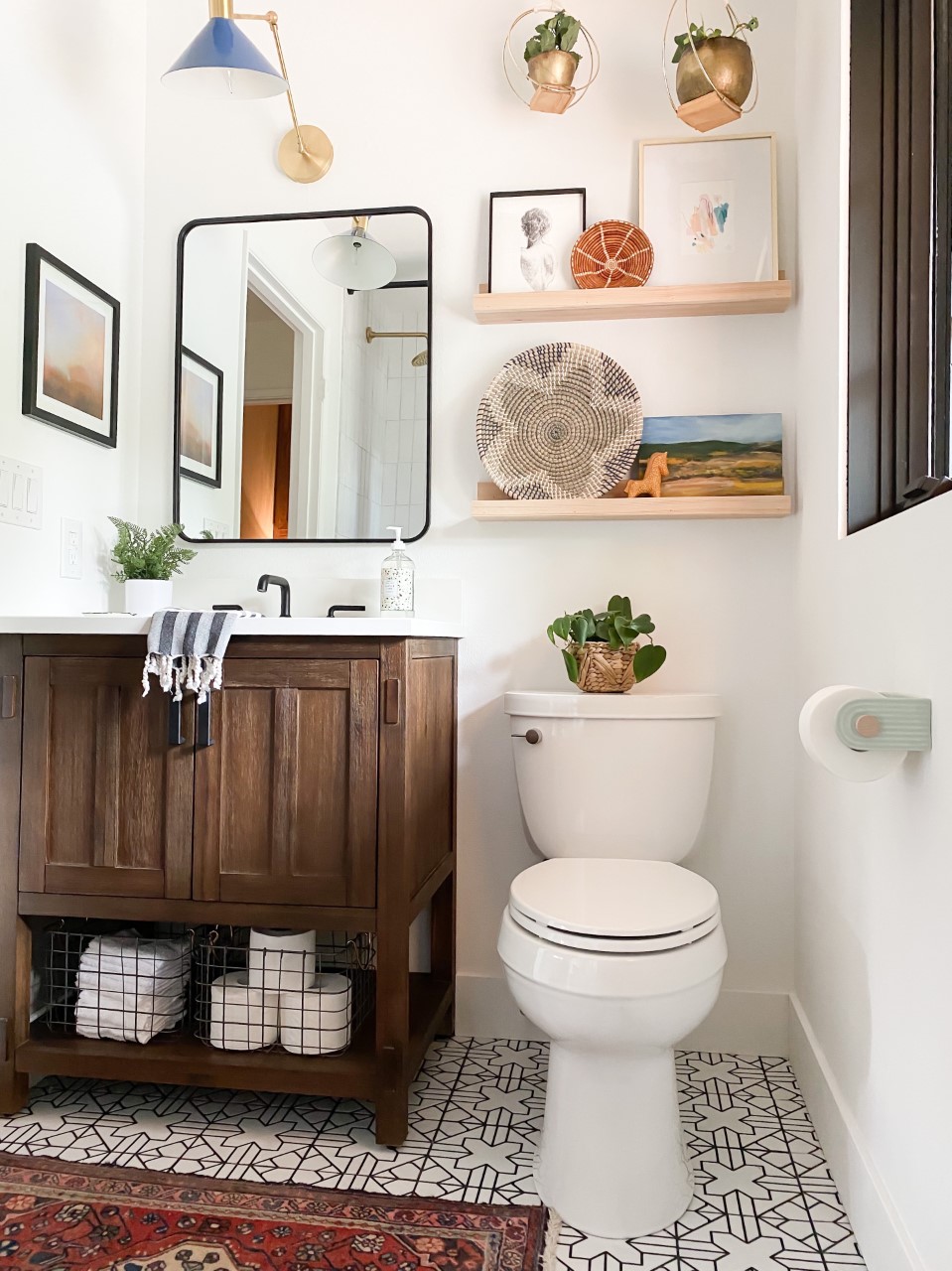 Hiya guys! I can hardly believe that I'm typing these words, but THE BATHROOM IS DONE!!! Even though this was a small space (just 5'x8′!), it was definitely one of the more challenging spaces that we've remodeled. COVID certainly didn't help, and we found ourselves without supplies that we just couldn't get our hands on for weeks at a time. At one point, we ran out of grout, and thought we would be able to simply pick some more up curbside from our local home depot, but they were out of stock. So, we ordered from them online, and didn't receive it for almost three weeks. Insert eye roll here. But, that's all in the past, and I can't wait to show you how it looks now!
I thought it would be fun to take a trip down memory lane and have a look at this space pre-renovation. Allow me to set the mood…think lots of dark, oak cabinetry from the 1980's, reflective shower doors (adjacent to the toilet, so I'll let that sink in for a sec), and the color brown for dayzzzzz. WARNING – it was so bad!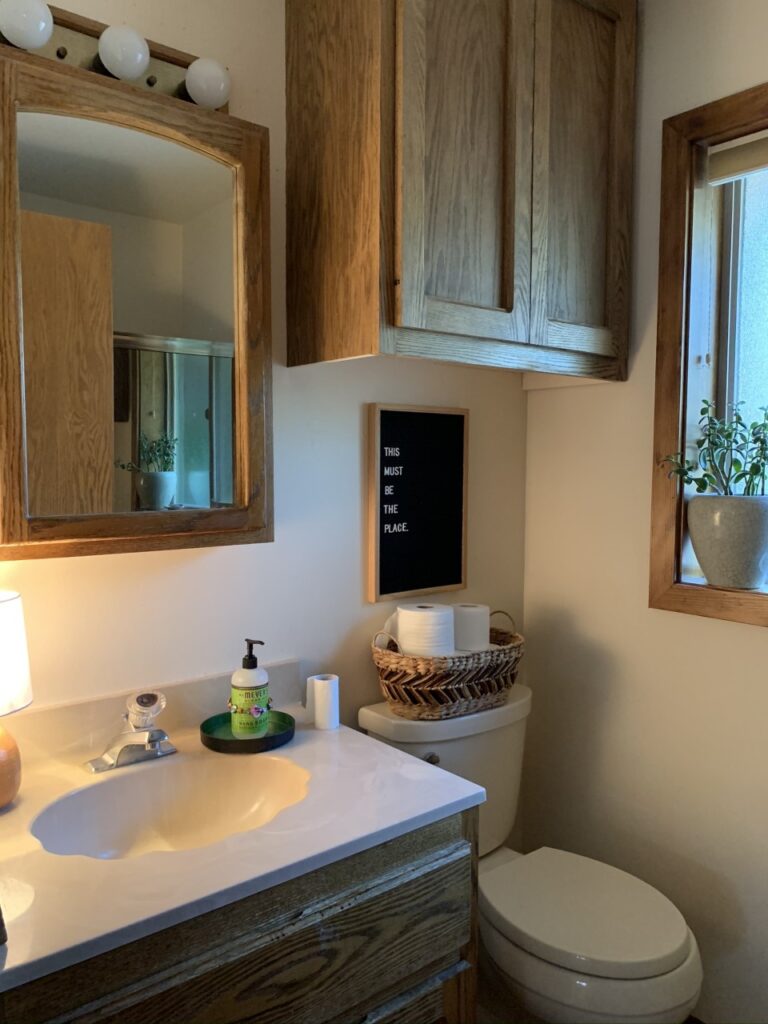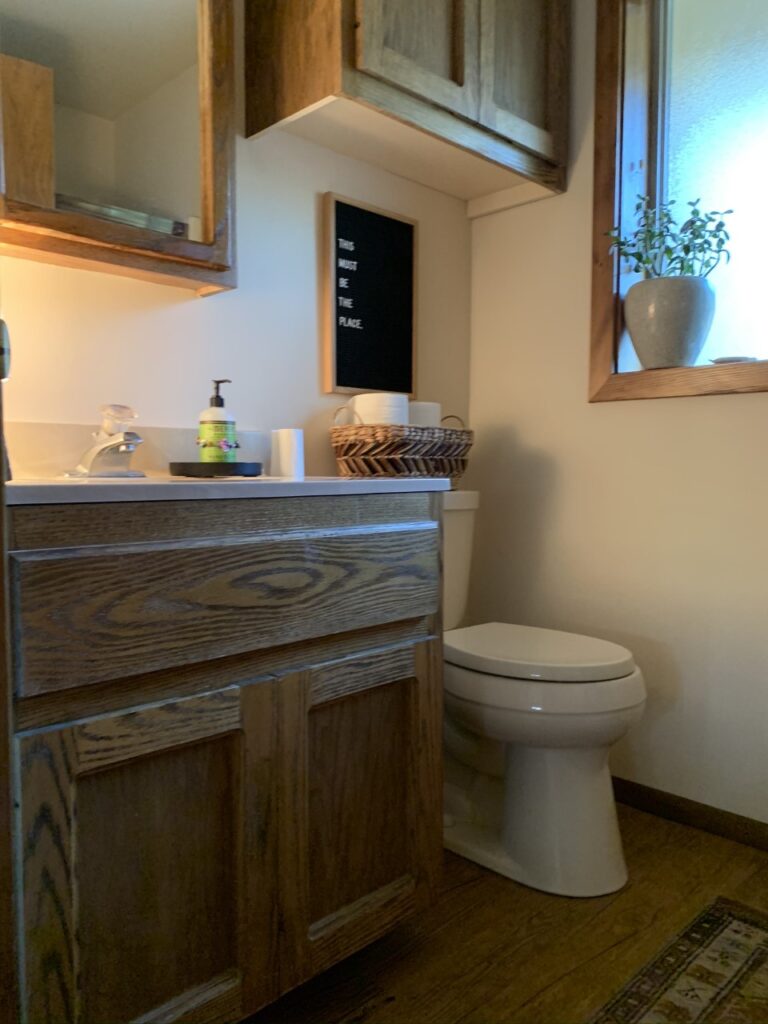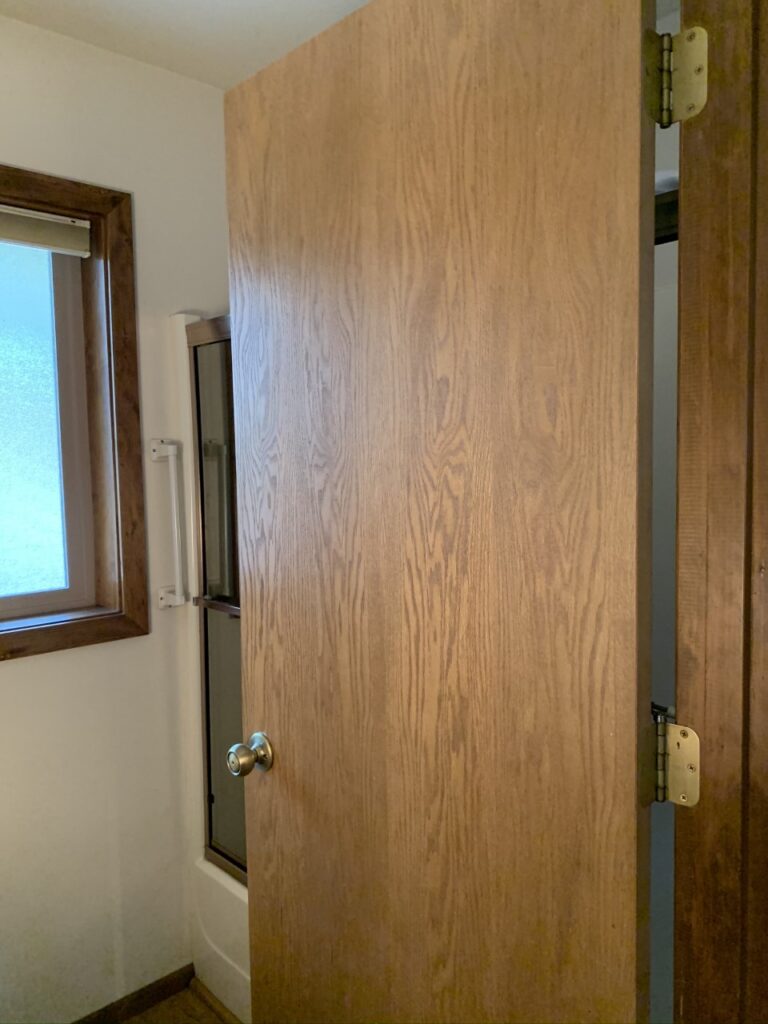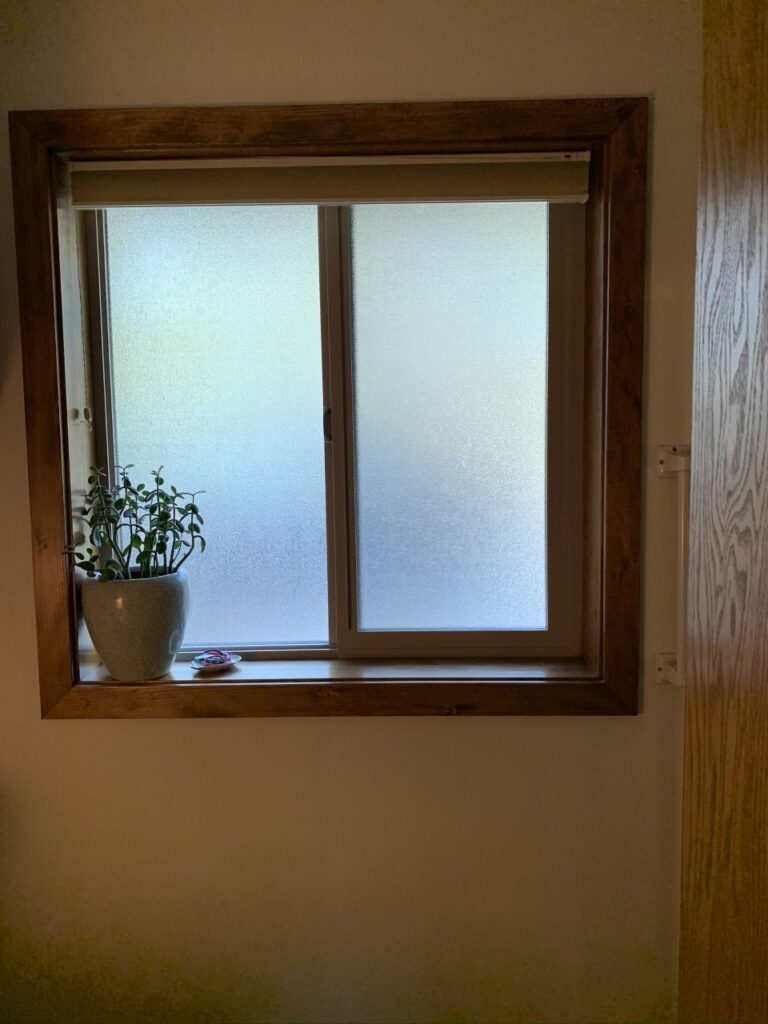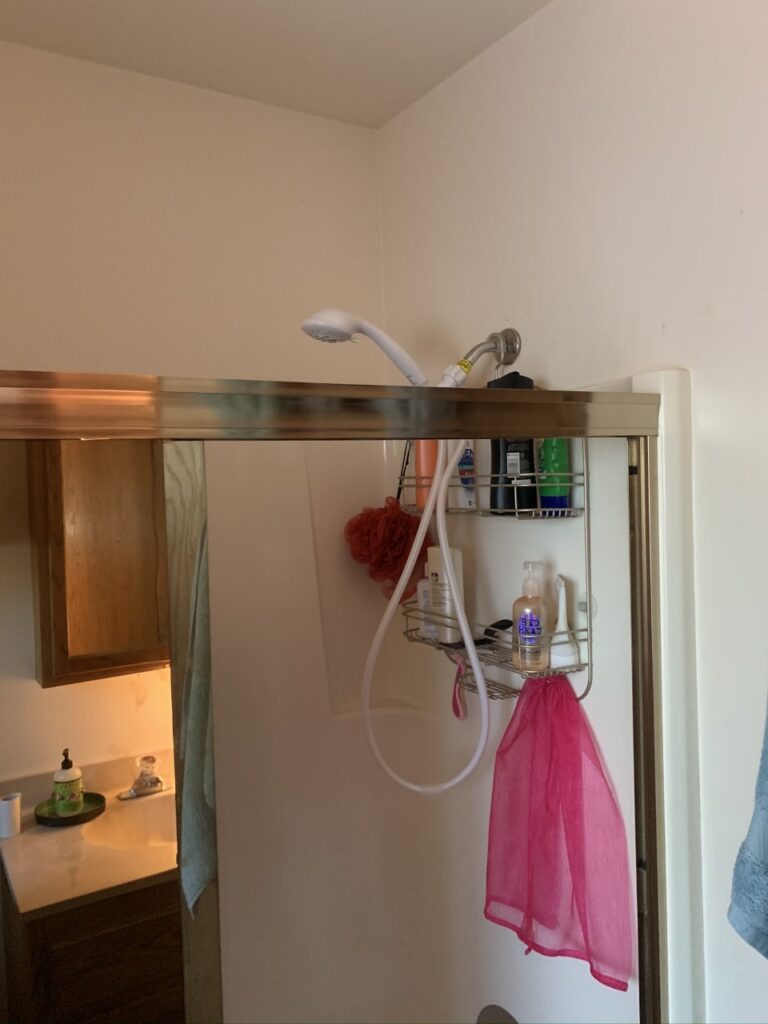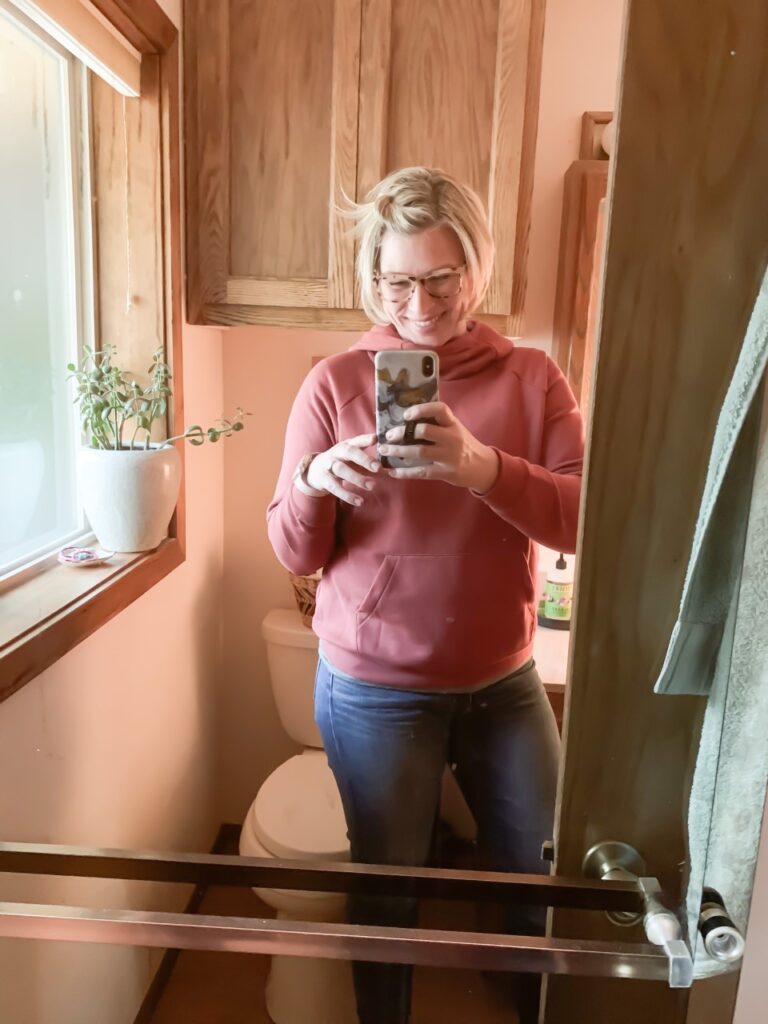 The space just felt sad. I assumed that it hadn't been updated since the house was originally built in 1984, but we found wallpaper behind the cabinets so I guess it had to have been updated at some point. Scary, but true! In addition to how bad it looked, it also didn't function well. The cabinet above the toilet was a hazard, and we were always bumping our heads on the doors when they were left open, which they always were. The faucet was leaking, and constantly had a small stream of water running down into the sink. The shower doors spent more time off of their tracks than on. Finally, the shower head was so low that Nate and I both had to crouch just to fit underneath for rinsing off during a shower.
The bathroom is so small that I decided early on that leaving the layout as is would be the best choice. Tip for ya; if you're thinking about starting a bathroom renovation (or any room, really!), keeping the existing layout will save you lots of dough, in terms of budget. Moving plumbing/electrical is costly, and you'll be forced to hire that work out. With that said, don't be afraid TO hire work out, if needed. Nate and I aren't comfortable with drywall/texture work, and can't achieve the look of a professional no matter how hard we try…and trust me, we've tried! We always hire that out, and I feel good about that decision. We save money doing most of the work ourselves, so it feels justified in that way.
Ok ok ok…let's get to the good stuff! Here's how the bathroom looks now!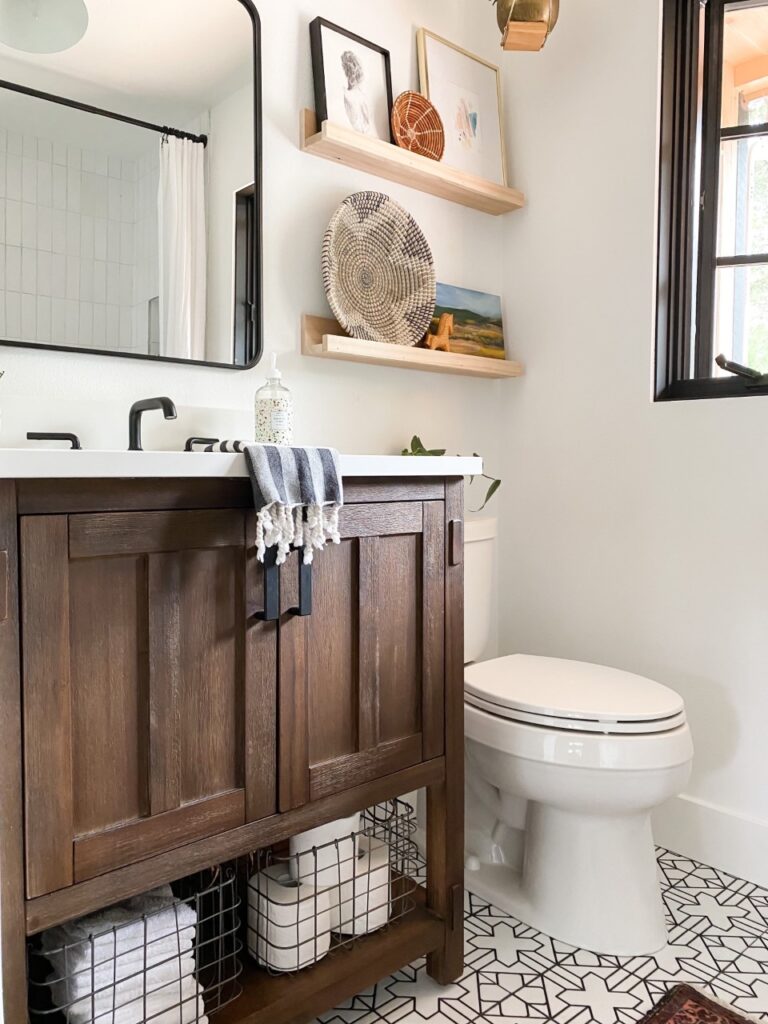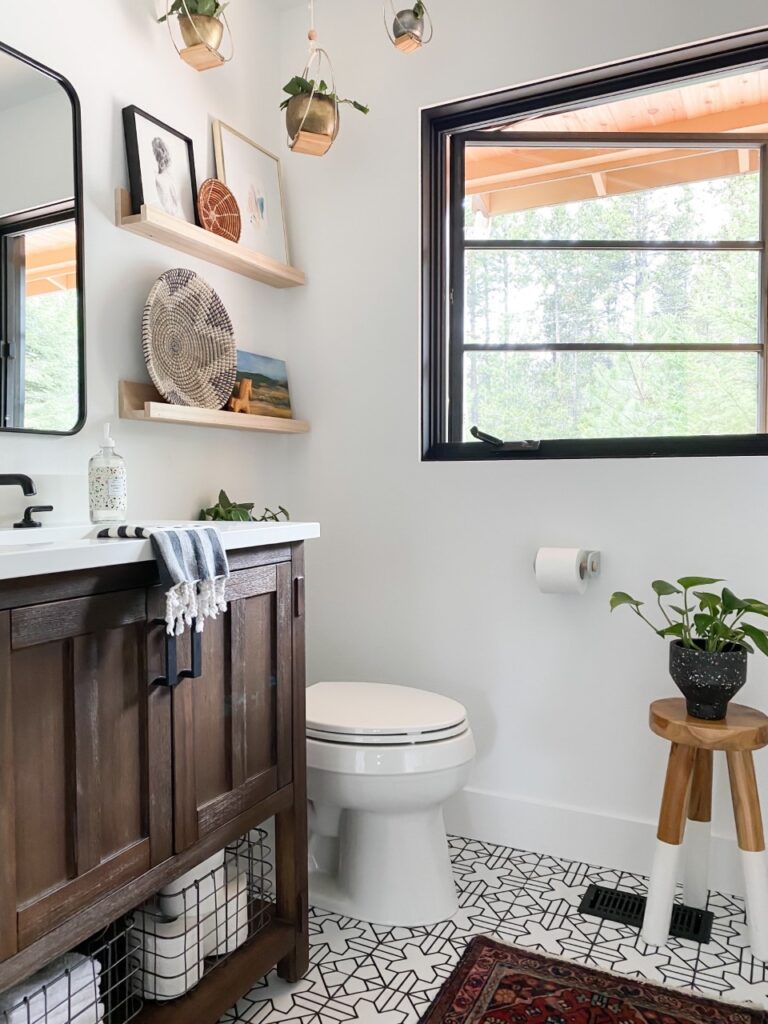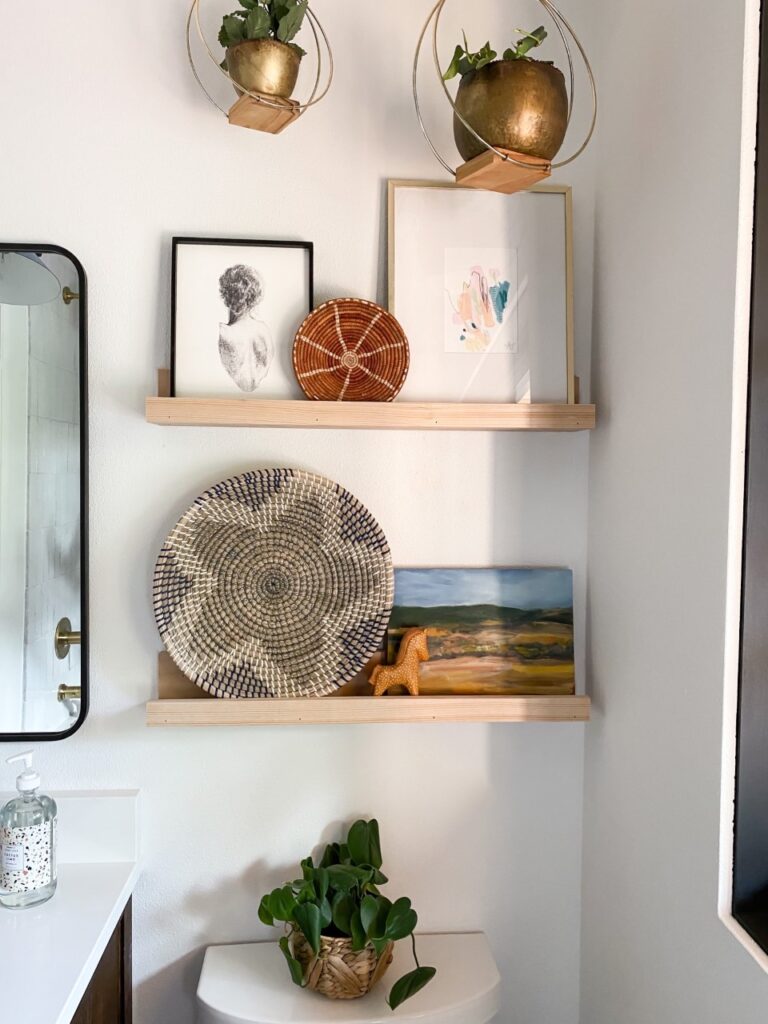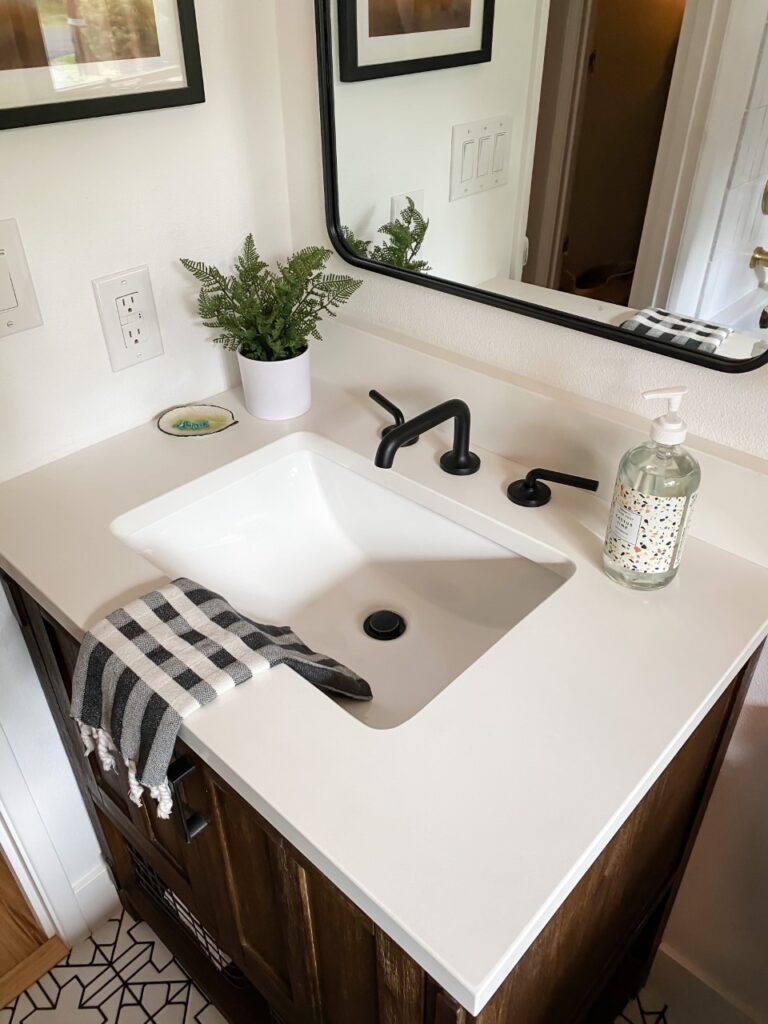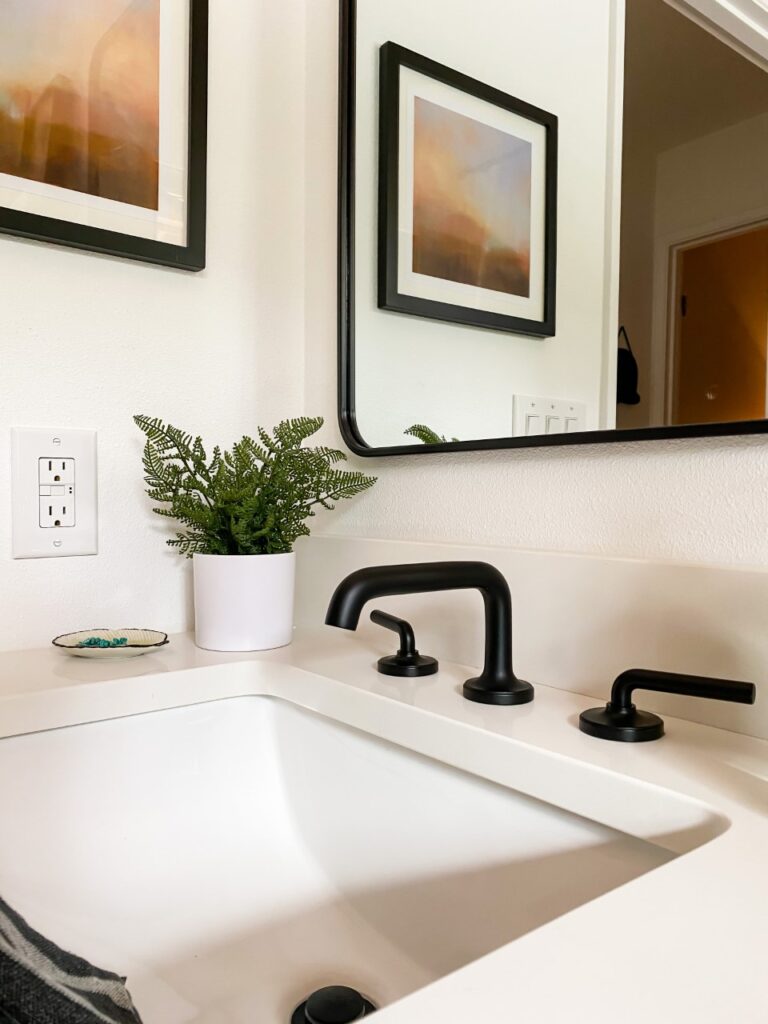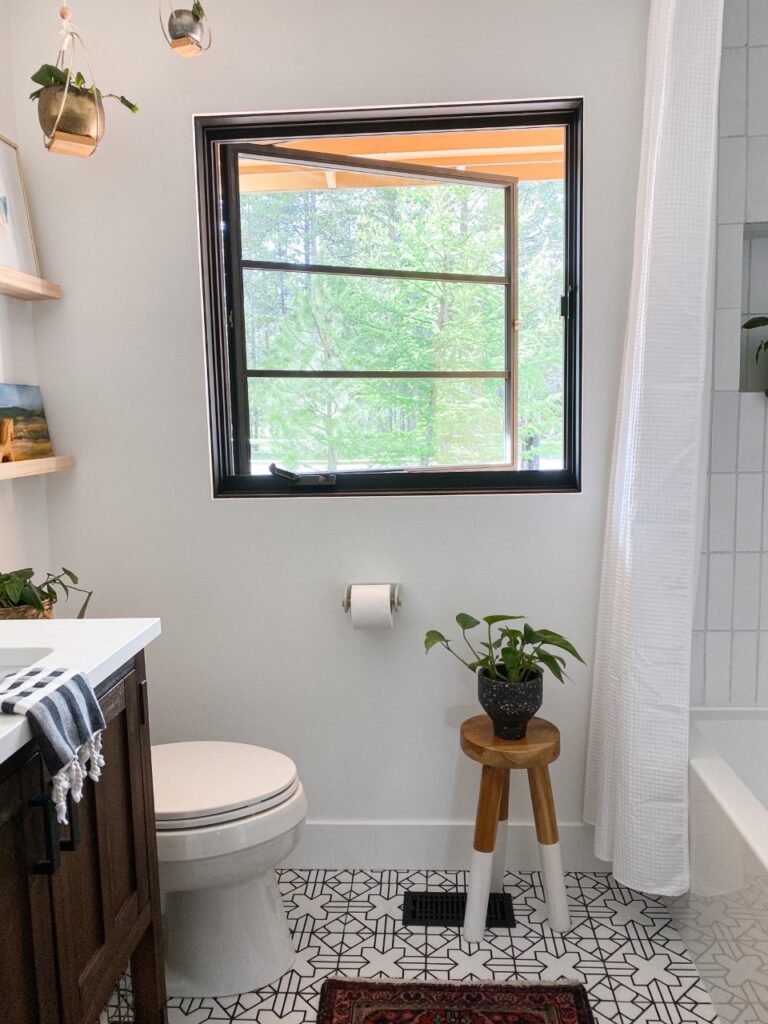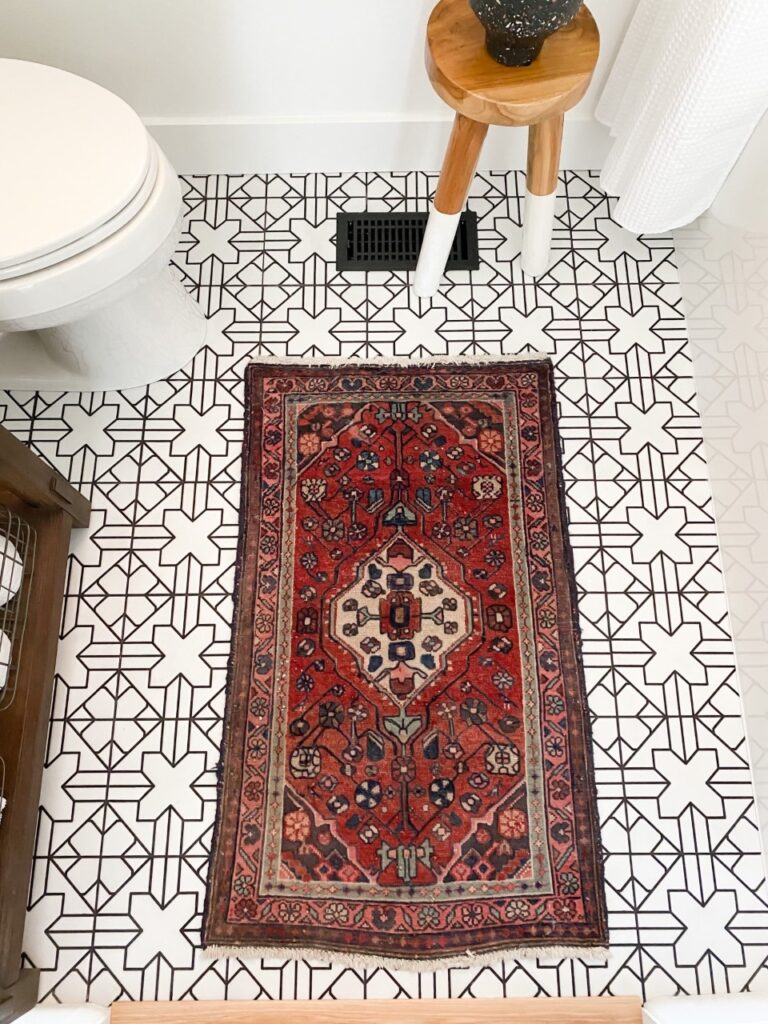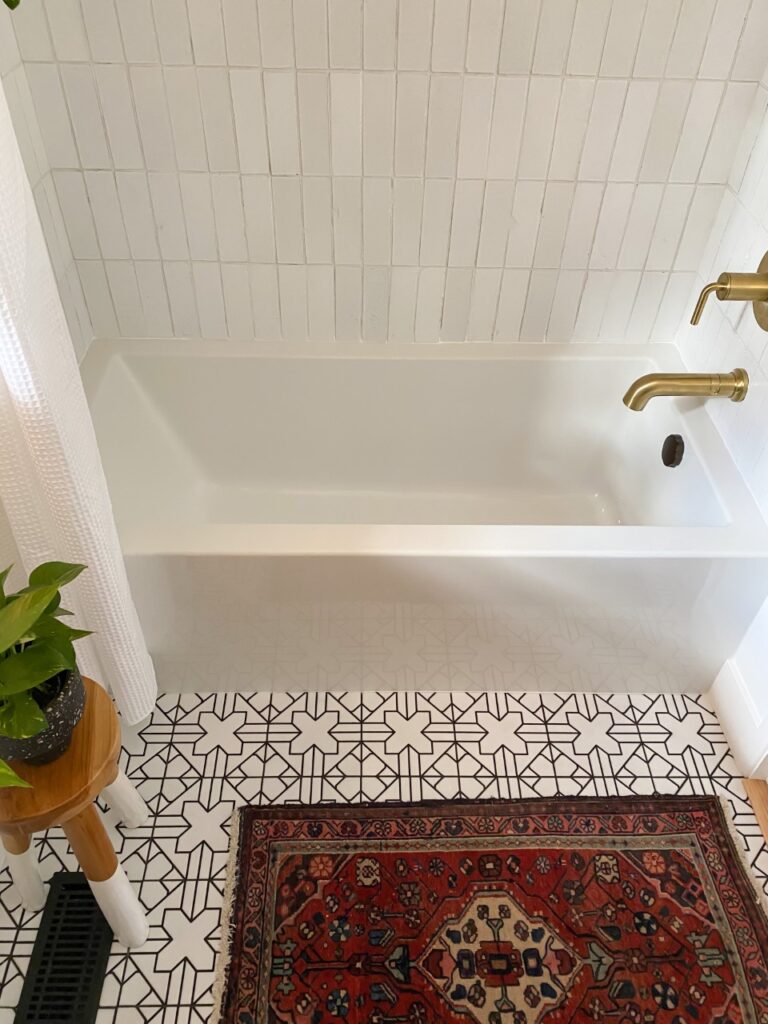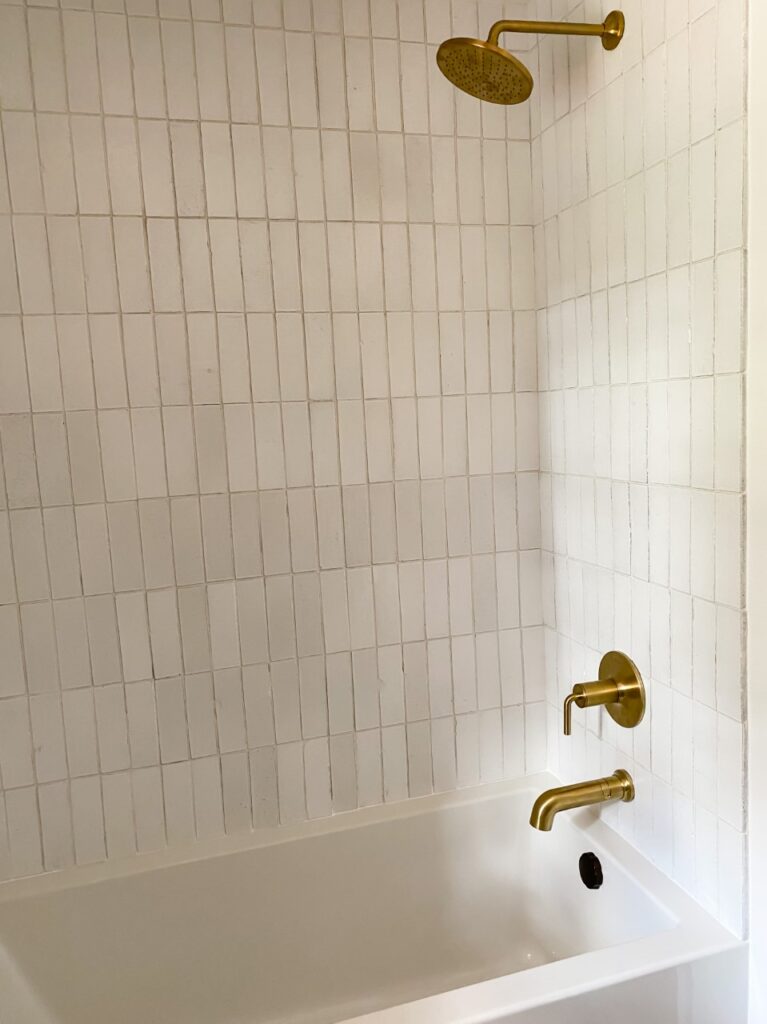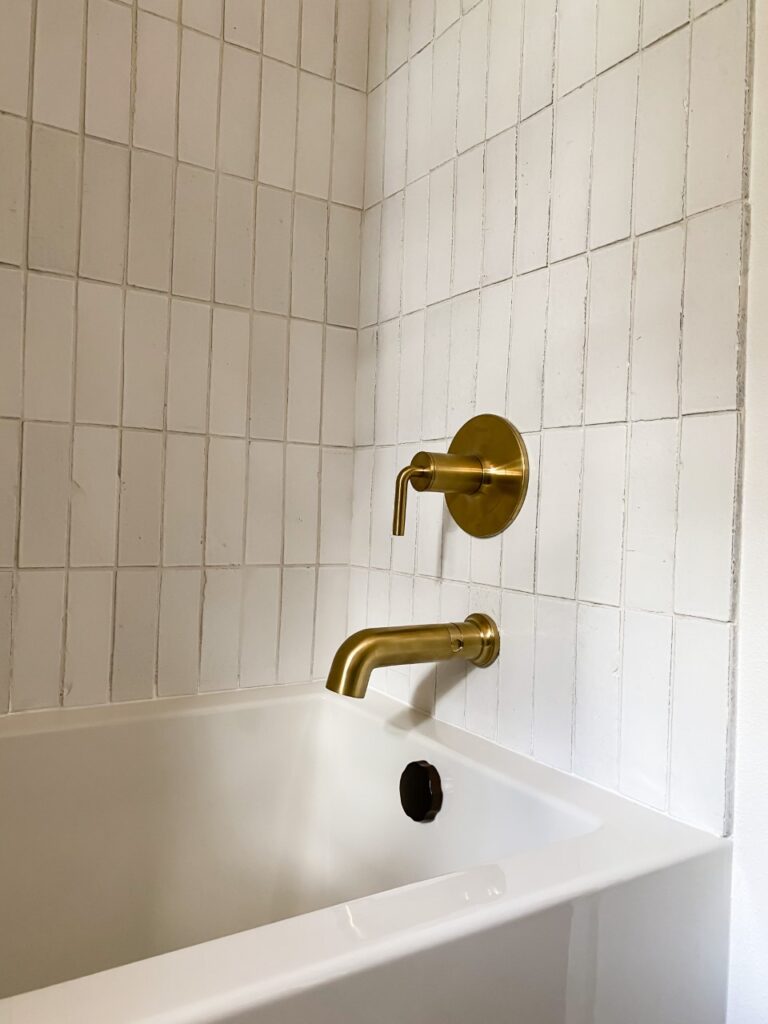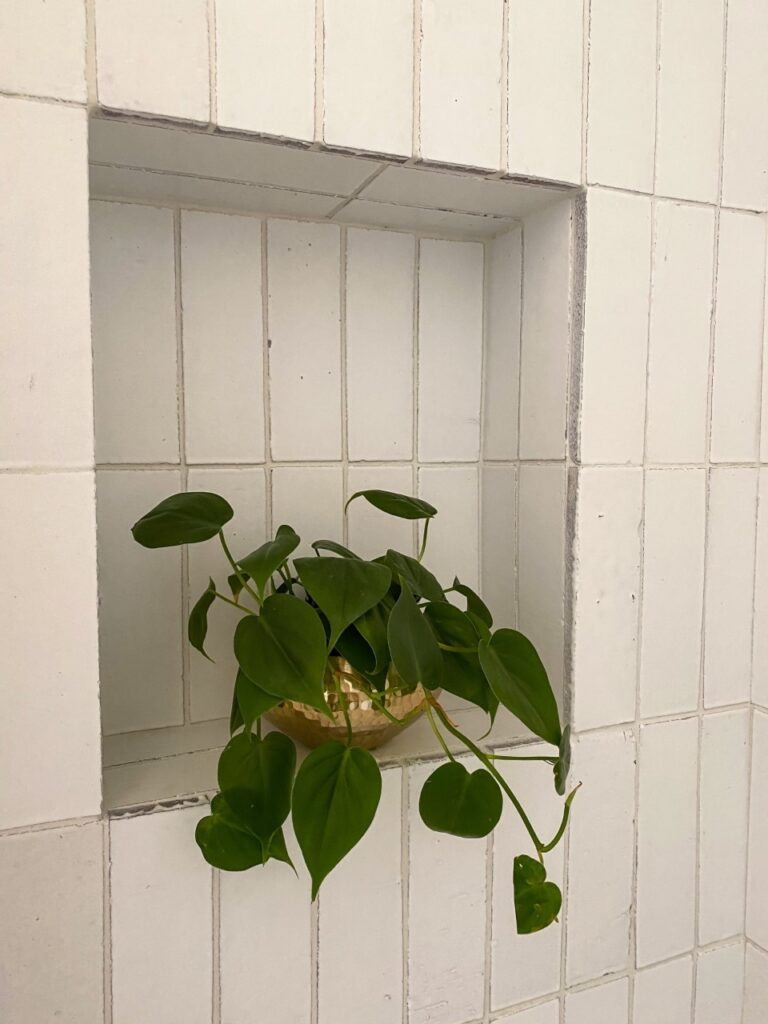 Ahhhhhhh can you believe it?! What do you guys think? Can you even handle how cute it is now? I will admit, I have been caught a few times over the past couple days just staring. It makes me so happy now!
A few thoughts on the overall process:  I wanted to have some fun with this space and mix some metals, you can see that I mixed brass, matte black and brushed gold. They all are different but I think it works! Everything had to go during the renovation which allowed us to start fresh. After the new water resistant sheet rock went in, we applied a coat of Redgard, and then had all the walls repaired, skim coated, and fresh texture was added. If you have a keen eye, then you might have noticed that we even replaced that old vinyl window with a modern black window from Sierra Pacific Windows. The clear glass lets in waaaay more light, and the modern lines helped to bring this bathroom from sad 1980's to modern 2020. Welcome to the new century, Bathroom! We debated (heavily) on doing a glass shower door, but ultimately opted for a simple shower rod and shower curtain combo just to keep things light and airy. The shower tile pattern is a vertical stack, which I worried might feel too modern, but I think the handmade artisan look of the tile keeps it from feeling toooo modern. Nate and I learned a lot during this remodel, and now I'm itching to use everything we learned on our upstairs bathroom!
Link time! So if you wanna know where I scored a certain something, it should all be there for you in the list!
Vanity – The Morris 30″ from Signature Hardware
Vanity light – Monarch Articulating wall light from Blueprint Lighting. Mine is in the color called Greece.
Sink faucet – Matte Black Tenet Widespread Bathroom Faucet from Pfister Faucets
Tub – Sitka Tub from Signature Hardware
Shower tile – Glazed Thin Bricks in Lewis Range from Fireclay Tile
Shower trim kit – Brushed Gold Tenet Tub and Shower Trim Kit from Pfister Faucets
Floor tile – Kasbah Trellis from Fireclay Tile 
Window – Urban casement style from Sierra Pacific Windows
Window Blind (that has yet to arrive) This is another good option for bamboo blinds that I have used in the past and loved (ships super fast too)!
Shelves above Toilet – Made by Nate who has a tutorial saved on his Instagram page @honeydudelist
Print on shelves (top left)
Print on shelves (top right) – Corinne Bizzle Art
Print on shelves (bottom right) – Thrifted but I linked a very similar look here
Wall baskets on shelves – Thrifted but I linked an even better set here
Rug – Vintage rug from Rug & Weave but I linked a similar one here. Everything on their site is amazing!
Plant hangers – Braid & Wood Design Studio
Whew! Well, I think that's about it! Thank you so much for following along and for all of your comments, questions, and for cheering me on during this project (love you guys!)…even though it seemed like it kept going and going and going. Also, I'd like to thank my sponsors who I worked with and I'd just like to say how much I appreciated their patience with me during this project. Everything took WAAAAAY longer than I had originally planned, and everyone was so gracious. So a big thank you and a big hug (virtual, of course. Thanks to COVID) goes out to all of these generous partners for believing in me, and this little bathroom! I couldn't have done it without you! XOXO