This post is sponsored by Serena & Lily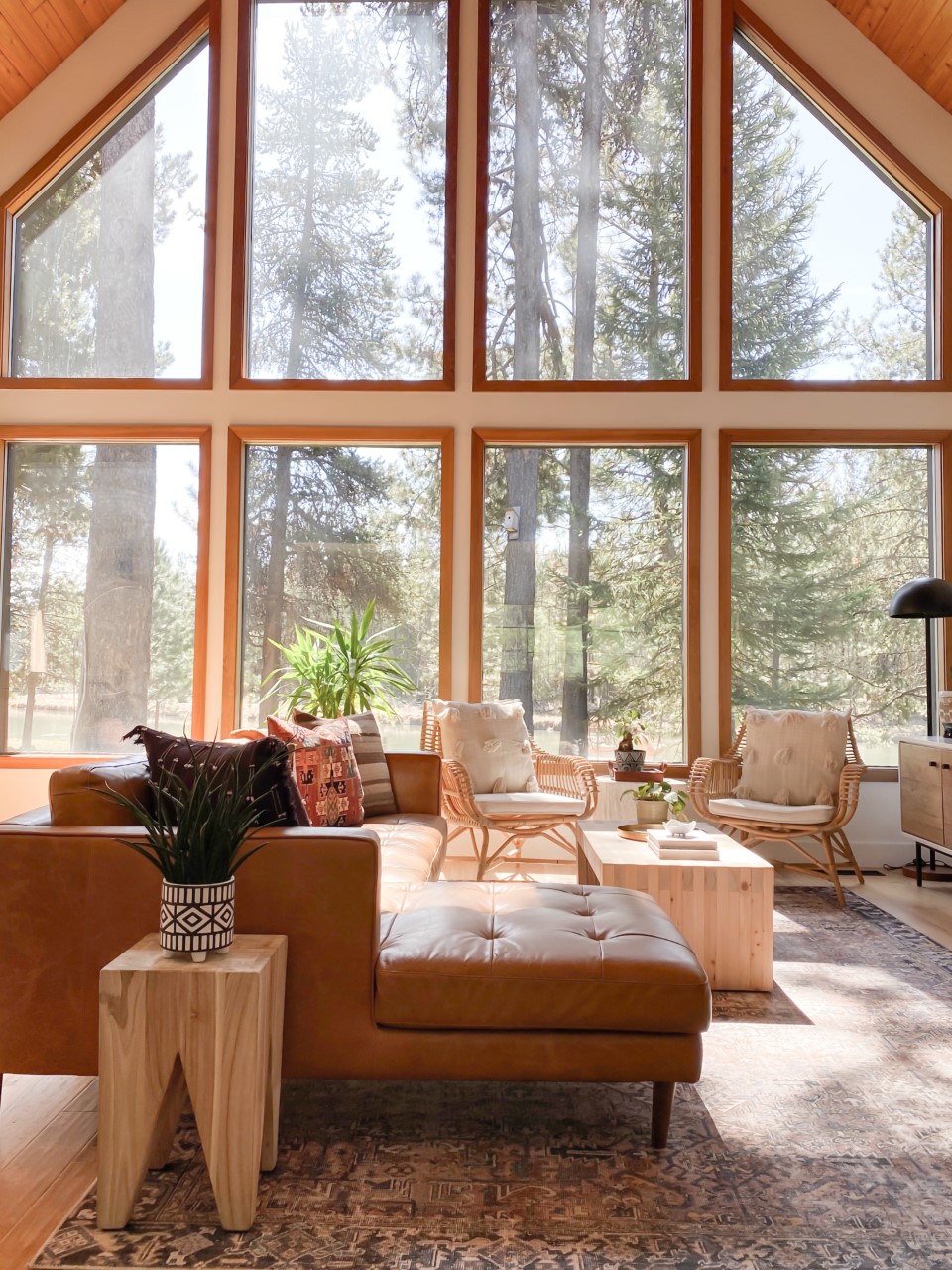 I get lots of questions about all of our projects around this old fixer upper, and I always try to give an honest answer so that I can help you guys, in case you're thinking about tackling something similar in your own homes! I also get lots of source questions, ie. "where did you get that rug, piece of furniture, accessory, etc.?" Talking furniture and accessories with you guys is one of my favorite past times…I know, I know, I'm very exciting over here. And one of the most asked about pieces of furniture in my home are my Venice Rattan Chairs from Serena & Lily. I've had them for almost a year, so I thought it would be fun to give my honest opinion about them in case any of you are thinking about adding these cuties to your homes! So let's get to it!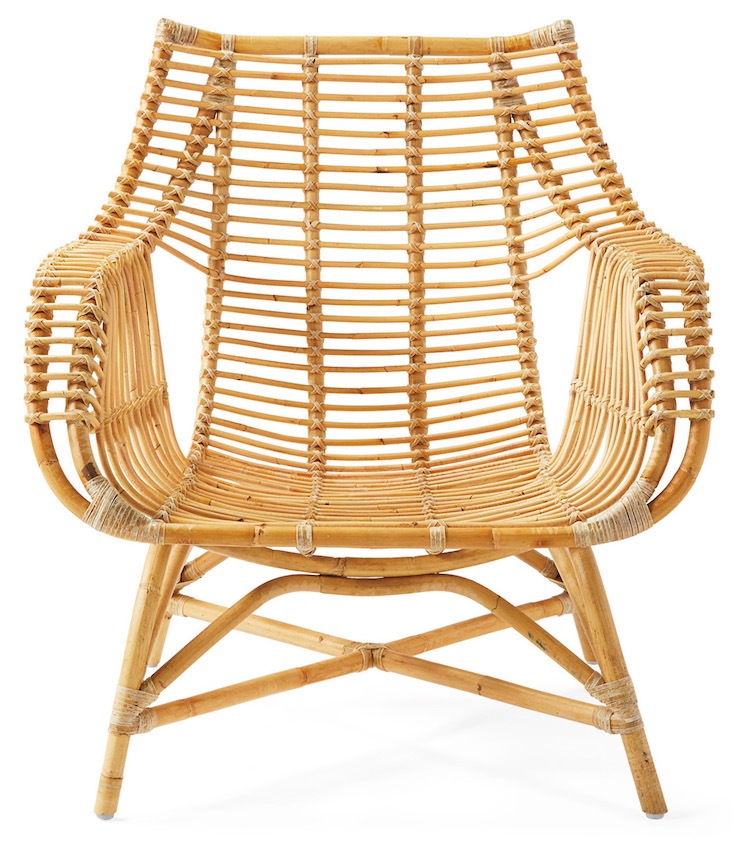 Serena & Lily is famous for its casual and coastal designs, but still lends itself to many styles of homes – like mine! I have a NW Chalet (is that a thing??) but their pieces are so well-made, classic in design, that they fit right in here! Last summer, I was on the hunt to add some additional seating to my living room, I found the Venice Rattan chairs and knew they would be perfect! It was tough to find an armchair that felt substantial, without the heaviness that comes with the look of an upholstered armchair. This chair checked all of my boxes! The airy design allows your eye to travel right through them and doesn't block the views out our big windows. They are also extremely light weight, so turning the chair around to enjoy the views is no problem at all! The feet all have plastic protective feet so no need to worry about scratches on the hardwood floors. Peace of mind for the win!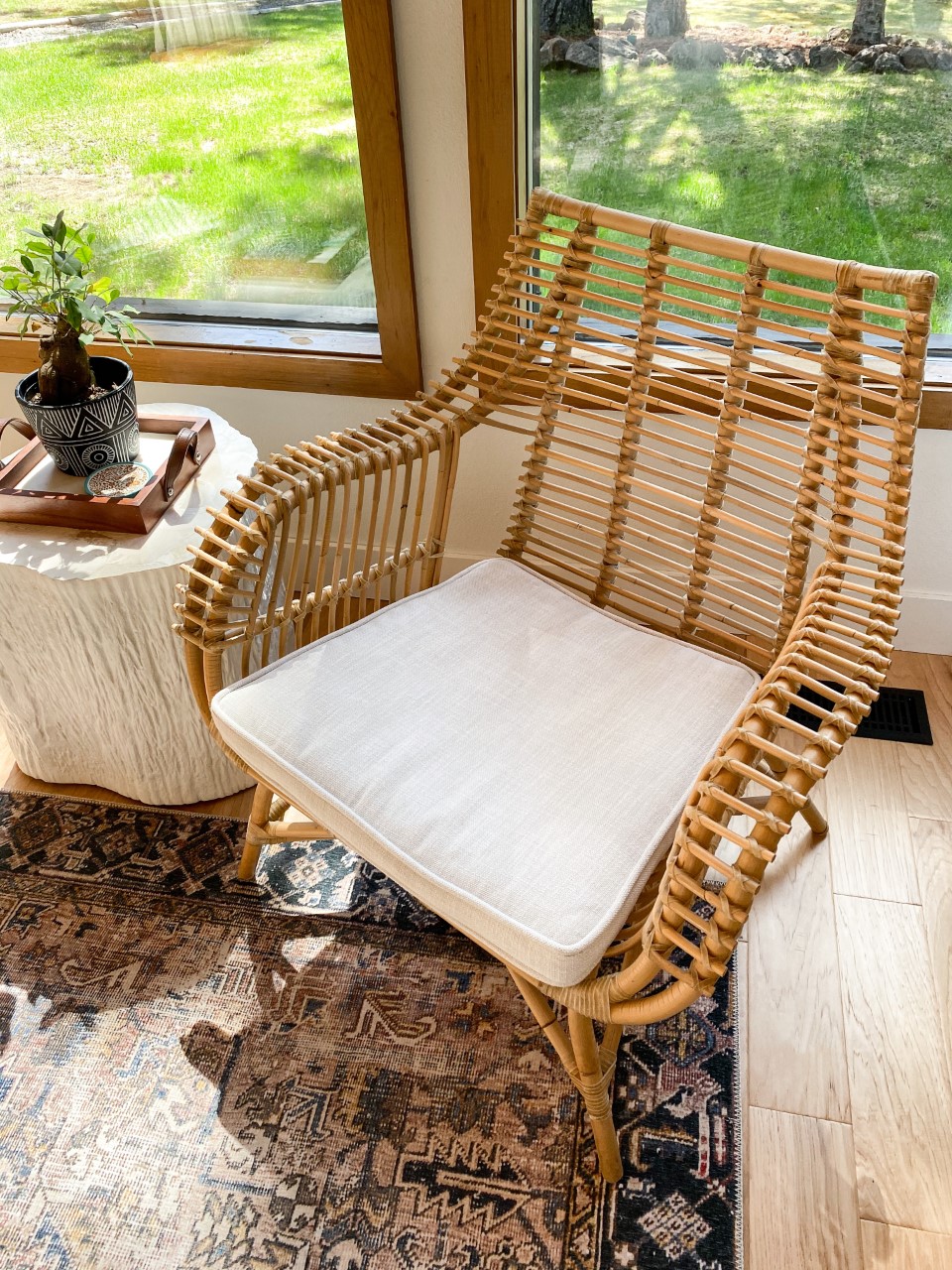 The seat is wide and very comfortable. Wide enough to even sit two kiddos side-by-side! With its arms and high back, the chairs feel firm but supportive. As a tall person, I always appreciate a chair with a higher back. #tallpeopleprobs We just recently added this cushion which has made for even cozier sit. Before, I just tossed a soft throw pillow and they were still very comfortable, even without the cushion.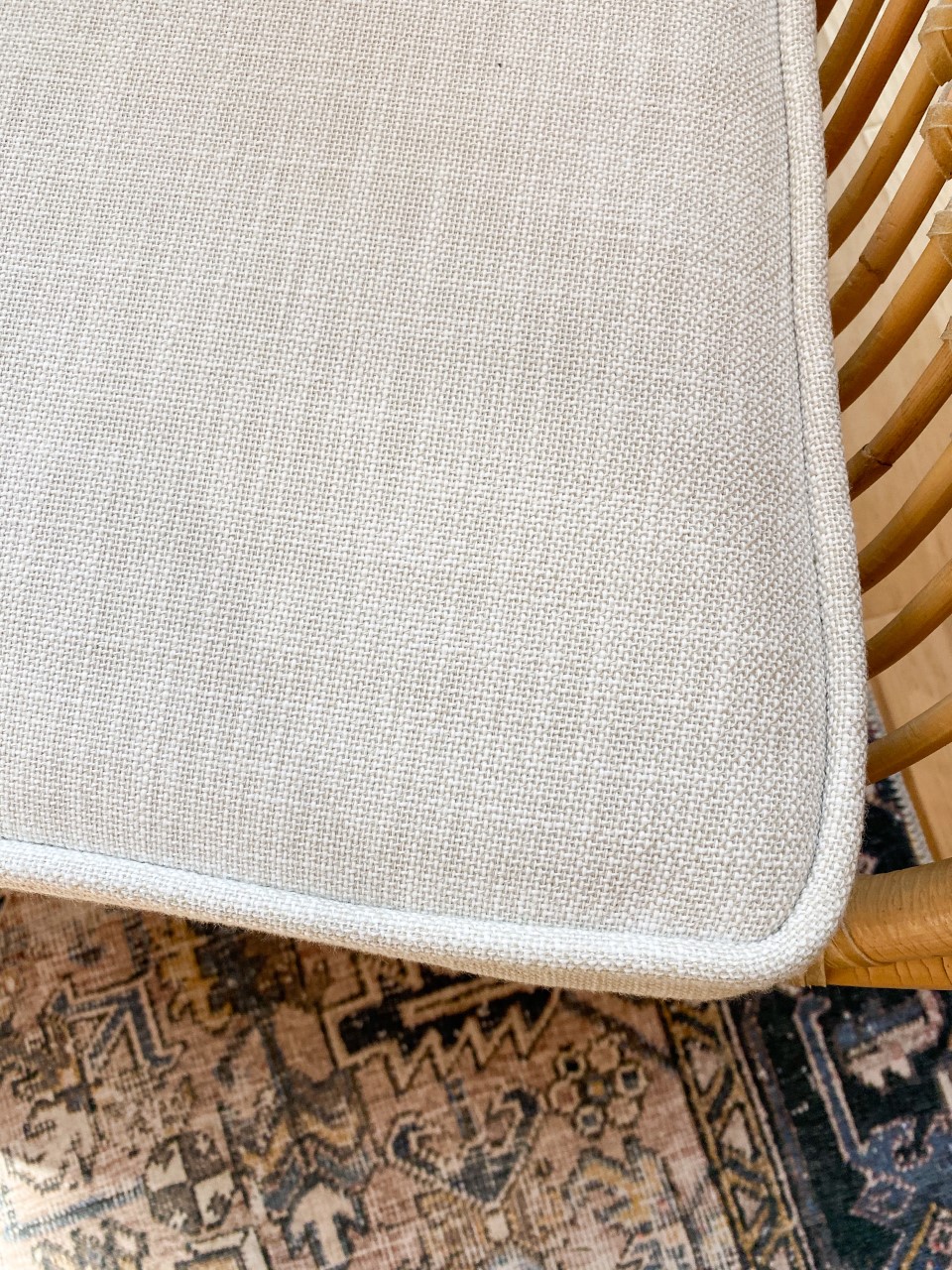 I'm a big fan of the subtle texture that these cushions add to the room. It was important to find a neutral cushion that would allow me to switch up my throw pillows whenever the mood strikes – mission accomplished! The cushions also have a zipper so when (inevitable around this house) the kids spill their juice, or leave cracker crumbs, I can easily unzip and throw the cover into the washer. And speaking of cracker crumbs, anyone else ever wonder where all those crumbs come from? I mean, seriously!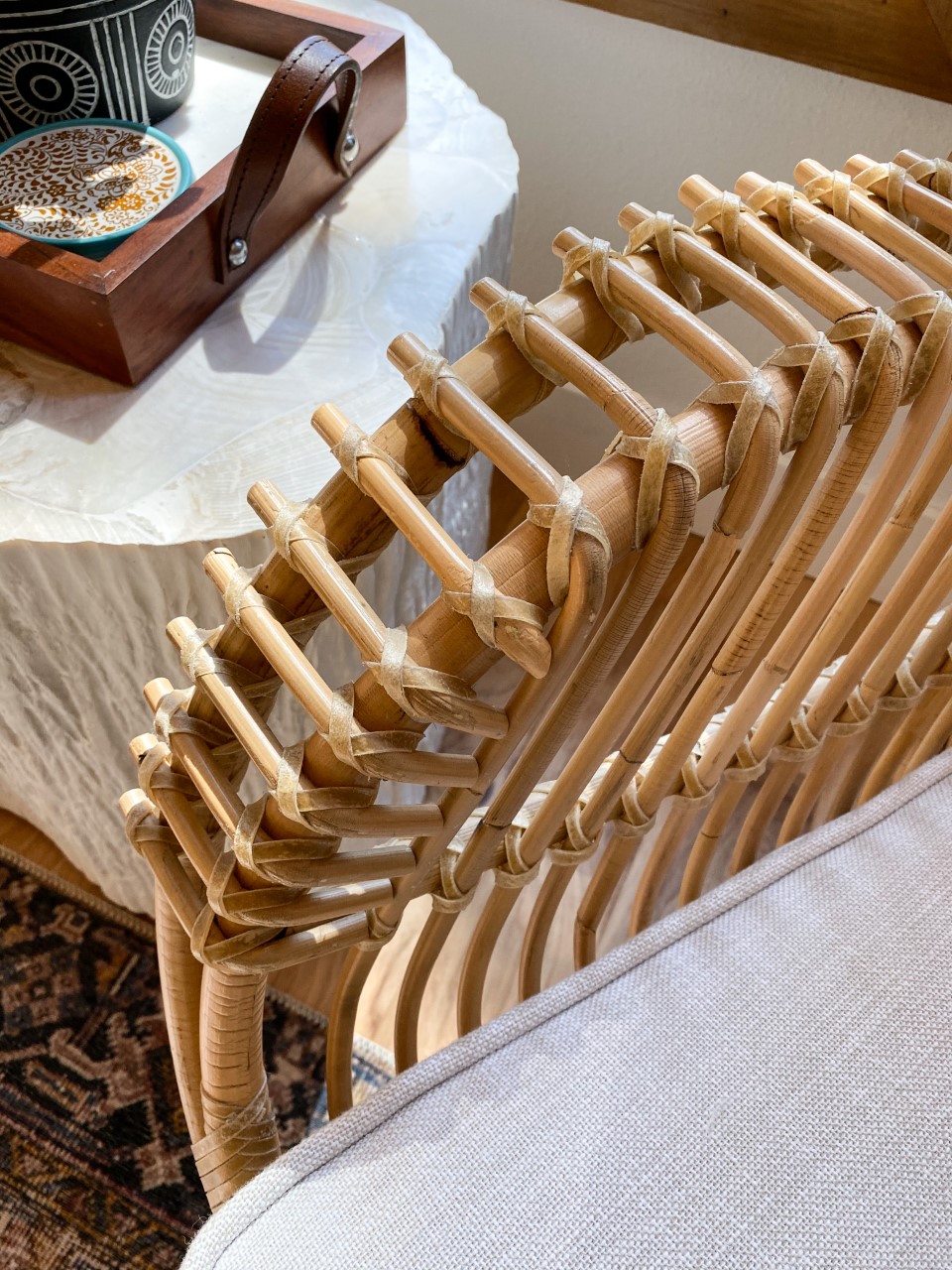 The craftsmanship really shines with its hand-wrapped rawhide joints and rattan frame. I'm in love with their California vibes and I don't worry about them going out of style any time soon. To me, the design feels fresh and modern, but also classic and not too trendy. That perfect sweet spot, ya know?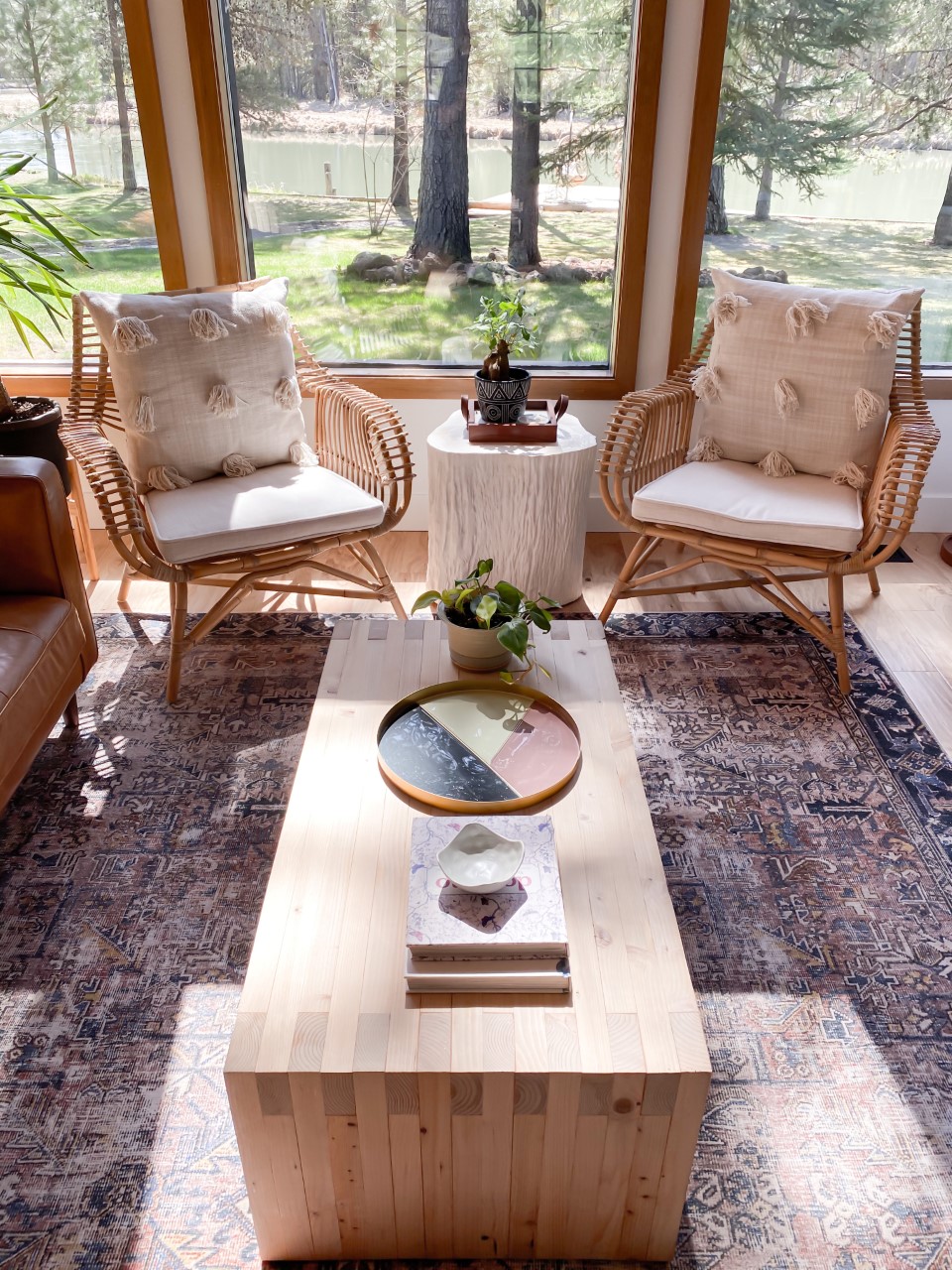 The chairs pair so well with this side table and I love that this sweet table mimics the look of a tree…which is so fitting for our little home in the woods. The top of the table is a show stopper with its polished clamshell veneer top. It's smooth and shiny, almost like a stone countertop.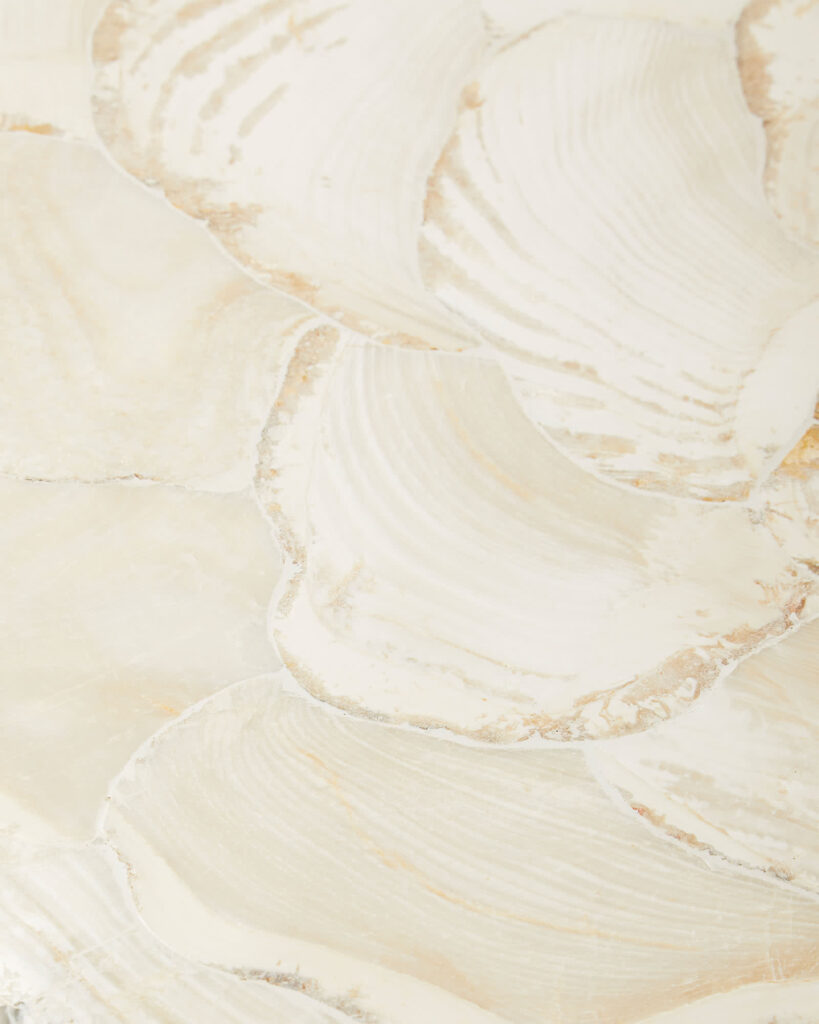 Here's a close-up so you can see the detail on the top. It adds a lot of interest, and I love the natural color palette that includes, whites, creams, rusts, and grays. It's sparkly in the sunlight, and is just so beautiful! ANYWAYS, let's get back to the chairs!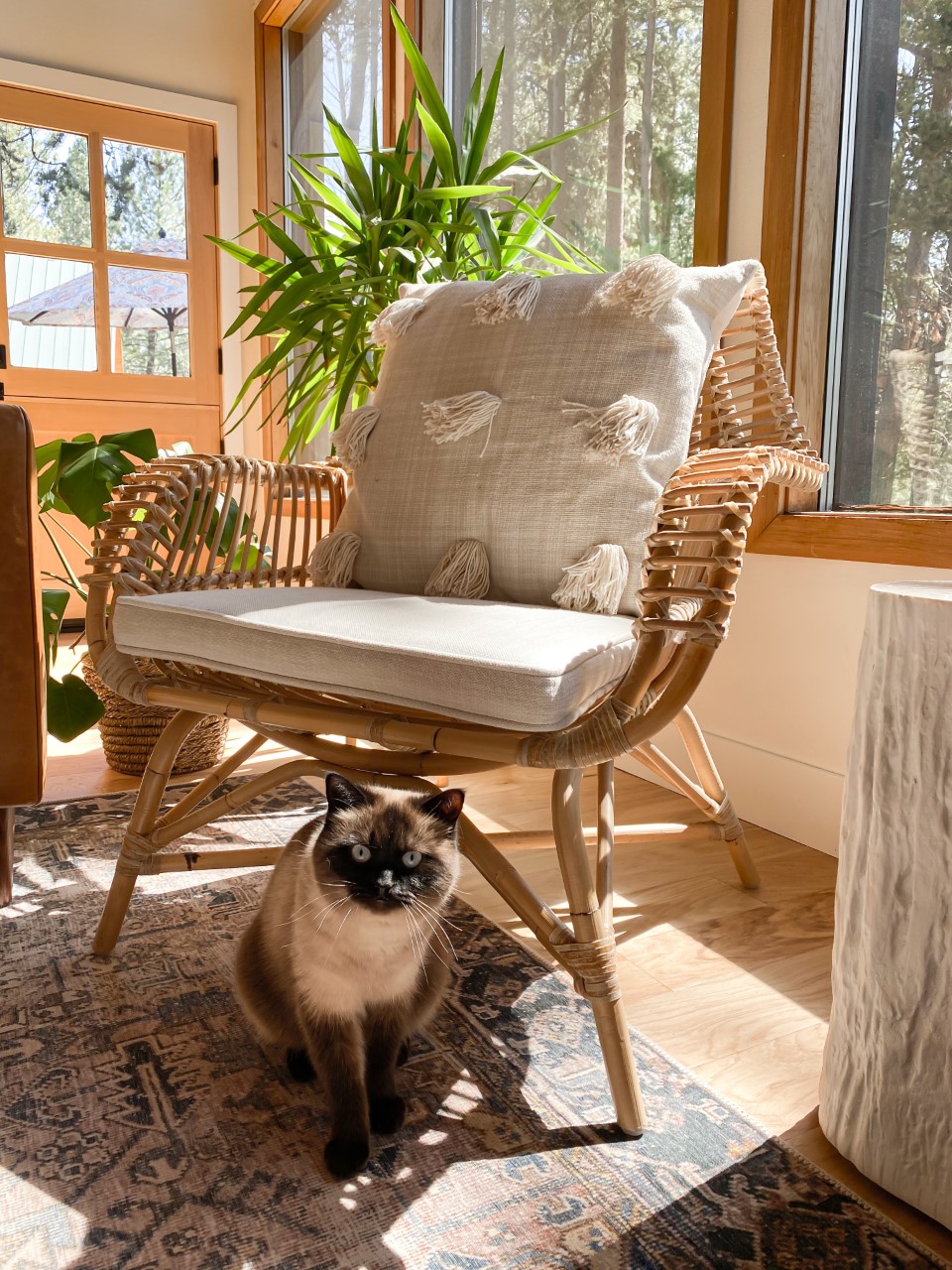 Our kitty, Phoebe, definitely approves of the cushions that we added to the chairs and can be found taking a snooze here on the daily. In fact, I think this was her plan as I snapped this photo of her…she looks kind of sleepy, no? Overall, I give these chairs a five star rating. I would highly recommend them for anyone who is looking to add extra seating to their living room, bedroom or, really anywhere! I think it would look really great tucked into a corner of a bedroom, or in an entryway to serve as a spot to take your shoes off. It's so versatile and has enough personality to stand on its own! Also, after a year of every day use by adults and lots of kids, they are in perfect condition and look exactly like they did on the day they were delivered. This Oregon girl is giving off some California cool vibes these days, and they are most definitely here to stay!