This post is sponsored by Rove Concepts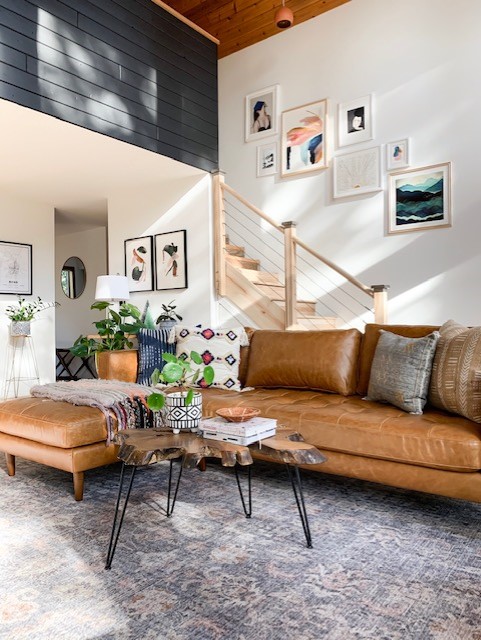 Whew…now that the One Room Challenge has wrapped up, I'm so excited to give you guys some more details about the some of the products and companies that I was SO lucky to partner with to make this massive project come to life. I've been busy putting in a lot of sofa time (jk…not busy at all) since we finished up the ORC last week…I swear, it feels like I haven't sat down in six weeks! After breaking in our new sectional for the past week, I feel confident that I can give you guys an honest opinion of the sofa, how the ordering experience was, and what I thought of it in person! Am I the only one who gets nervous about ordering a sofa online when you can't see it in person or sit on the cushions? Eek!
We have had a fabric sectional for years, and I felt like it was a good time to switch things up! So, I started considering leathers for the new sectional. When I started poking around the Rove Concepts website, I found the Luca Sectional and it was love at first sight. It comes in three shades of leather and countless fabric/velvet options, as well. I went with the Palermo Caramel leather. It is a dream!
Right away, I was struck by the sleek, mid-century inspired lines of the legs and sofa. Something about a mid-century inspired sofa that feels so classic. I am confident that even as trends in furniture and decor change, this sofa will never go out of style.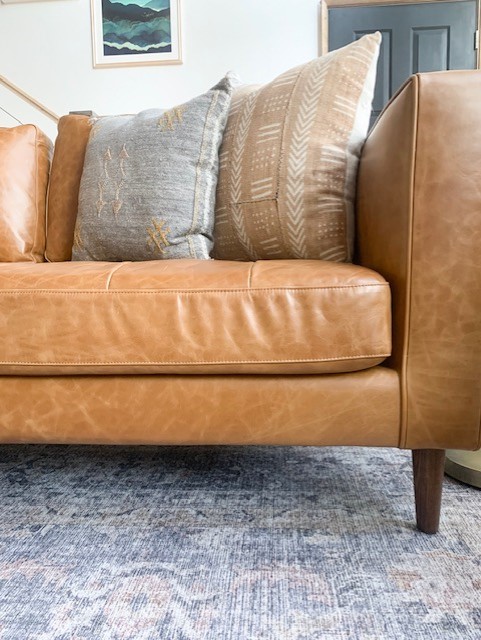 Rove Concepts also allows you to customize your sectional, and add a chaise on whichever side works best for your living space. I wanted the chaise to be on the left side (between the dining space and living space) as it would allow me to add a couple of extra chairs on the window side of the living room for additional seating. But, every living space is different, so having this option is a big bonus. If you have a keen eye, then you might have noticed the tufting on the seats and the piping around the edges. Just a few of the details that make this sectional feel so special. Another customizing option is the color of leg. I chose their brown option, but you could also select the natural or black colors.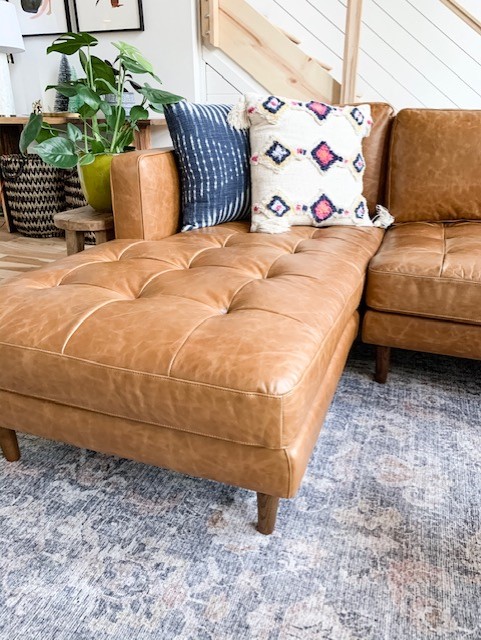 Another great feature about this particular leather is that it has natural color and marking variations that can vary, making each piece of furniture unique. The soft surface will scuff and a beautiful vintage patina will develop over time. I don't know about you guys, but I've never owned a piece of furniture that actually improves over time! Especially in a house full of kids, like mine.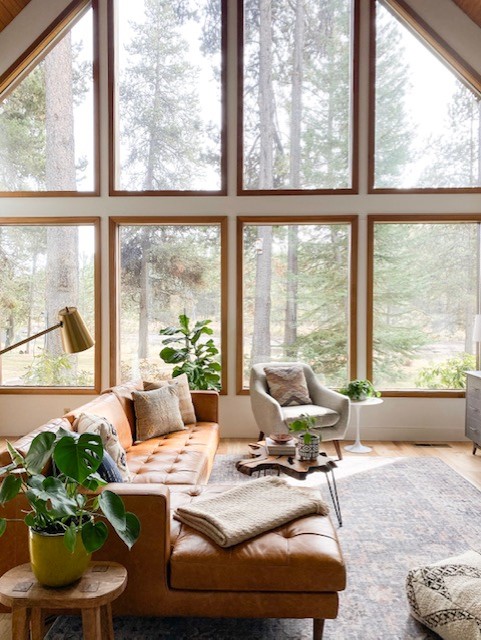 I was also pleasantly surprised with the customer service at Rove Concepts. If you've ever had a bad customer service experience (I know that I have, unfortunately), you know the importance of a company that communicates clearly and stands behind their product. During the ordering process, I received emails letting me know the status of my order, and then again when my order was ready to be shipped. They also provided shipping notifications and set up a time that was convenient for delivery. Since ordering a sectional is a big deal (at least it is for me), I found that these updates were both reassuring and helpful. They even sent a survey after delivery to rate their customer service, and to gauge how I was liking (ummmm LOVING) the new sectional.
In person, this leather is soft and the seat is deep and comfortable. My favorite spot is the chaise at night for cozy TV watching. It smells so good too, and serves as a reminder as to what good quality the leather is. It was also important to me that the sectional didn't feel overwhelming in our small-ish living space, and I think the low lines of the back gives it a lower profile, which is perfect.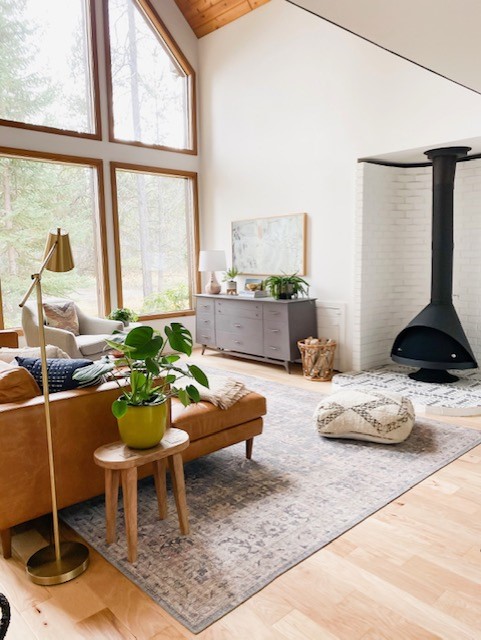 All in all, I'm so happy to have went with a Rove Concepts sectional, and I couldn't love it more! I'll be back next week to talk kitchen appliances. I've been getting lots of questions about how we like them and I'm gonna dish allll the details for you guys then! But, in the meantime, if you have any questions about our new Luca Sectional or about Rove Concepts, leave me a comment and I'll be happy to help! See you next week! XOXO