This post is sponsored by Cafe
Since we finished the kitchen for the One Room Challenge, one of the questions that keeps coming up is; what do we think of our new range from Cafe? Well, I LOVE IT! This range was quite an upgrade for us. We went from a 30″ mid 1990's white electric range to Cafe's Dual-Fuel Professional Range with six burners. I talked a little bit about Cafe a few posts ago, the ones that are customizable, and allow you to choose a base color as well as the hardware color. Which I am loving so much because I am a big fan of mixing metals in the kitchen.
This range is the perfect combination of form and function. Everyone is always saying how you have to choose between the two, but with this range, you get both.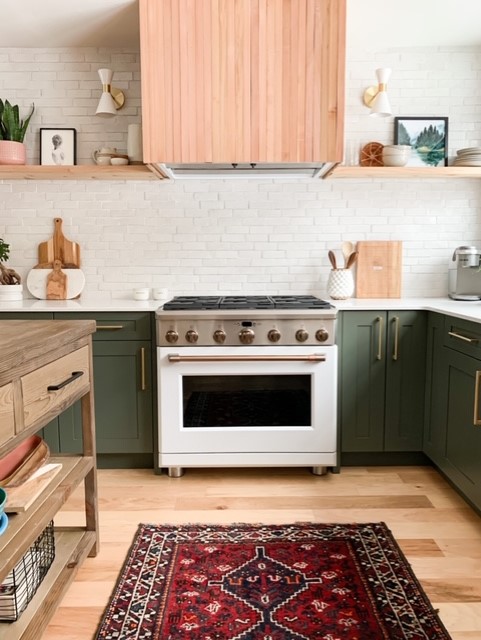 Because this baby is a duel fuel (natural gas cooktop + convection oven) range, we had to add a gas line which was an additional cost of about $1,500 after permits and the cost of the plumber, but it was worth every penny. Nate, who is the cook in our family, has always wanted a duel fuel range so this was kind of a dream come true for him. Another thing to note is that if you live in higher elevations, like we do, then the convection oven will make your life so much easier. Higher elevation baking often means that your cookies are raw in the middle and your cakes will not rise, but not with this convection oven. We are able to follow regular baking instructions on mostly everything now and it comes out just perfectly!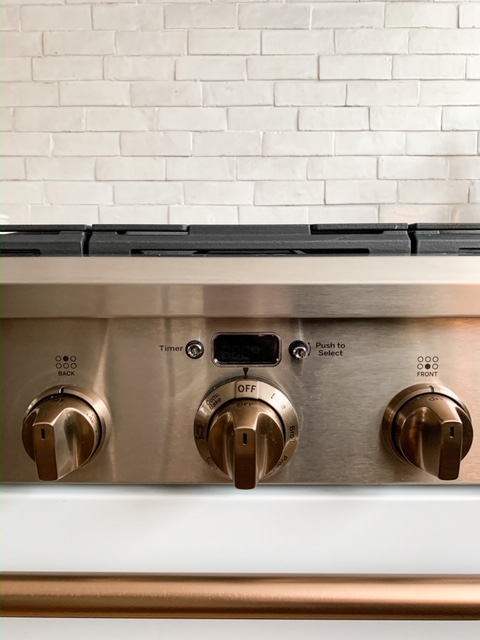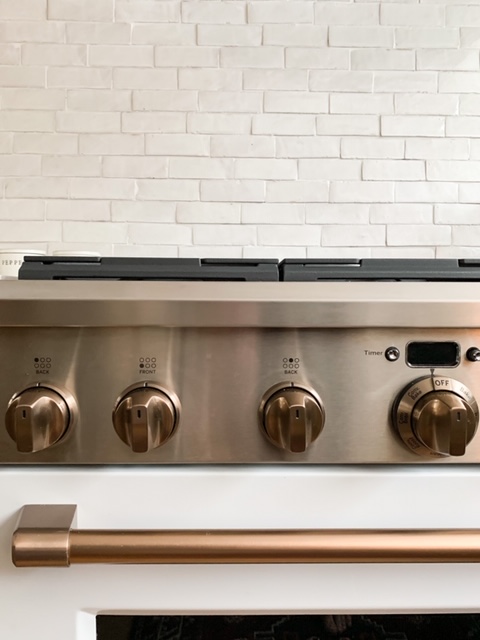 Each of the six burners have their own knob (plus one for the oven) which makes operating the range very straightforward.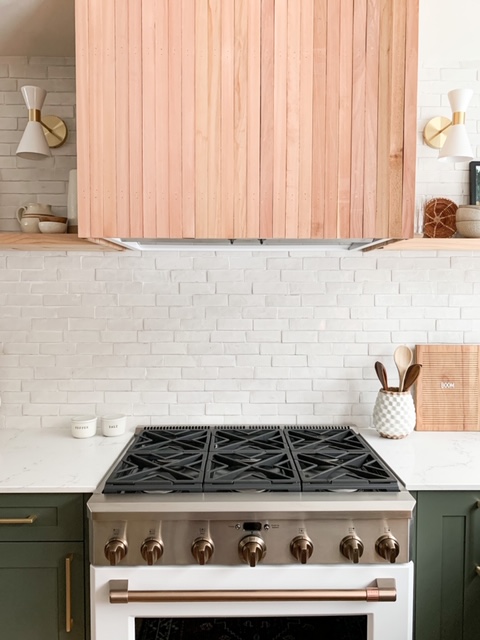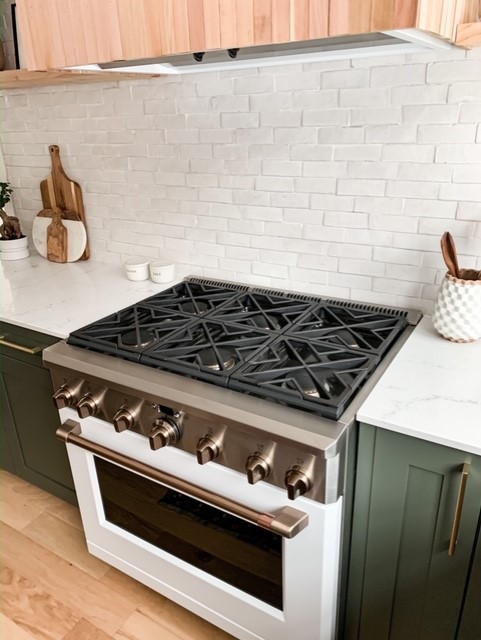 The grates are easy to remove and when I notice they need cleaning,  I just place them all in the sink and give them a good rinse. While the grates are off, I usually use this opportunity to wipe off the cooktop. Just a sponge with a spot of dish soap, and all of the cooking messes wipe right up. Easy peasy.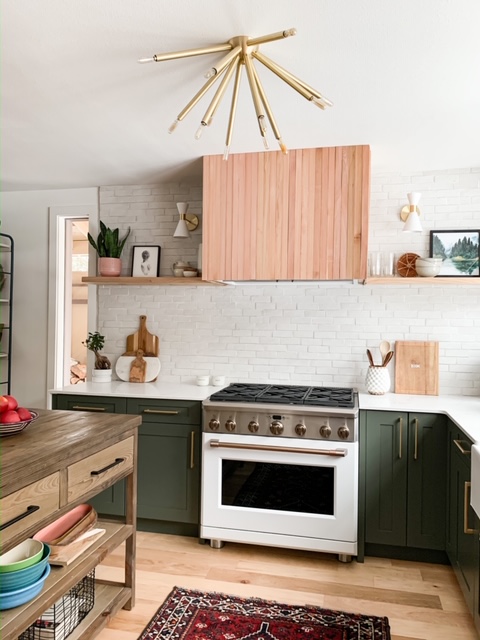 The width of this range is 36″, when a standard range is 30″, and this extra six inches allows you to bake multiple dishes at once. This came in handy over the holidays when the green bean casserole was ready to go in the oven, while the turkey was still roasting away. My mom and I made Thanksgiving dinner together this year, and she LOVED that the racks are on rollers and slide in and out with ease. It's these small details that make a big difference!
For our hood, we went with their 36″ commercial style hood. It's mounted to the wall and then we built the cedar surround. The hood cover was a relatively simple DIY. After the hood was installed and secured to the wall, Nate built a frame around it with 2×4's, and then wrapped the entire structure with cedar 1×2's. I am always a fan of adding natural wood tones whenever and wherever I can, I love the warmth that wood adds to a space. It's a statement maker and only cost around $75 in materials.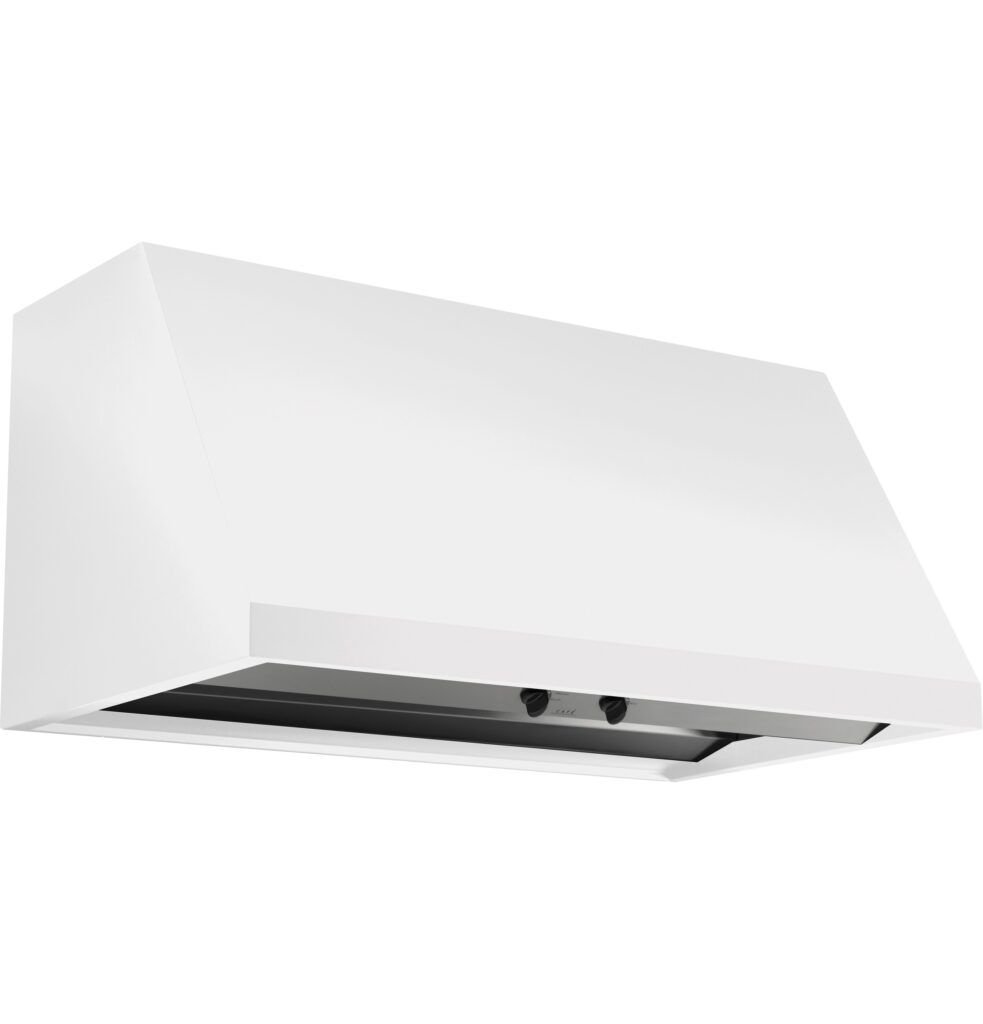 Here is what the hood looked like before we wrapped it with the cedar. I love how it matches the white appliances, but also comes in all of the same color options that the range is offered in, so you can coordinate accordingly. It's pretty enough to leave as is, or you can customize your look, like we did.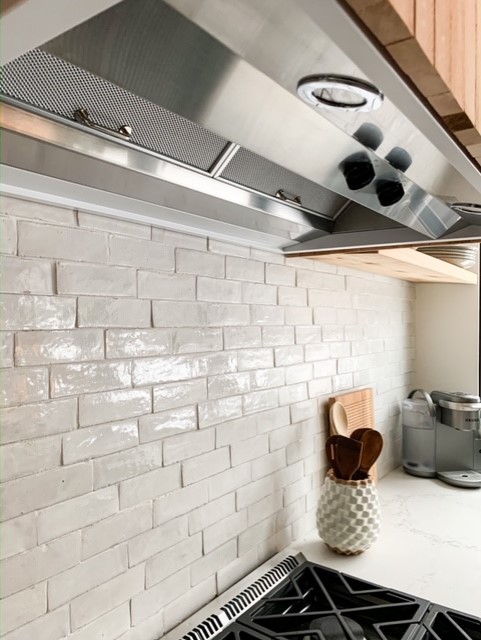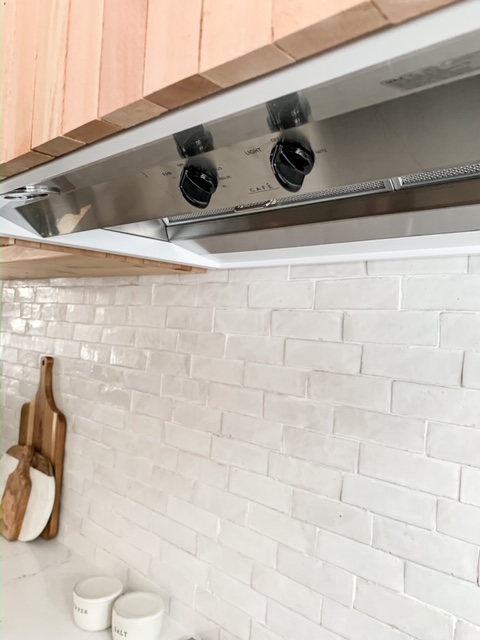 The fan is so quiet, even on the highest of settings and the grates easily remove in case they need a good cleaning. Also, I love the light that comes inside the hood. You guys know how I HATE a cold, blue LED light bulb…makes me feel like I'm the operating room at the hospital. But, these lights are warm and lovely and even have a Nite setting, which is a very low light that I have been turning on every evening after the kids are in bed. It's soft and adds such a nice ambience to the kitchen.
With the kitchen finally complete and all of the Cafe Appliances stealing the show, we are just LOVING all of them! They all look and function the part. We knew we loved how they looked when we picked them out, but now that we've been using them in our kitchen for a few months, we are hooked!