Hi friends! Welcome to week four of the One Room Challenge. This week we've been all over the place, and I mean that it in a very literal way. One day I'm painting a wall, the next I'm tiling and the next, I'm off to hunt down slabs of wood for our shelving. I'm all over the place, but It's finally feeling so bright and fresh in here, and I'm loving it. For weeks, all we did was tear this place apart so it's nice to see it finally coming back together and starting (just barely) to shine! As always, lets have a look at the vision for the space.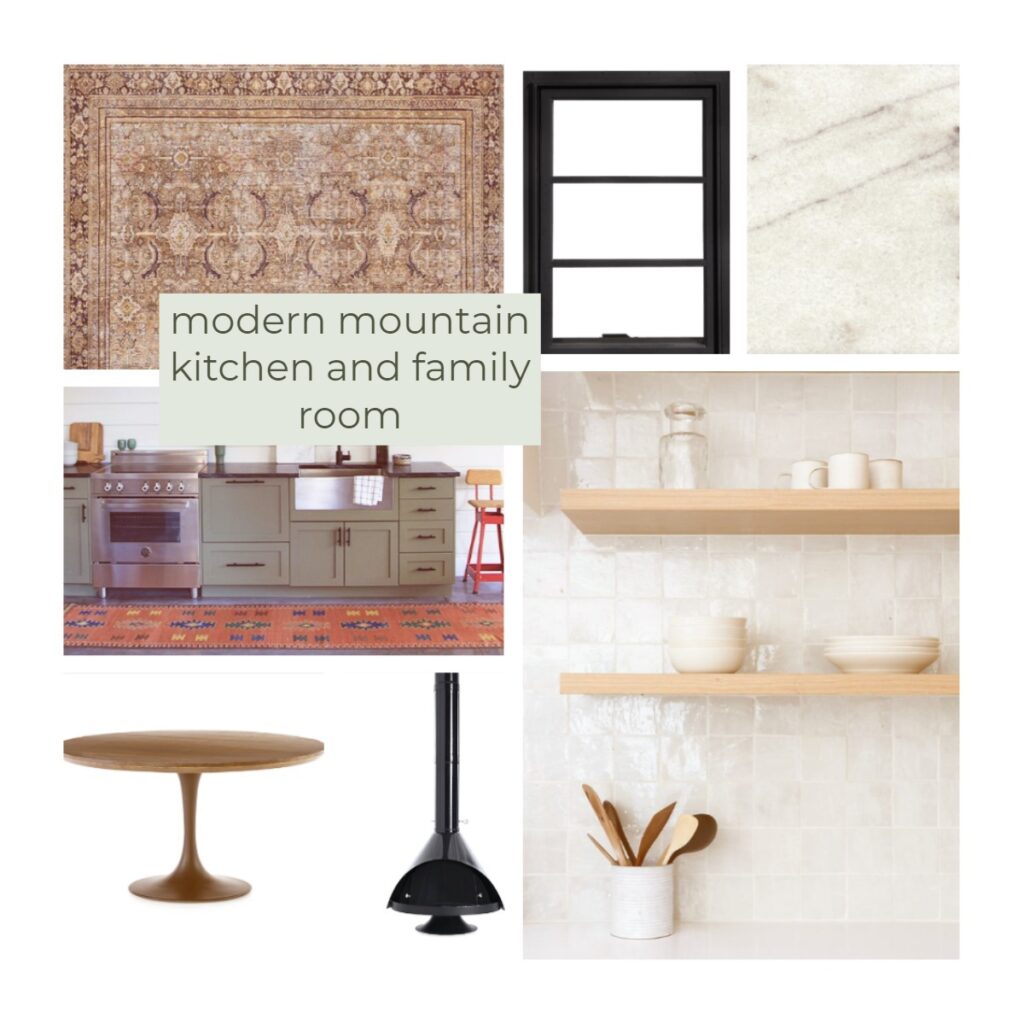 First up, we made the decision last week to hire out our drywall work out, and I'm quite sure that is one of the best decisions I've ever made! Jordan from Summit Drywall of Bend (message me if you would like his contact info. I can't recommend him enough!) came and transformed this shell of a space into a real house complete with beautifully textured walls and ceilings. He finished everything in just a few days which would have taken Nate and I at least a week to complete and I KNOW our work wouldn't have the professional look that Jordan delivered.
Before Jordan came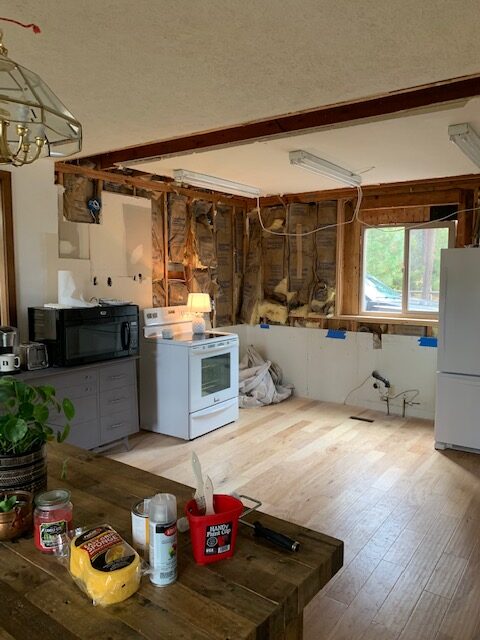 After Jordan worked his magic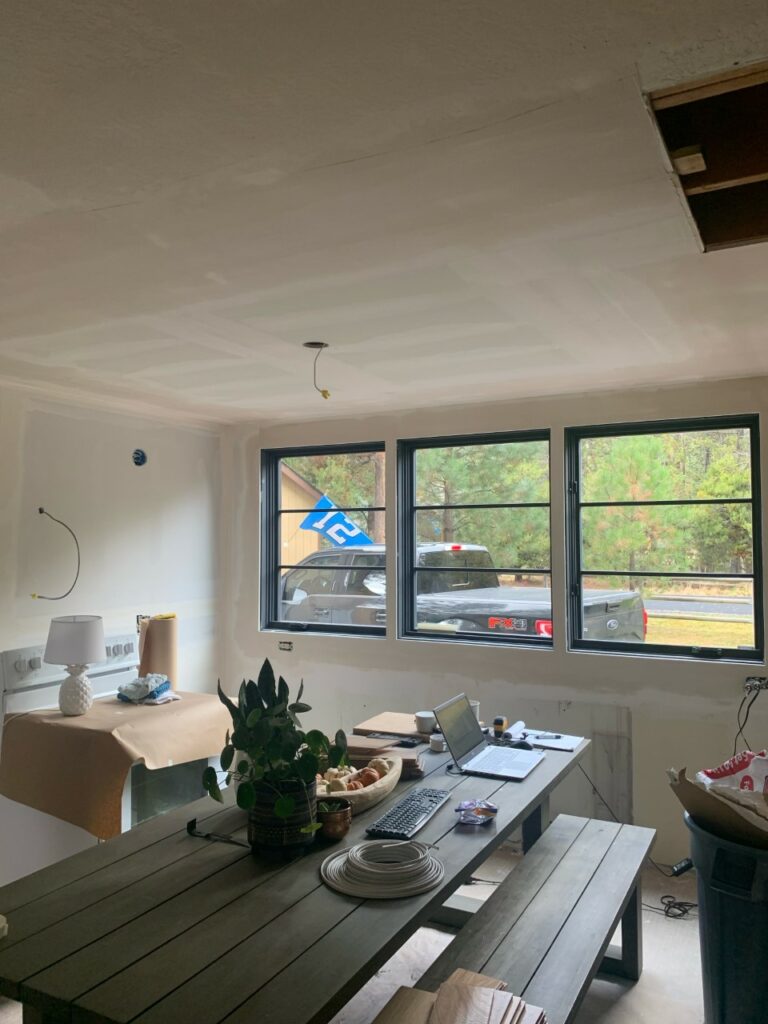 Another project that I tackled this week was staining the wood on the half wall that surrounds the loft. It was the same knotty pine that is on the ceiling, and because there is so much of it between the two spaces, I knew this loft wall needed a face lift. My mom suggested that I paint it black and after talking it over in Insta stories, I decided that staining it black would be a better option. It would show the wood grain while masking some of those orange tones. Win Win! I couldn't be happier with how this one came out!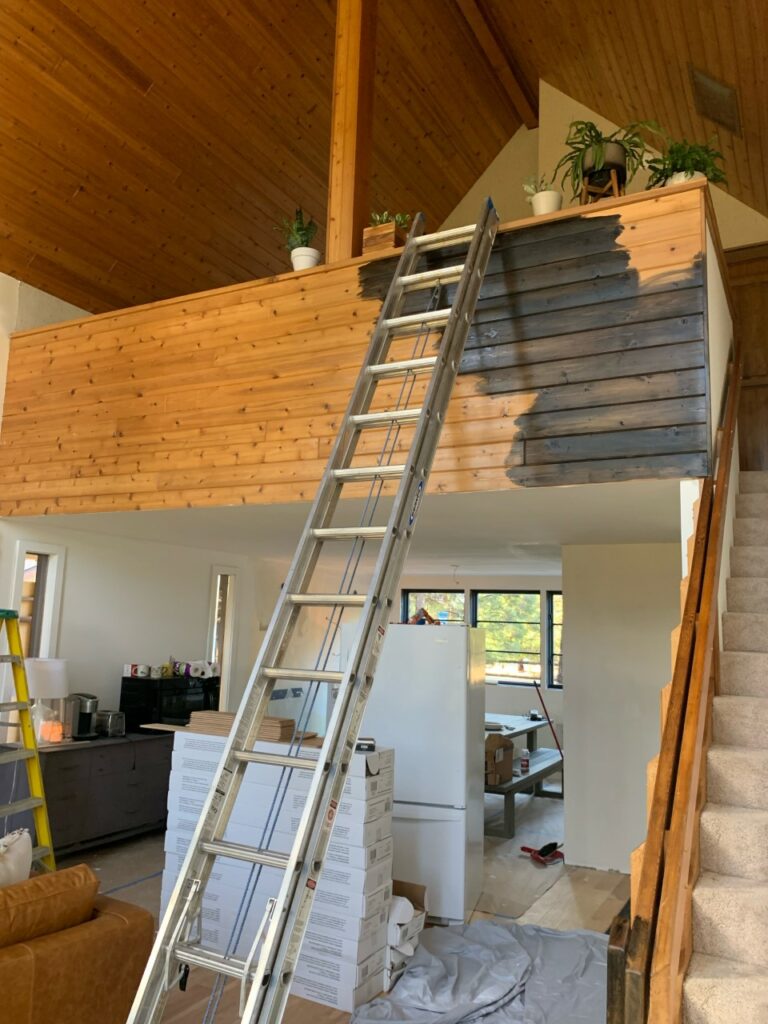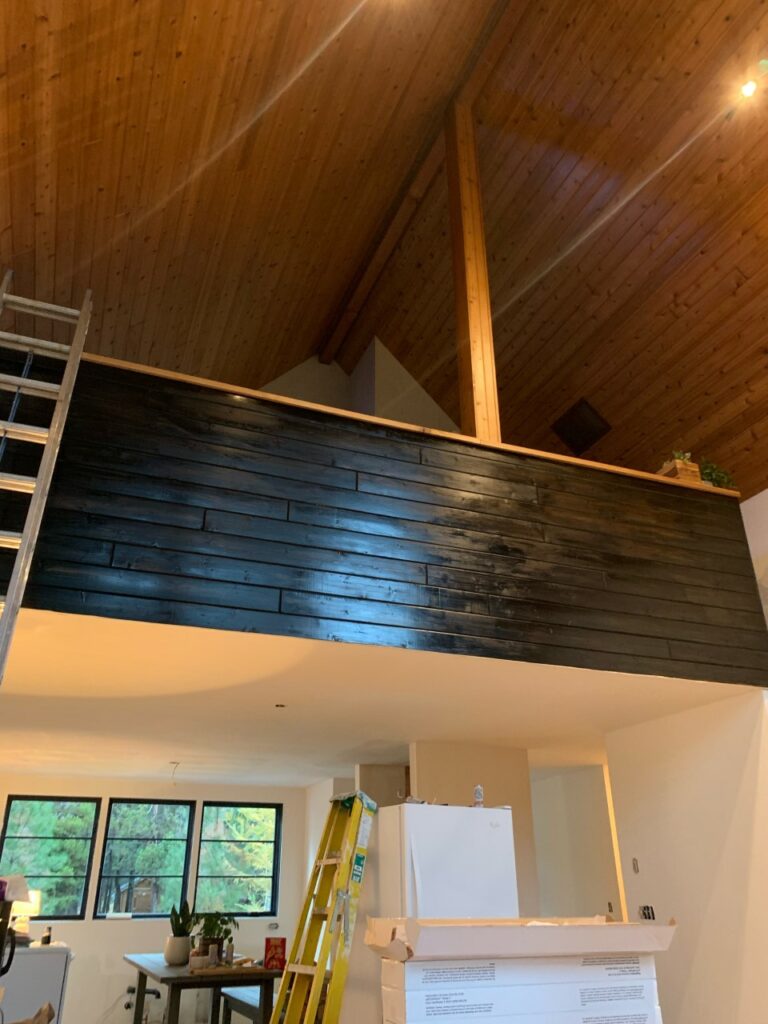 The other major thing that happened this week was we road tripped up to Sumner, WA to pick up our kitchen cabinets! After going over delivery options with the cabinet company, we discovered that we could have our cabinets 10 to 14 days sooner if we picked them up, vs. having them shipped to our door. So off we went! It was a fun trip and felt so good to get out of the house for a couple of days because it's been nothing but craziness since we started our big reno, so this mini break was a welcome one. However, we drove into crazy rain (welcome to Oregon) which nearly put me into a catatonic state of panic and despair. After trying our best to cover them with tarps, on a whim, we decided to rent an enclosed u-haul, and spent an extra night at my sisters house in Portland. Actually, it turned out to be quite the fun evening while they calmed my rattled nerves and all the cousins camped out together in sleeping bags.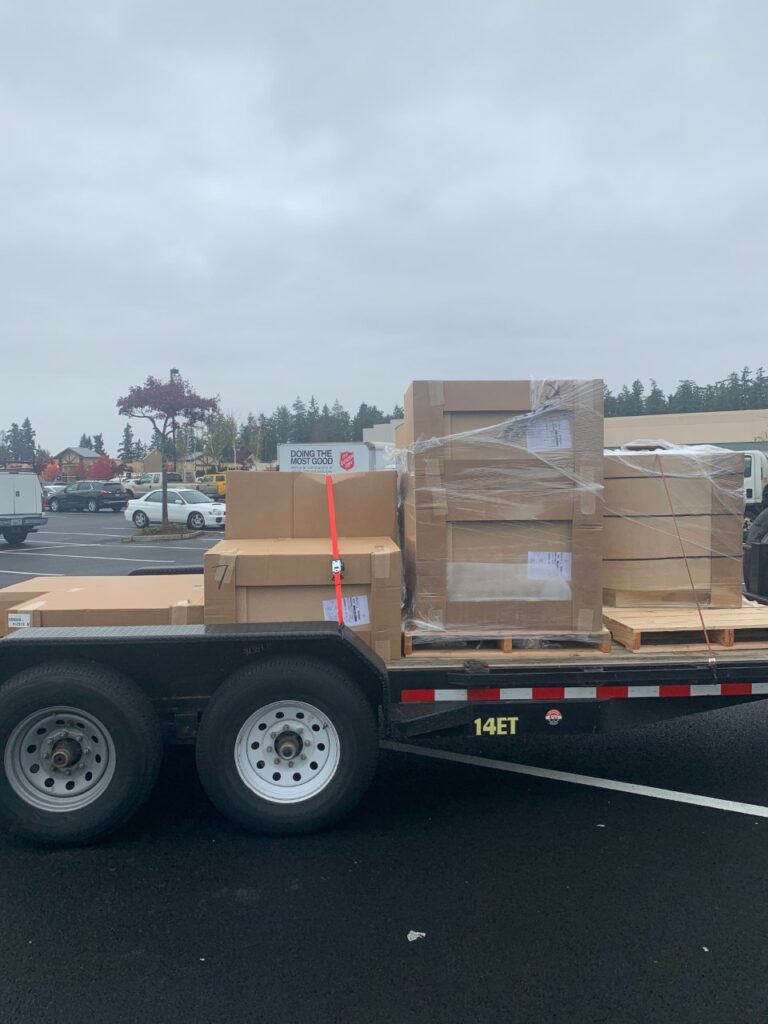 These next two weeks are going to be crazy as we get down to crunch time! Here's a list so you can see how much is left –
Cabinet install
Countertop/sink install
Tile – backsplash and fireplace hearth(i know i know…I STILL haven't tiled the hearth)
Fresh paint for all the newly textured walls and ceilings
Stair demo and install new railing and treads/risers
Open shelving install
Range hood installed
New kitchen appliances installation
New lighting EVERYWHERE
Paint window trim black on the skinny windows in dining room
Ok…here we go! There's a lot to do, but I'm feeling good at the moment! I better get busy so I'll be back next week for week five…how is it going so fast?!
Ps…Don't forget to check out what's been going this week with the other designers! Things are starting to come together!!!!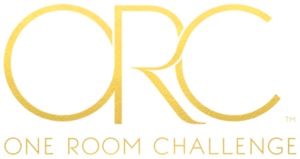 At Charlotte's House | Design Addict Mom | Erika Ward Interiors | Erin Kestenbaum | Girl & Grey
Gray Malin | Hommeboys | I Spy DIY | Jewel Marlowe | The Learner Observer | Making it Lovely
 Nicole White Designs | Old Brand New | Oscar Bravo Home | Place of My Taste | The Rath Project
Room for Tuesday | SG Style | Undecorated Home | Veronica Solomon | Media BH&G | TM by ORC