Today is the day – it's reveal day for the One Room Challenge! It feels like Christmas morning when you're six and it's snowing outside and you walk down the stairs to see the bike you've been wishing for with a big bow on it! Ok…back on track now, and I will try my hardest to keep from adding an ! at the end of every sentence.
And if you're new here, here are links back to Week One, Week Two, Week Three, Week Four, and Week Five, so you can catch up on all the details throughout the entire process.
I am dyyyyyying to show you all the after's but first, let's take a walk down memory lane and have a look at where we started. Here is the mood board from which I planned the space. Also, check out these before shots…it was so bad.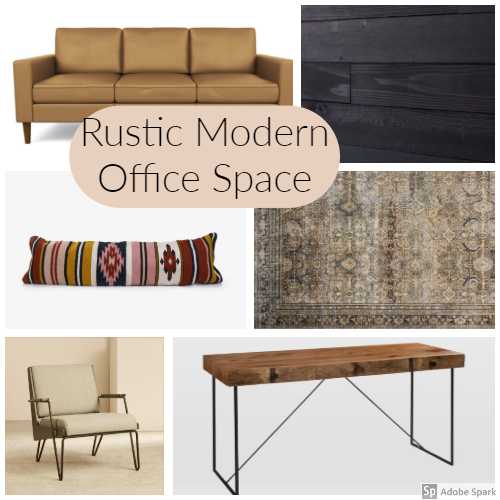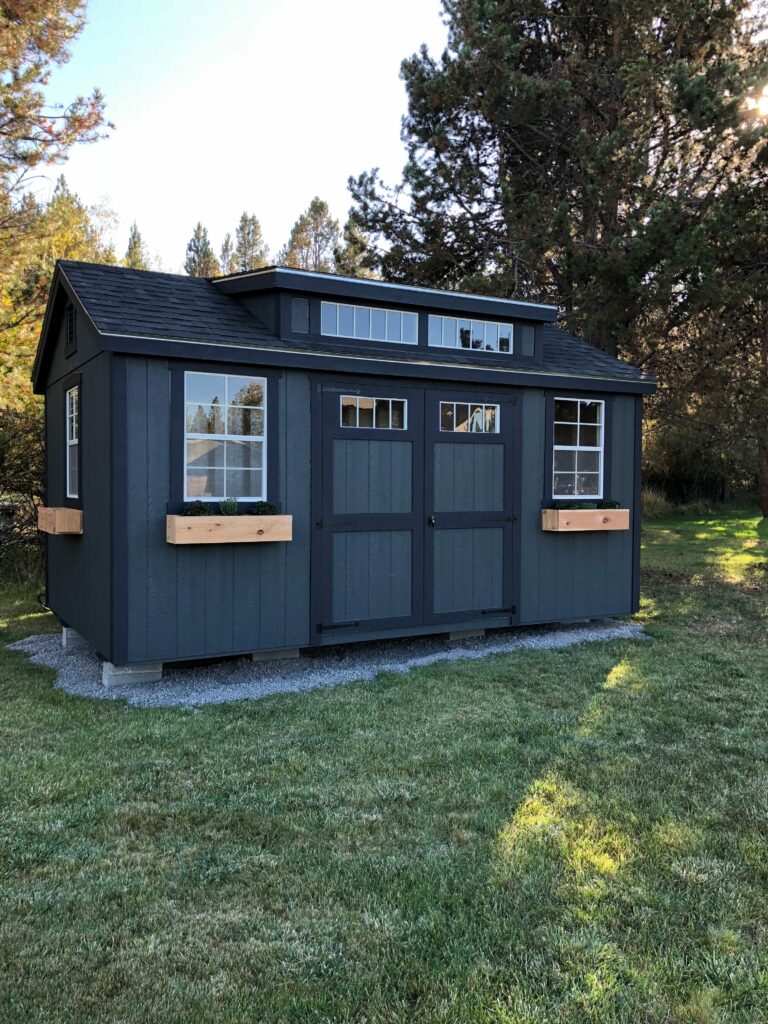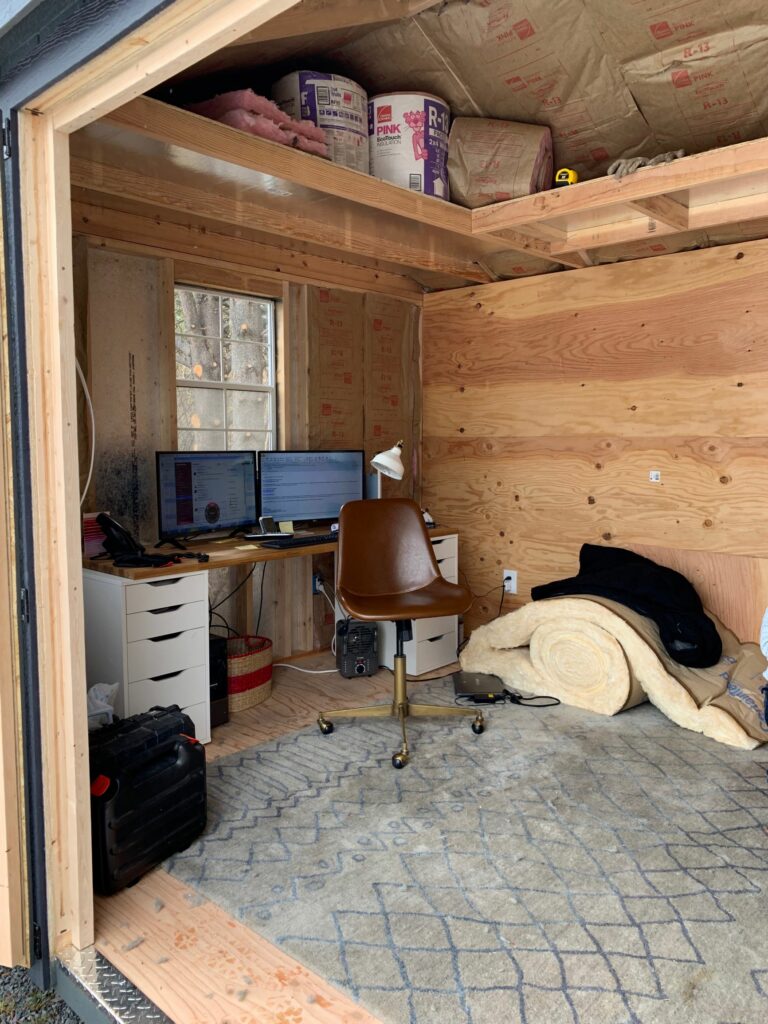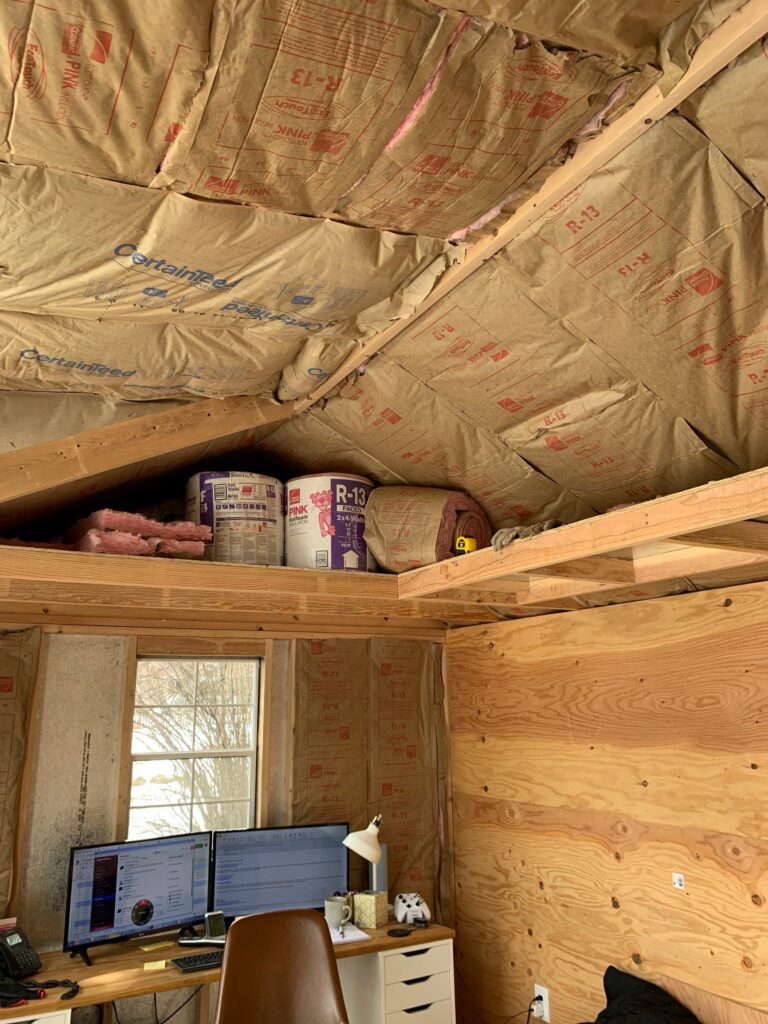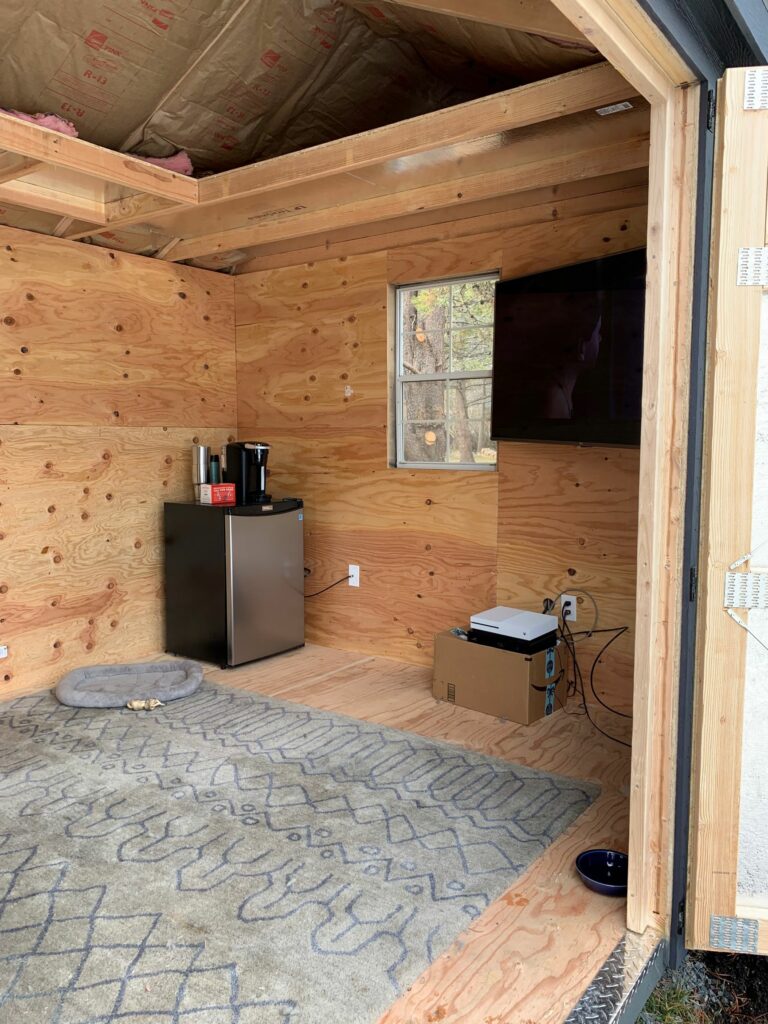 I know what you're thinking…it was UGLY. Well, here is how we are looking now!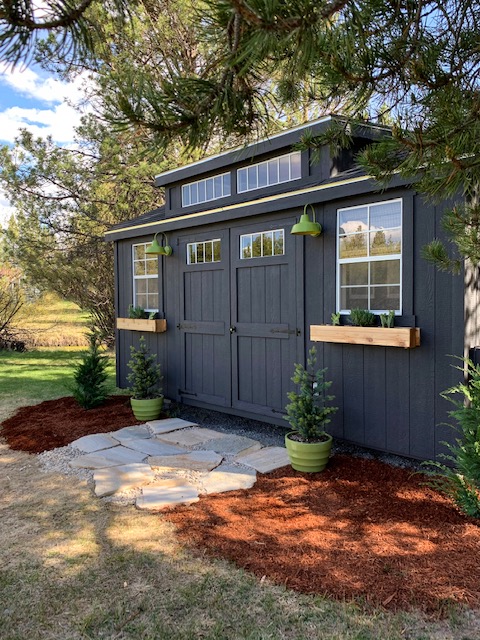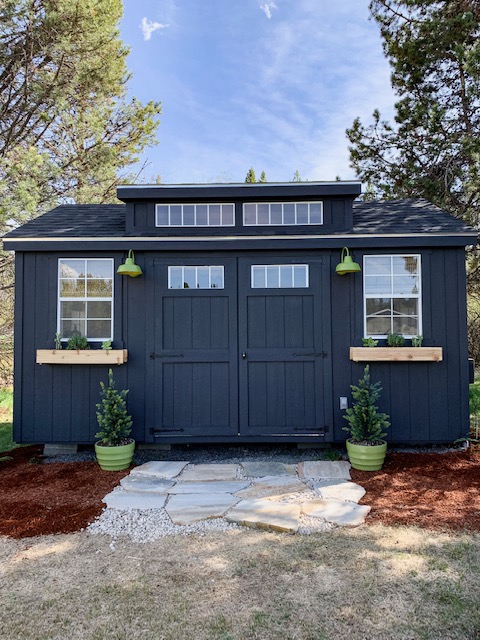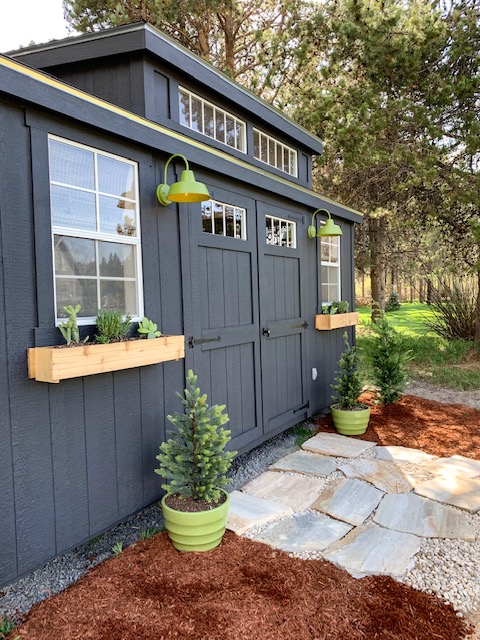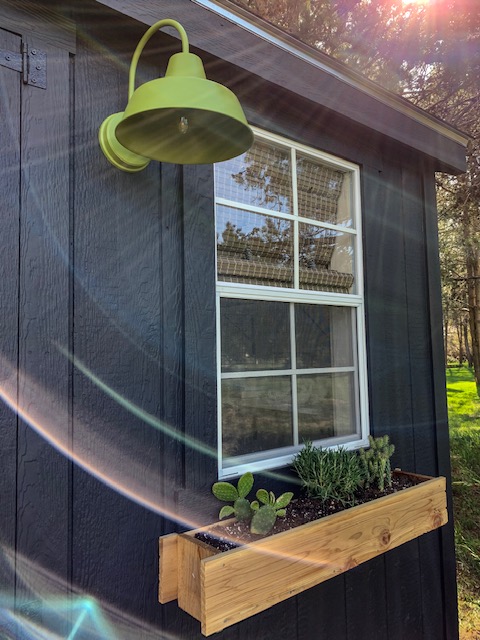 And now for the good stuff…the inside…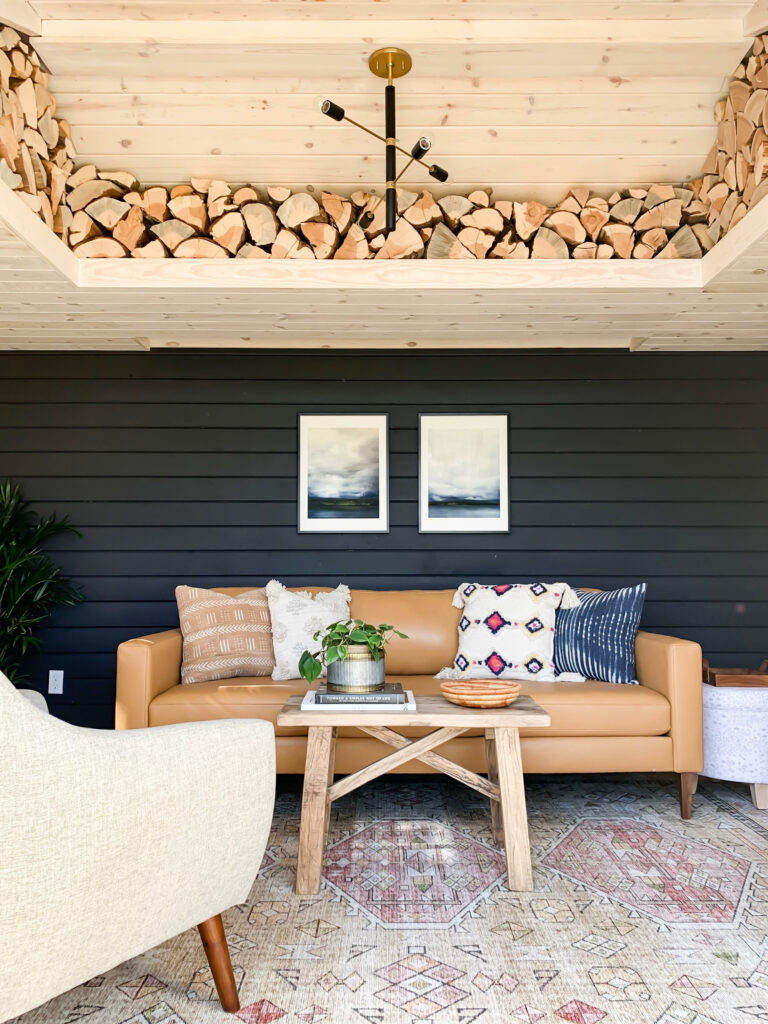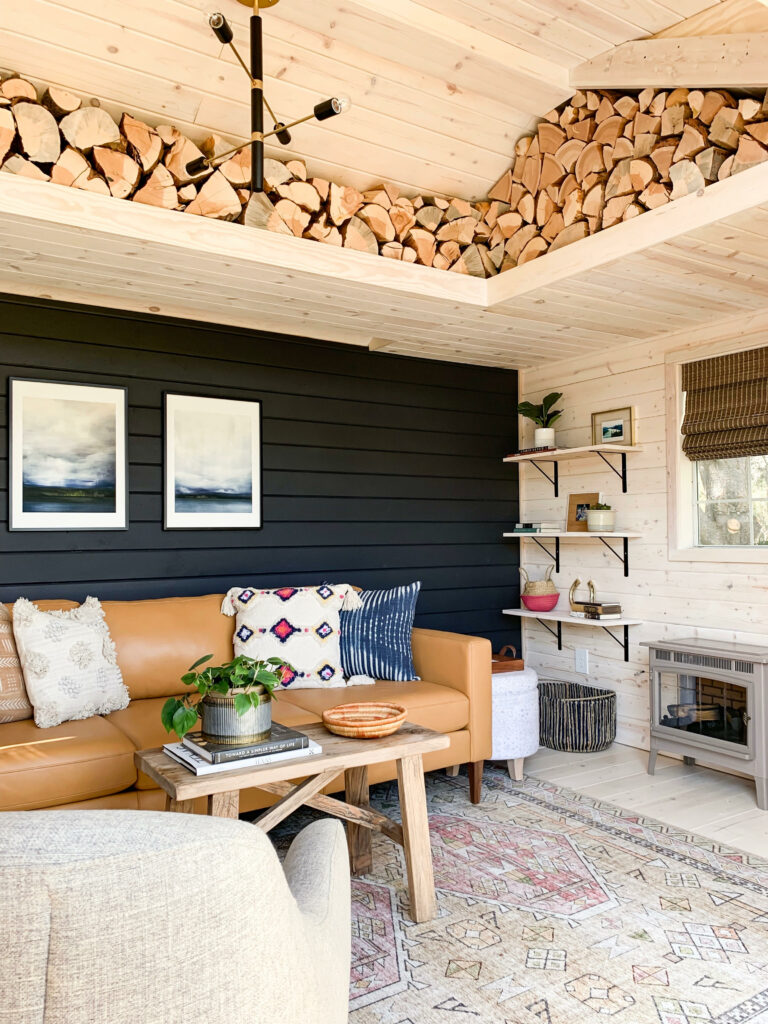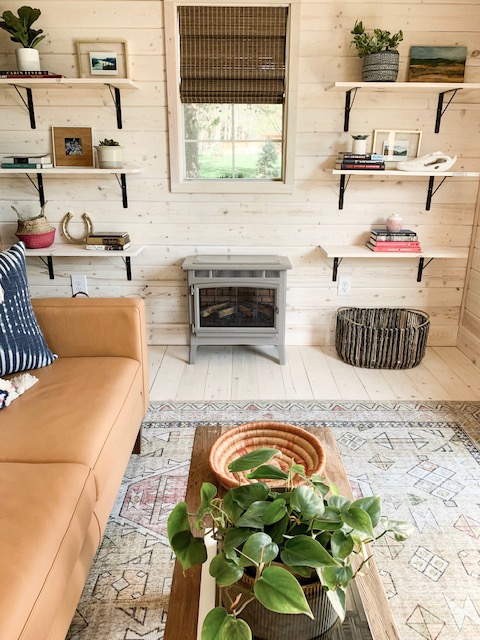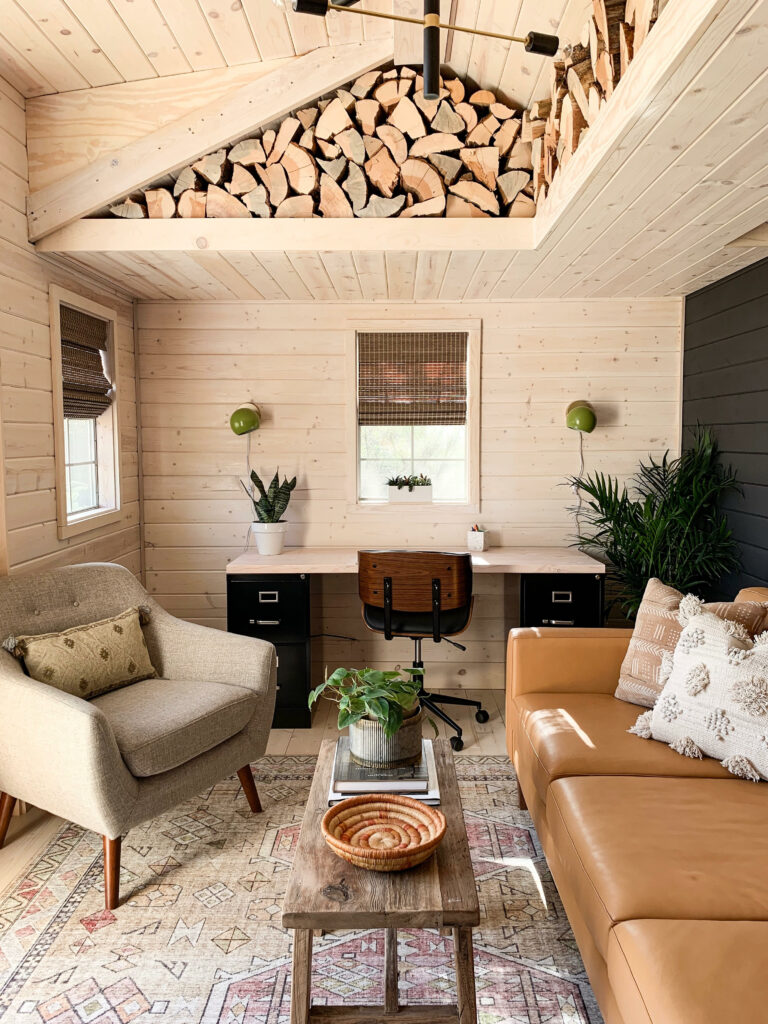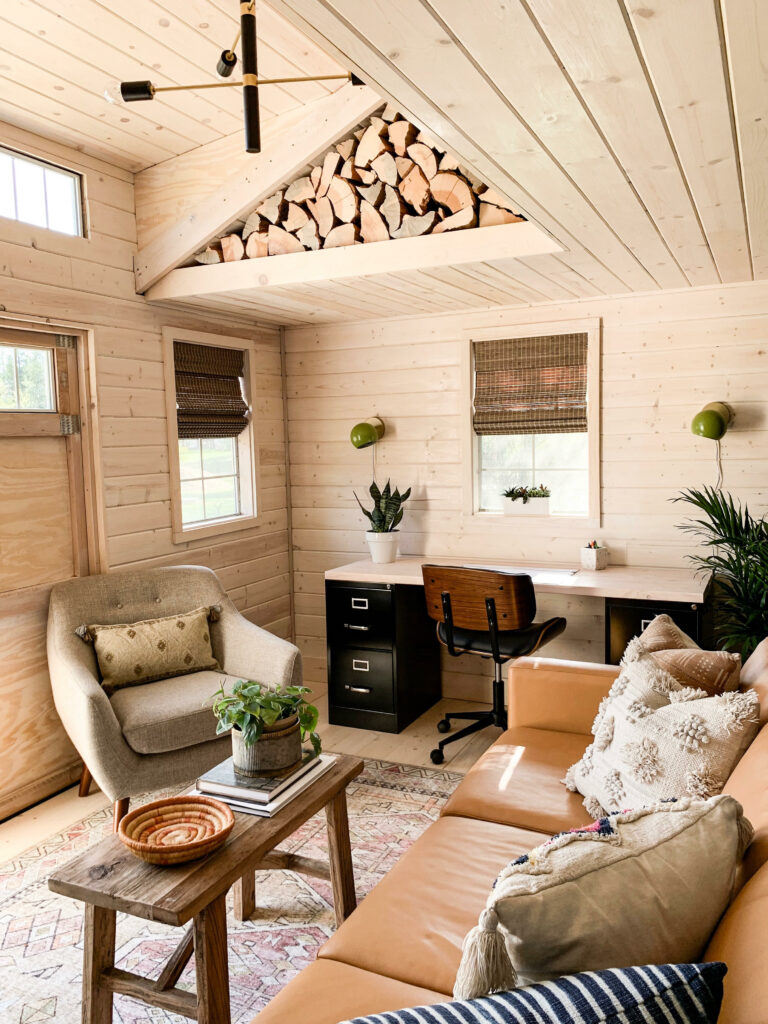 Whew….I'm so in love with this cutie little office now, that I'm thinking about kicking my hubs out of there and keeping this space for myself…jk. I'm loving the textures and all of the wood makes it feel homey and cozy. We've even had family stake claim on the space for their next overnight visit, so that just gives me all the warm fuzzies. Remember at the very beginning, I said that my goal was to create a comfortable space where you actually wanted to hang and spend time. Mission accomplished.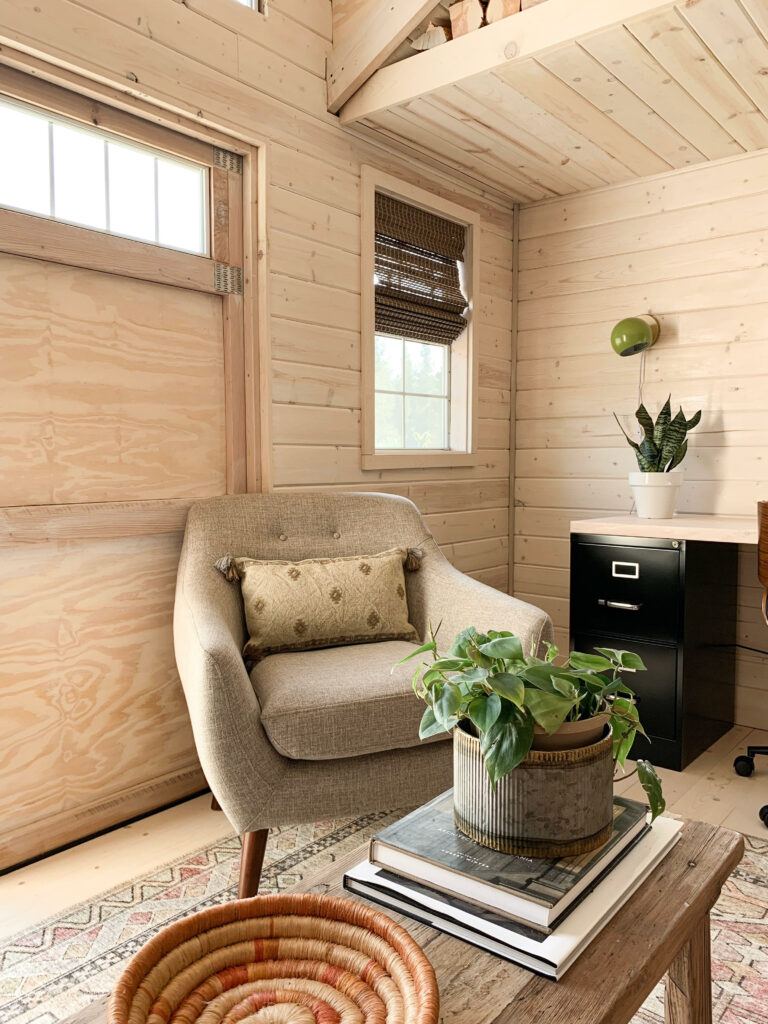 The biggest task for this project was that we were starting from nothing. There were no walls, floors, or ceilings. So that's what we focused on for the majority of the six weeks. Everything was covered in pine. Tongue and groove for the walls and ceilings and pine 1×6's for the floors. Then, everything was stained antique white by varathane to give it that Scandi look and keep those yellow and orange tones at a minimum.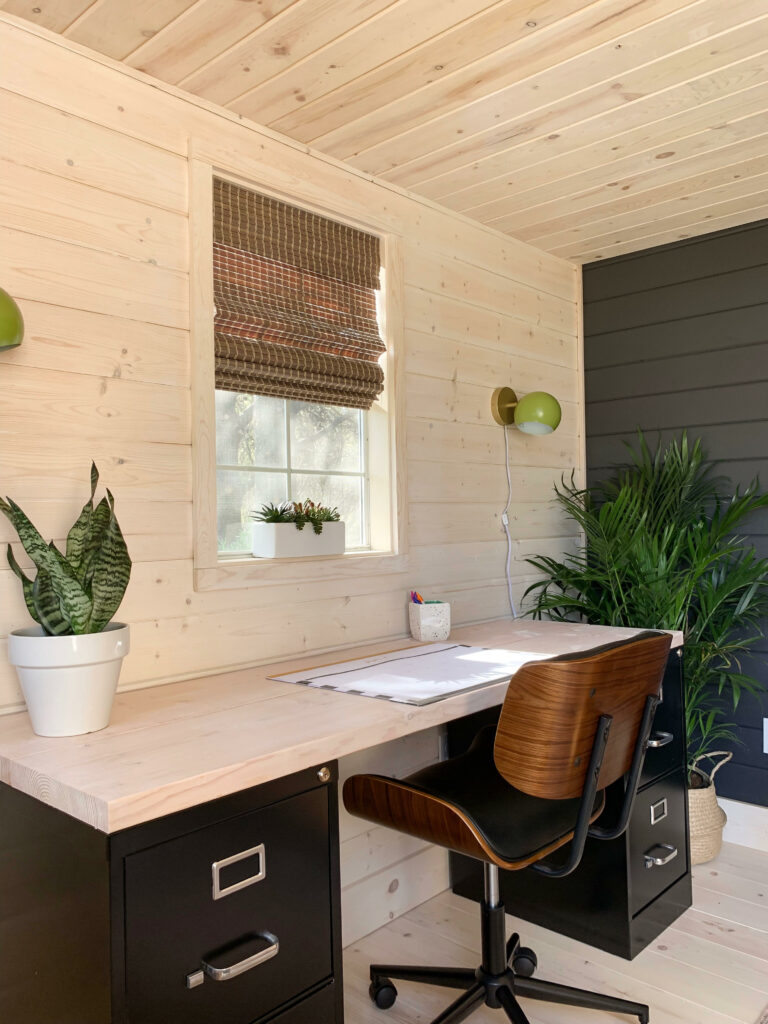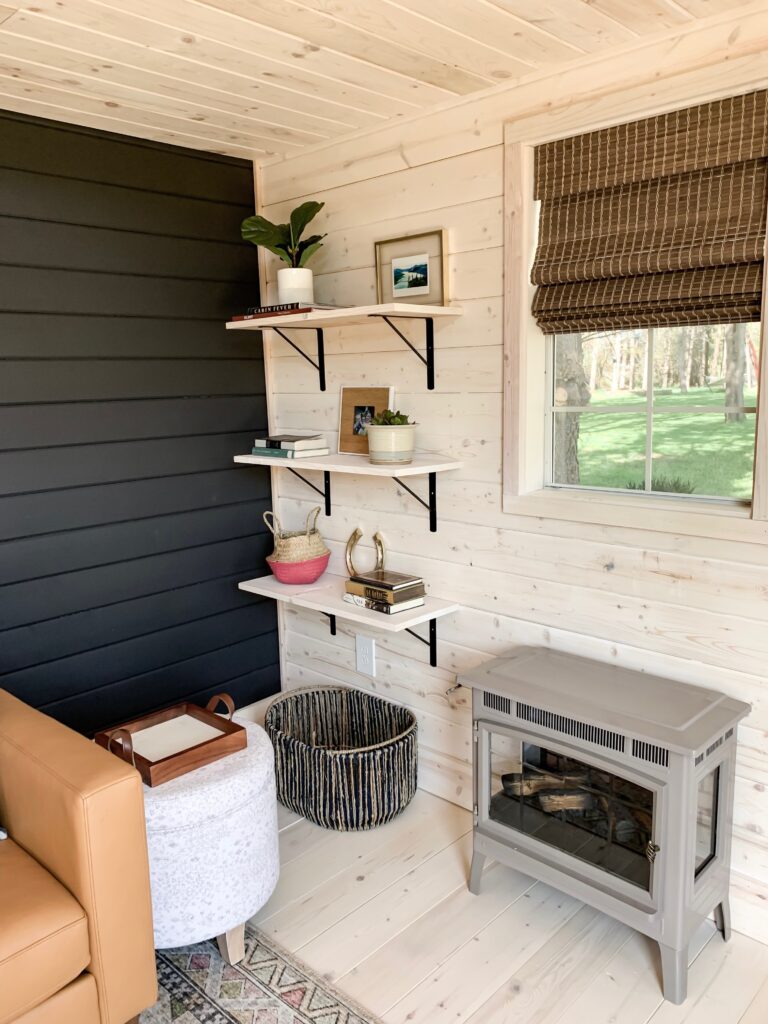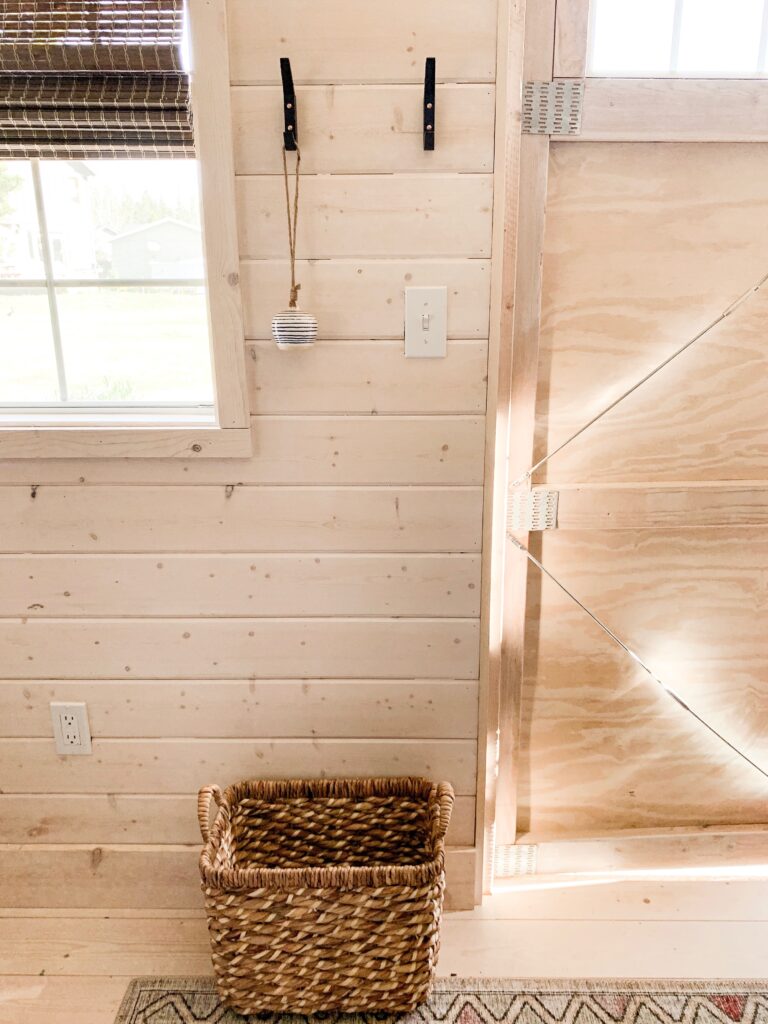 The dark accent wall was painted Black Jack by Benjamin Moore. A color that I haven't used before, but will definitely use again. I loved it so much that I ended up using it on the exterior, and gave the outside a new look. I have been playing around with the idea of painting our house a dark color like this, so it was fun to experiment. I also love how the trim is the same color as the siding.
When it was time to furniture shop, I knew I wanted a leather sofa for its durability since my hubs will be using this space the most. Anyone else have a husband that spills everything? No….just me?? I selected this sofa from American Leather and it is a treat for the senses. It is buttery soft and now when you walk into the office, you are hit with the most incredible leather smell. It is definitely the most beautiful and luxe piece of furniture I've ever owned. It is a beauty!
The chandelier was the starting point for the whole space because I knew I wanted a modern chandelier to juxtapose the firewood that would be lining the loft space. The Mitzi collection from Hudson Valley Lighting had so many good contenders but as soon as I saw the Astrid Chandelier, I knew she was THE ONE. This chandy is the centerpiece for the whole space and that black and brass combo has my heart forever.
The rug is from the Skye collection from Loloi Rugs. It is gorgeous and goes with everything…seriously, everything. I love the golds and greens but my favorite part about this rug was that it allowed me to sneak a little bit of pink into this manly office space. My hubs is color blind and thinks it's more of a red. It's our little secret….mmmmkay?
The art above the sofa is from Minted. Minted has such an amazing selection of art and really has something for everyone. My prints arrived framed and ready to hang…couldn't be easier. And if you need yet another reason to love Minted, they support independent artists.
The gray chair and ottoman are both from Homepop and really help the space to feel balanced and complete. Plus, the ottoman doubles as a storage spot, and I love pieces that serve dual purposes (especially for small spaces).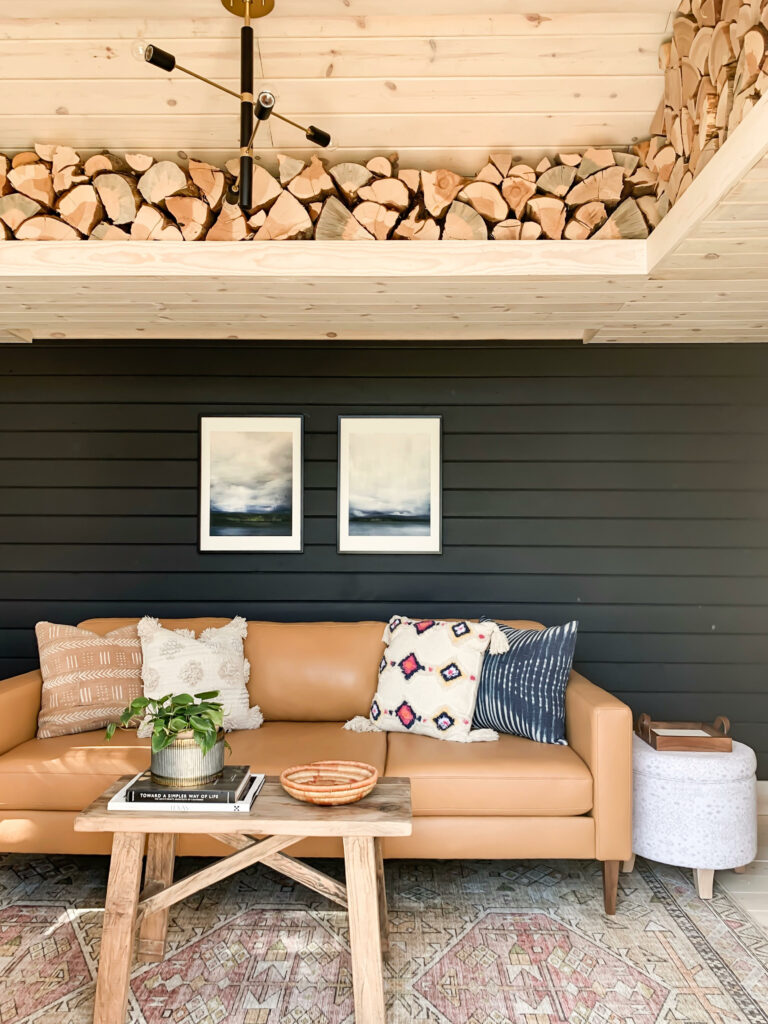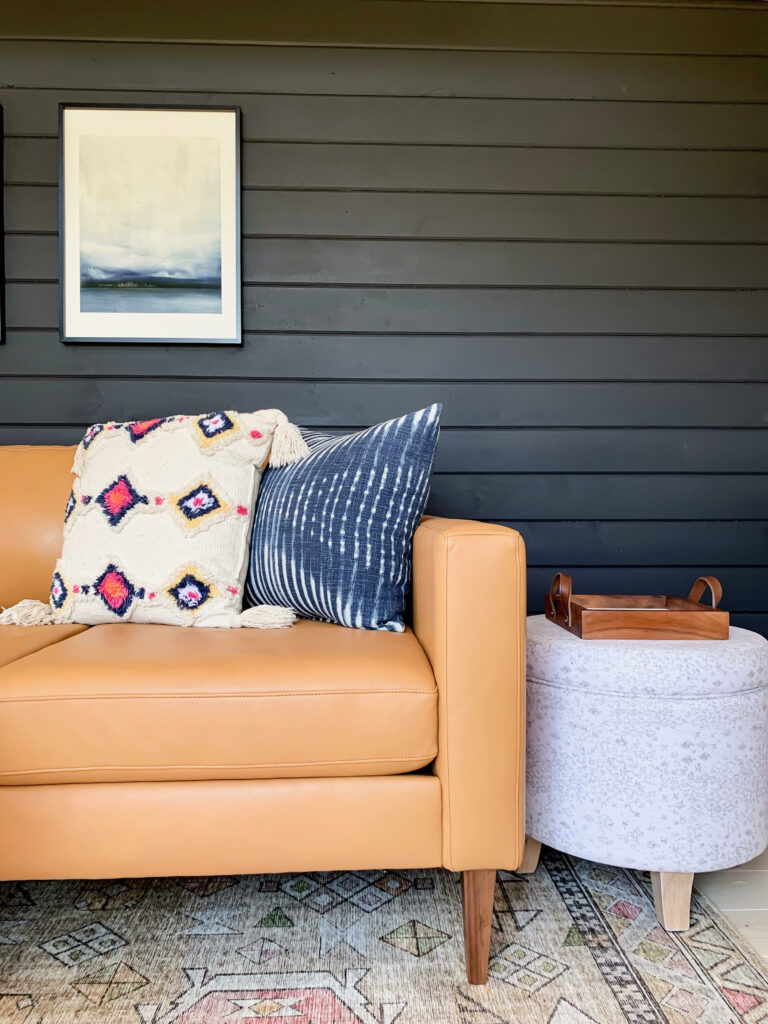 So that's about it! What do you guys think? Did you think I was nuts when I showed you this space six weeks ago?
I can't believe we made it! We worked on this almost every free moment we had for the last six weeks which included one snowy weekend and several rainy weekends, but we are done and I'm feeling pretty proud of us.
Also, thank you so much to all of you who sent messages of encouragement, cheered us on, and followed along throughout this process. Your kindness and support really means the world to me. A big hug and kiss goes out to my dad who came to our house THREE weekends in a row to help…love you, Dad. Finally, an ENORMOUS thank you goes out to all of the sponsors who put their faith in me and this project. We couldn't have done it without you…really! XOXO